European car-makers…watch out! The BYD Dolphin launches…and it's flippin' good!
We get to drive the all-electric Dolphin in Madrid. And we've brought you everything we know so far!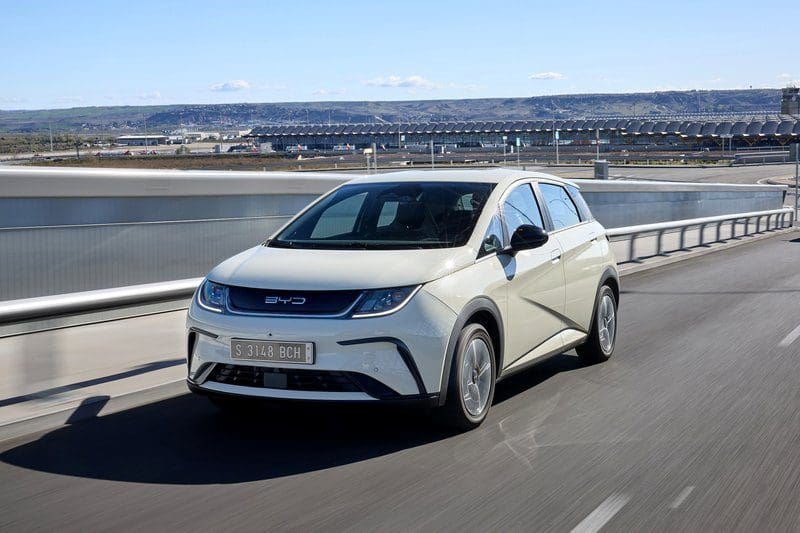 What is the BYD Dolphin?
It is a medium-sized, all-electric hatchback (think VW Golf size) with a big battery, good range, great tech and better-than-expected quality of finish. It is Chinese manufacturing giant BYD's second launch in the Irish market, following hot on the heels of the Atto 3.
How much is the BYD Dolphin?
Prices start from €28,760 for the Comfort model, and jump slightly to €30,025 for the range-topping Design model. Both of these specs get the larger battery. In a few months time we will get full details of a smaller battery variant that will likely be cheaper again.
As you might have guessed, this is a very competitive price for an EV in Ireland in 2023. But the range and quality must be pretty poor then, right? Well, let's see!
What is the range of the BYD Dolphin?
The BYD Dolphin has a 60.4kWh usable battery that is good for a WLTP rated range of 427 kilometres. This is pretty impressive and compares very favourable to other EVs of a similar size.
The BYD Dolphin employs the company's own 'Blade Battery' technology. It is Cobalt-free, and instead has what is known as a Lithium Iron-Phosphate (LFP) chemistry. It is a lot more durable, safer and forms part of the structure of the car. The smaller 44.9kWh usable battery will arrive later in the year with a WLTP range of 340km.
BYD are also very well vertically integrated, meaning that they make more of the car's components in-house than usual. As a result, efficiency is boosted. They include a heat pump as standard across the range. For this, BYD, we salute you! So the Dolphin should perform pretty well in getting close to its WLTP range figures, even in winter.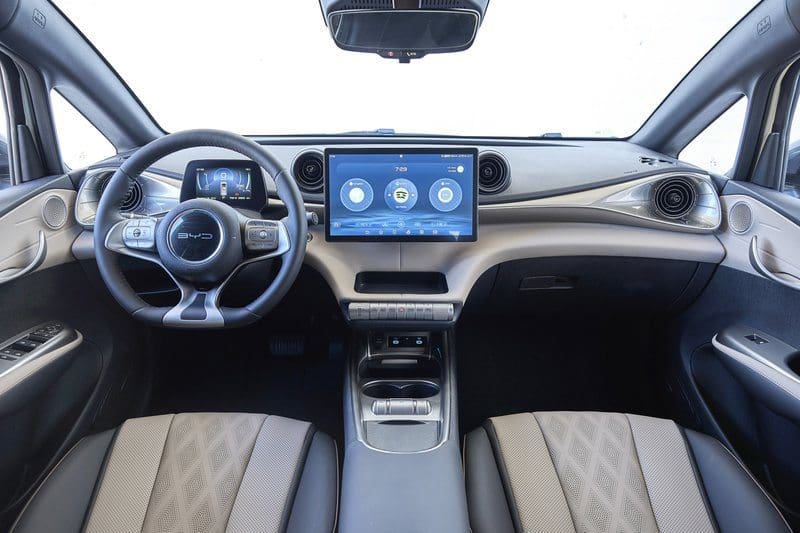 Is the BYD Dolphin fast?
Well, yes and no! Let us explain...
The Dolphin comes with a 150kW motor at launch. This is good for 204hp and 310Nm of torque. That's not hugely powerful, but the Dolphin is quite light, coming in at 1.65 tonnes. Therefore,BYD claim that you'll do the 0-100km/h sprint in 7 seconds flat! That's rather spicy, we would think!
However, we're a bit disappointed with the how the car accelerates when out on the road. The problem is the throttle mapping, it's just not reactive enough. The great thing about driving electric is that you get instantaneous power and torque. However, BYD have sought to really dull the accelerator. So when you plant your foot, you only get a fraction of the power.
The car will pull well when at speeds up around 100km/h, but at lower speeds and driving on twisty roads, it is a bit of a let down. It's unfortunate, because so much of the car is so good other wise.
What about charging the Dolphin?
The Dolphin makes a very reasonable showing on the charging front. The higher specs get 11kW AC charging. At home you'll be limited to about 7.5kW so a full charge will take about 9 hours. On a public AC charger you'll get that down to about 5 to 6 hours.
On DC, it's a little underwhelming, but not disappointing. The Dolphin will peak at 88kW, taking 29 minutes to go from 30-80%. Although better than old Nissan LEAFs and Renault Zoes, it does fall short of a lot of the competition. But, hey, unless you're doing frequent cross country trips, it doesn't really matter.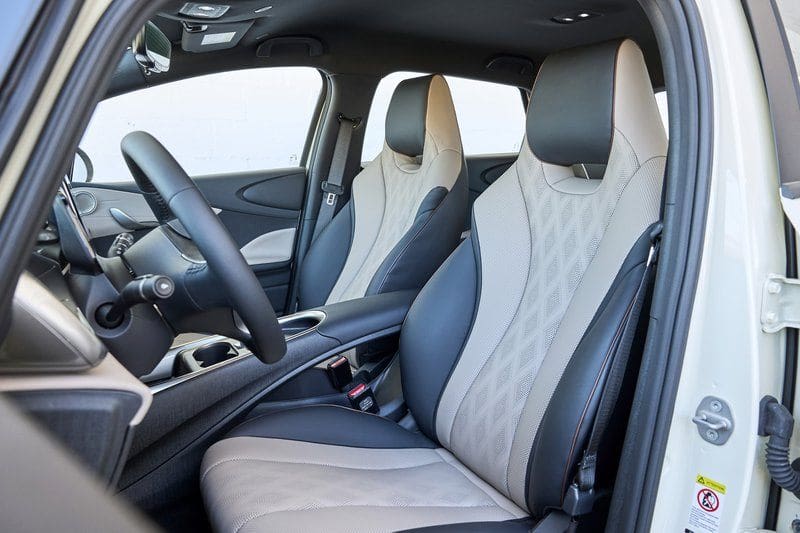 How about the looks of the Dolphin?
The relatively modest size of the Dolphin is a welcome sight, as most manufacturers have been treating us to larger SUVs of late. Think VW iD.3 in terms of size, although the BYD is slightly smaller. It's 4.29m long and 1.77m wide so it's easy to manoeuvre and park.
This car is part of the 'Ocean series', and is inspired by a leaping dolphin. So the designers decided to make the exterior colour palette two-tone. There will be seven colour combinations in total. Although most people will opt for the more muted colours when actually buying, we do have a soft spot for the more exuberant, bold colours.
It certainly does have the appearance of a hatchback. The styling isn't as sharp as something like a Cupra Born, but we do think the Dolphin has some nice features. They're a nice light bar that runs across the back. The two-tone colouring freshens it up. We also like the range of alloy wheels that you get across the board.
What is the BYD Dolphin like inside?
The level of spec and quality in the Dolphin is hugely impressive considering its price. Of course, you'll find more luxury in nicely appointed Mercedes-Benz, but they are significantly more expensive. It's hard to believe that BYD pack in so much for so little money.
There will be four models of the Dolphin; the Active, Boost, Comfort and Design. The Active and Boost feature the smaller battery and will not be released until early next year. The Comfort and Design feature the larger battery and will be available this year.
You'll notice the long wheelbase, which stretches out to 2.7 metres. This means the Dolphin has quite short overhangs. As a result we should get more usable space inside. The boot is a quite-decent 345 litres, considering the overall footprint of the car and excellent legroom for rear passengers. Fold down the back seats and that expands out to 1,310 litres. But the boot is shaped practically with a large opening, and you'll easily fit in some suitcases.
The panoramic roof lets in lots of light. With the Dolphin being 1.57m tall, you end up with what feels like an open and airy cabin. The glass is double layered with acoustic and thermal insulation.
In terms of design, the interior is a little less expressive than its bigger brother, the Atto 3. The 'gym inspired' instruments in that car have made way for what some people will call a more sensible interior. And if you want to know more about the Atto 3, then watch our full review and road test here!
Impressive level of technology!
Probably the most impressive part of the BYD Dolphin is the level of specification and technology that you get. For the money you're spending, it's incredible!
The Dolphin comes with Adaptive and Intelligent cruise control. This makes motorway driving stress free. The car will slow down and speed up by itself in traffic without your input.
There is a whole host of safety features including 360 degree cameras, blind spot detection, High Beam assist, Traffic Sign Recognition and Automatic Vehicle Hold. So you're well covered from a safety standpoint.
You get electric seats, 6-way adjustable for the driver. Vegan leather is used throughout, which are nicely shaped to keep you in check when cornering a little more vigorously.
V2L…the Dolphin's party piece!
The Dolphin is equipped with Vehicle-to-load (V2L) technology. But what does this mean? Well, it means that you can draw power back out of the battery to use on other devices. So in essence, you could run some power tools, power speakers at a festival, charge up laptops, and even charge another car. It can output 3.3kW, which is nearly double what your domestic kettle uses on full tilt!
What about supply of the BYD Dolphin?
We are not expecting to have the bottle necks in EV supply as seen by other manufacturers of late. Let's not forget that BYD are the second largest battery manufacturers in the world. We put some pressure on the BYD staff to give away numbers, but they wouldn't budge! However, they are very confident that if you order a Dolphin now, then you'll get it within a couple of months. Ireland currently has 4 outlets between Cork and Dublin. This will be increasing in the coming months.
Overall thoughts
We are hugely impressed by the Dolphin in terms of value for money. The level of technology and specification you get is tremendous. There is a sense of quality in materials much higher than the price suggests.
We were a little disappointed with the feel of the accelerator. A relatively light car like this with 204 horsepower should be a lot more fun than it is. The DC charging isn't hugely impressive either. But then you remind yourself of the price, and therein you can't complain!
We are due to have the car for a full week in the near future, and we'll be sure to give it the full AA Ireland treatment then!