Jeep
First Drive | Jeep Avenger
Good Stuff 👍
Smart styling, good battery range, interior design.
Bad Stuff 👎
Small in the back seats, some cheap cabin fittings.
What is the Jeep Avenger?
Jeep's first fully-electric vehicle
The Avenger is the smallest vehicle that the mighty Jeep corporation has ever made — as long as you don't count the surprisingly diminutive 1941 Willys Jeep. That's not the only thing about the Avenger that's unique… It's also Jeep's first fully-electric vehicle, and kicks off a process that will see all Jeeps become fully-electric by 2030, at least in Europe. It's also the only Jeep model that's not sold in the US. Indeed, it isn't even built there. It's made at a factory in Tychy, Poland where once FSO-Fiats were built. It's arriving in Ireland in June.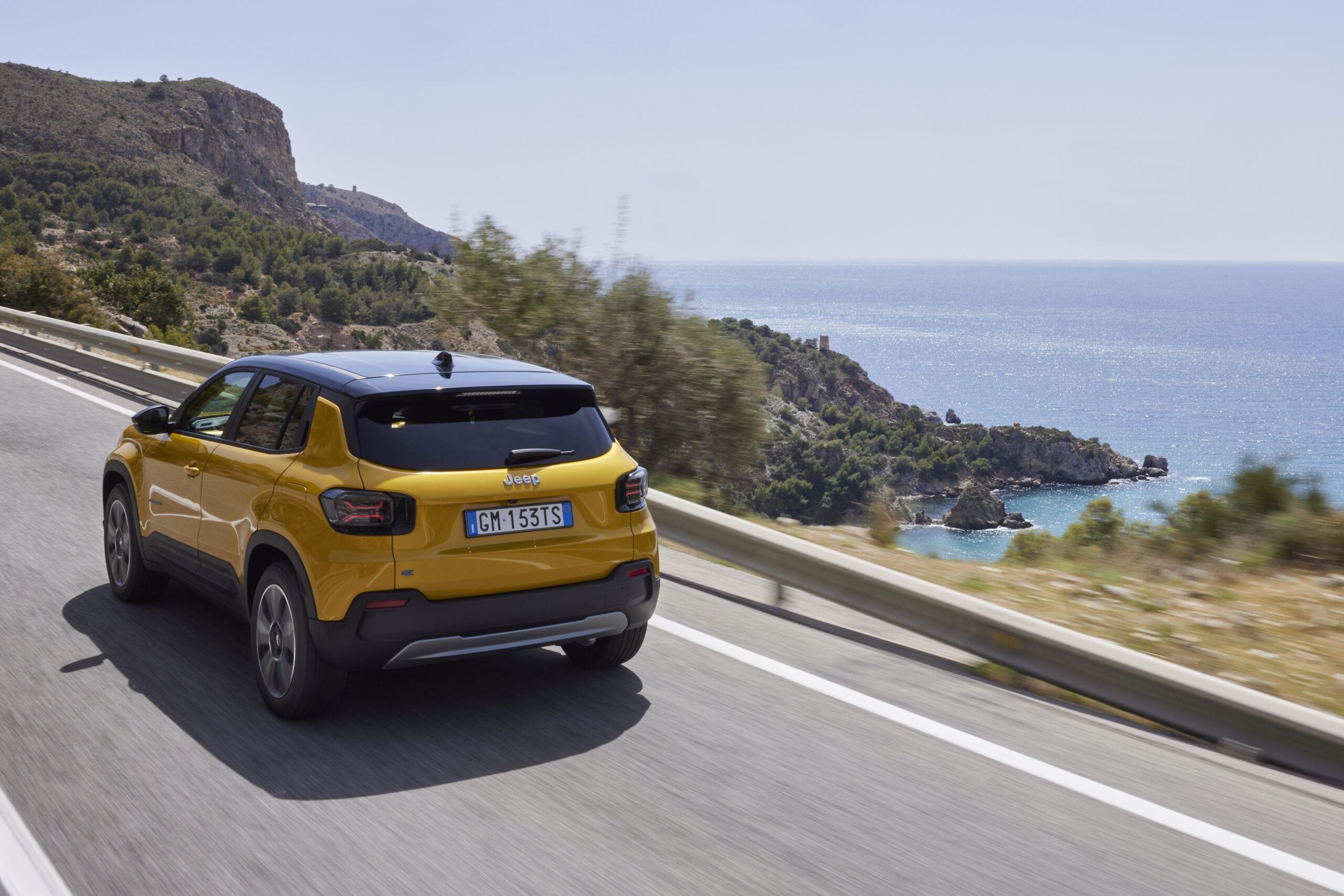 How about the looks of the Jeep Avenger?
Jeep fans won't be disappointed
Most people buy cars largely according to their looks, and if that really is the case then the Avenger is off to a good start. It's a seriously handsome thing, that picks up classic Jeep styling tropes — the seven-slot grille, the over-square wheelarches, the way the edges of the bonnet and the 'shoulders' of the car curve down — and updates them for the electric era. Thus, the 'grille' isn't actually a grille at all, and indeed you can even gussy it up with decals and landscape prints, if you like.
The low roof and deeply inset headlights give it a slightly menacing presence, but this is about more than mere styling. The headlights are recessed behind the edges of the bumper so that it's much harder to damage them when off-roading. Or, more realistically, if you have a parking bump. The same goes for the front fog lights and the rear reflectors, which are also recessed, while the 'bash plate' protection panel under the edge of the front bumper isn't merely for show — it's a hard-wearing plastic item that has its colour mixed in at the moulding process, so it won't show scratches.
You can have the Avenger in some rather pleasantly bright colours — including a rather vibrant 'Sun' yellow, or a very minty 'Lake' green. Of course, everyone will probably go for 'Granite' metallic grey, but the shape rewards those prepared to chance a brighter shade.
Standard alloy wheels are 16-inch items, and you can go up to 18-inches. Tantalisingly, there is a plain steel 15-inch option, which might be the best of them all, but we're not certain that Jeep Ireland will offer this version.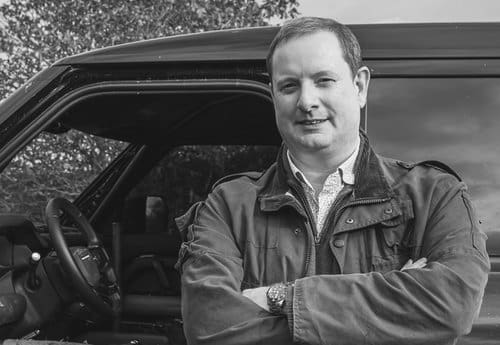 "you just expect a Jeep to be a big, hulking, useful machine but this one is really quite small"
Neil Briscoe
AA Road Tester
What is the inside of the Jeep Avenger like?
Welcoming cabin.
The Avenger's cabin is very welcoming, with a broad section of trim that runs the full-width of the cabin. This can optionally be painted a contrast colour, which looks great, but which does reflect somewhat in the door mirrors when you're driving.
Atop the centre of the dash is the 10.25-inch touchscreen which is standard on all models. This runs on fairly decent software system, which is only mildly confusing and difficult to use, and which has standard wireless connections for Apple CarPlay and Android Auto. In front of the driver, in our high-spec Summit model, there's a full-width 10.25-inch digital driver's display, which looks classy, and which has plenty of options for fiddling with the layout and the information shown. More basic versions will get a simpler seven-inch instrument screen.
Underneath the big central screen, there's a bank of physical buttons which control the air conditioning system. Jeep's designers are rather proud of these, pointing out — rightly — how much simpler and less distracting they are to use when driving than on-screen controls. A shame, then, that only single-zone climate control is offered.
Above those switches is a useful open shelf, which runs under the big screen and across the passenger side of the dash. It looks almost like a shrunken Land Rover Defender cabin at this point, and the shelf itself is a perfect place to stash phones, wallets, keys and so on. What slightly spoils the effect is that the plastic that forms the lip of the shelf is rather cheap, as are the tops of the doors. A shame, given that the Avenger will not be a cheap car. The steering wheel, with its nice leather rim, does make up a little for that, as do the comfortable front seats.
On the centre console, there's a deep storage area, in which you'll find a wireless phone charger and a pair of USB-C sockets. The cover for this area is fold-back magnetic lid, rather like the cover for an iPad, and when you roll it all the way back, there's enough space for a small backpack to be stored. Above this storage area are the push-button controls for the automatic gearbox, which are a slight stretch away if you're a taller driver — a column-mounted shifter might have made more sense.
The centre console is also home to two large, adjustable cupholders and more storage under the armrest. Indeed, Jeep claims that the Avenger has far more storage space in the front of the cabin —35-litres in all, or the equivalent of 580 ping-pong balls.
There's much less space in the back, and here's where you pay for the Avenger's compact 4.08-metre length. Legroom is quite tight, especially if those in the front are tall, and the shallow glass and low roof mean that it feels a little claustrophobic. Rear seat passengers get a single USB-C socket over which they can fight, but they don't get any door bins at all.
The boot, at 380-litres, is about average for the class, but smaller than what's offered by some others. There is definitely an issue of perception here — you just expect a Jeep to be a big, hulking, useful machine but this one is really quite small, and in many ways is actually a small hatchback wearing Jeep clothing.
Insurance up for renewal?
Get an AA Car Insurance quote online and save up to  20% or €180 when you buy online*.
Get a quote
What is the Jeep Avenger like to drive?
Performs well as an EV.
That small-car-in-Jeep-clothes feeling comes through in the drive. Jump in and head off, and instantly the steering feels good — well-weighted and free from friction, while the electric drive is smooth and easy-going.
The Avenger uses the new 54kWh (51kWh net) battery pack and 156hp electric motor, which will also be fitted later this year to the likes of the Peugeot e-2008 and Opel Mokka-e (which share a platform with the Jeep) and the Peugeot e-308 and Opel Astra-e. As standard, the Avenger comes with three driving modes — Eco, which cuts the available power to as little as 81hp but which helps to extend the range as much as possible; and Normal which gives you 110hp to play with. Only in Sport do you get the full 156hp and 260Nm of torque, but in either of the other modes, you'll be given full power if you put your foot down hard to the carpet, rather like kickdown in an automatic gearbox.
There's plenty of power. The Avenger isn't notably quick, and unlike some electric cars it doesn't stun you with instant torque off the line, but it's easy to row along in and never feels underpowered.
More importantly, it seems to have decent range on its side. Now, as a caveat, we were testing the car in warm conditions in Spain, and didn't spend all that much time on the motorway,  but even so, the Avenger's range omens are good. On a full charge, the dashboard certainly reckoned that we could go for 400km  — just as the official WLTP figure says you should be able to —and after a morning's brisk driving, some of it on twisty mountain roads in Sport mode, and with the air conditioning on, we were still showing 304km available at 80 per cent charge. That's a big improvement on the performance of the old 50kWh battery in the closely-related Peugeot e-2008.
It probably helps that, by EV standards, the Avenger isn't very heavy — 1,500kg at the kerb — and that it has a heat-pump heating system, which makes it a little more weather-tolerant. As standard, the battery charges at 11kW from AC power, or up to 100kW on DC power, allowing a 10-80 per cent charge in as little as 26-mins. Jeep says that, at 100kW, it will add 30km in just three minutes — the average length of a European commute.
It will even drive off-road. The Avenger is being launched for now with only front-wheel drive, and a specialist four-wheel drive 4XE version arrives next year. However, Jeep has given the car a useful 200mm of ground clearance, and short overhangs so that it can tackle steep slopes. It also gets, as standard, a terrain control system which adjusts the traction control, brakes, motor etc for mud, snow, ice, and sand driving. On a not-too-taxing stretch of gravel road, the Avenger felt entirely at home, although on the 18-inch wheels it definitely runs out of suspension travel more quickly than you might expect.
Also in the demerit column are the brakes, which are strong enough in themselves, but which have a very mushy and inconsistent-feeling brake pedal that doesn't inspire confidence. The ride quality is fine, though — smooth and assured on the open road, and only slightly lumpy at lower speeds around town.
Which Jeep Avenger should I buy?
Should be around €40,000.
It's a little hard to tell which Avenger you should buy, as we don't have Irish pricing yet. All the indications seem to show that it will come in at around the €38,000 to €40,000 mark, which would represent reasonable value. As standard, you'll get the 10.25-inch screen, 16-inch alloys, the terrain select system, cruise control, automatic air conditioning, and keyless entry and ignition. It seems likely that the mid-spec Altitude model will offer the best all-round value, but we'll have to wait until final Irish prices and specifications are concerned.
Is the Jeep Avenger safe?
No NCAP test as yet.
The Avenger hasn't been tested by Euro NCAP as yet, and Jeep products in the past have not all performed well under crash test conditions. However, the Avenger is based on the same platform as the Peugeot e-2008 and Opel Mokka-e, and both of those cars scored four stars on the NCAP test, with the Peugeot gaining an extra star when fitted with the optional safety pack. As standard, the Avenger comes with autonomous emergency braking with pedestrian and cyclist detection, rain sensing wipers, and LED headlights.
Verdict
Jeep are on to a winner
Jeep's first all-electric model is a success — it looks great, it drives mostly well and the early signs of its battery range and performance are good. If it's priced well, it could finally break the Jeep brand out in Ireland.
Spec Check ⚙️
Jeep Avenger Summit
Engine
54kWh (51kWh net) battery powering a 115kW electric motor
Electric economy
15.4kWh per 100km
Transmission
one-speed automatic
Luggage Capacity
380 litres with the seats up, which can extend out to 1,250 litres with the rear seats folded.