C4 Starting Price: €24,740
Price as tested: €36,603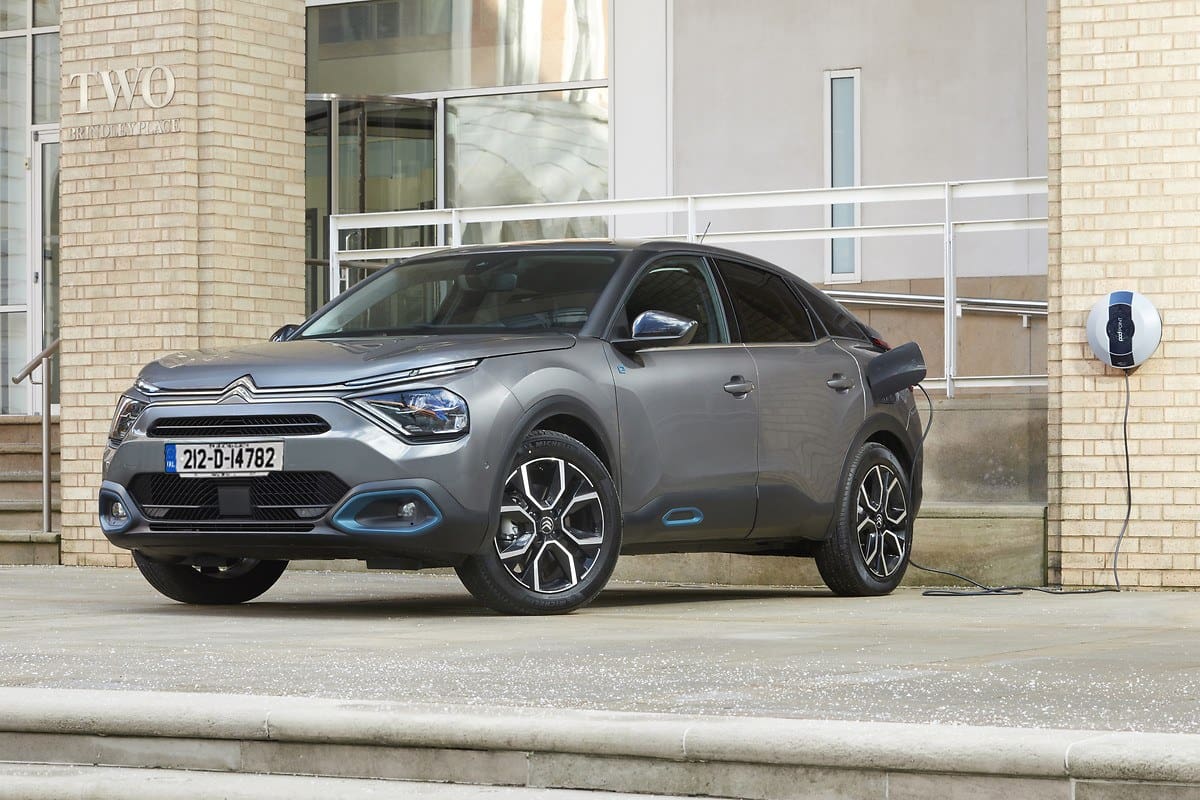 GOOD STUFF
Huge improvements all around, great specification, good looks, excellent EV offering
BAD STUFF
The quality of the plastics on some parts of the interior could be better. Fiddly infotainment.
WHAT IS IT?
The C4 is Citroën's bread and butter (or perhaps brioche) family hatchback that has always been a bit of an also-ran compared to the likes of the Volkswagen Golf, Ford Focus and Opel Astra. It was always a little cheaper than its key rivals, usually came with decent equipment, but ultimately fell down in areas such as quality. Plastics felt brittle, electrics could become troublesome and the cars felt tatty after a few years of use. Citroën has had a patchy enough time in Ireland of late. In 2020, they sold just 875 cars and fell just short of 1% market share, while Peugeot rallied to over 5 per cent. As of April this year, Citroën in Ireland came under the wing of the mighty Gowan Group, who look after Peugeot, and Opel so things should get much better for the brand. They have recruited some good new people, so things should improve. But none of this would matter without a decent product and thankfully that too is looking a lot better. The C4 has now been given the Crossover treatment and has been jacked up, beefed up and given the essence of the old C4 Cactus in the styling. There is a choice of petrol, diesel and as we've been driving here - the full-electric version. Citroën here in Ireland expects the new model to be made up of 40 per cent petrol, 40 per cent electric and 20 per cent diesel.
HOW ABOUT THE LOOKS?
The brand is making much of the fact that this car is taller and has greater ground clearance than its key rivals - it is almost 100mm taller than a Toyota Corolla for example and they say it has better ground clearance than its key rivals too. So the SUV part is covered. But when it comes to the rest of the looks, I think Citroën have done well here as it's a striking and handsome car. There is a sloping roofline with a coupé-like rear end, but all with the appearance of sitting higher. There are shades of Honda Civic, Toyota CH-R and of course, previous Citroën's here. Our Oblia Blue metallic screams EV, whereas it looks its best in more muted Platinum Grey or Obsidian Black (its best colour in our view).
WHAT IS THE INSIDE LIKE?
This is where Citroën might have struggled in the past. In an attempt to try and be different and innovative (look up the C3 Pluriel) they often ended up producing contrived and confusing interiors. This is no longer the case. This is a generously sized car, with good legroom, especially in the rear, a 380-litre boot and an interior that is more quality than quirky. There are still a few sub-optimal plastics around the door cards, but for the most part, this is a good cabin. There is a good mixture of a large screen (10" as standard) and some traditional buttons for the air conditioning system. The infotainment system is bigger than in the more expensive DS3, from the same family and the system is mildly more intuitive, but nothing like as easy as you'll find in Volkswagen Group products, or those from Kia and Hyundai. The seats are super comfortable, or should we say Advanced Comfort Seats - they come with high-density foam, memory foam and thick textured foam at the surface. This is paired with various postural supports to provide 'the next level of occupant comfort' according to the brand. While that statement is subjective, we can confirm that the seats are super comfy and spending any time in these leads to a grateful arse. It is really quite a nice place to park your rear end.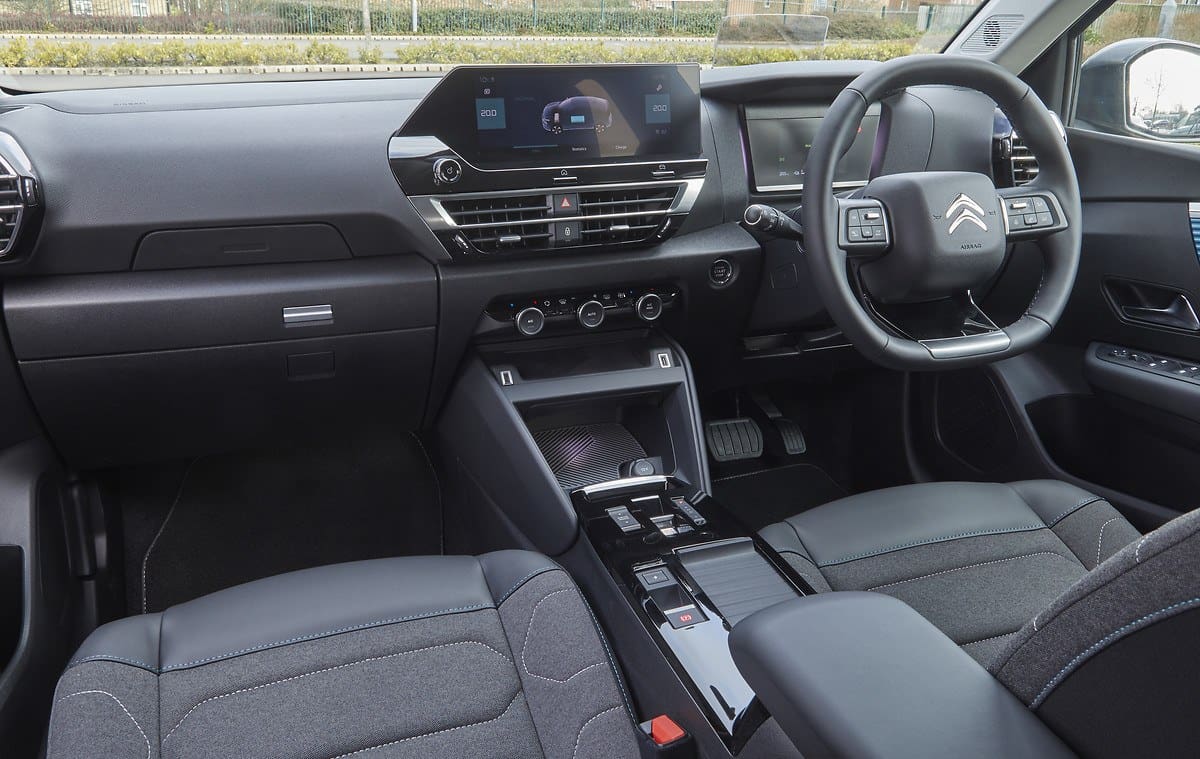 WHAT IS IT LIKE TO DRIVE?
Once again we've been driving an electric version and of course, it's the same EV powertrain as we recently drove in the DS3 Crossback E-TENSE. This car feels less agile than the DS, with vaguer, lighter steering which is very much on-brand. Despite their motorsport heritage, most Citroën's, this included, remain like driving a very comfy armchair. Twin that sensation, with the silence and urgency of an electric powertrain and you get a quite sensory deprived drive. It is quiet, there isn't much feeling in the pedal or steering wheel and your backside is perfectly padded. This is automotive anaesthesia. But the result of that is that you can drive around town (where these cars still remain at their best) or up and down the motorways (where this EV performed admirably) and arrive at your destination as fresh as the proverbial daisy. We were averaging 16.3 kWh per 100km in our few days with the car, which was quite remarkable given how ineptly we drove it. The normal run of things in an EV is lightfoot, no AC, frugal as you like but time and deadlines this week meant that went entirely out the window. Motorway hacks at 120 km/h were pretty much the only way this car was driven and we reckoned that despite that it was still managing over 300km per full charge. The WLTP figure is 350km range and we reckon that wouldn't be too unrealistic with a lighter foot and a more urban setting. Citroën explains the increased range potential of this car compared to its very close DS3 Crossback cousin, to better aerodynamics. Whatever the reason is, it works.
WHICH ONE SHOULD I BUY?
The C4 starts at €24,740 and that is for a 1.2-litre petrol engine with 100hp and a 'Feel' pack - which comes quite well equipped actually. Even at the entry point here you are getting 18" alloys, 10" touchscreen, rear parking sensors, cruise control, A/C and a leather multifunction steering wheel. Jump just under €3,000 and you move into the 130hp version with the Feel Pack, adding the Connect Nav, Smart Pad, Connected Cam (a sort of dash cam which can record road incidents) and a Head-Up Display. We've not driven it yet but suspect this would be the volume model and that is a lot of car for under €28k. Flair and Flair Pack specs add more trinkets, and there are the options of an 8-speed automatic and a Diesel, which we would probably ignore at this stage unless you have a compelling reason to have one. The Diesel we have here is the top-of-the-range Flair Pack version for €36,603 but the entry electric model is just €31,730, making it quite affordable and one f the best value EVs on Irish roads right now.
IS IT SAFE?
The standard safety pack on the Feel includes Active Safety Brake, speed limit information, lane-keeping assist, driver attention alert with lane departure detection, forward collision warning, hill start assist, front, side and extended curtain airbags. In the Feel Pack, you also get the Citroën ConnectedCAM - built-in dashcam, connected alarm system with inside sensor and in the Flair model you get the Safety Pack Plus, with Active Safety Brake (video + radar assisted - night-time and cyclist detection), Speed Limit Information and Extended Traffic Sign Recognition, Driver Attention Alert 4 with lane departure detection, and adaptive cruise control (with automatic transmissions only).
VERDICT:
The C4 has piqued our attention. With such good value on offer, the 1.2-litre 130hp version looks like the best option, but if you want to go full EV here is a well kitted out car starting at €31,730 after grants for a car with a reliable 300km range. The quality is much better than before and the looks have matured and are du jour. This is much better from Citroën.
Spec Check:
ë-C4 Crossback E-TENSE ELegance
Engine: 100kW Electric Motor with 50kW Lithium-Ion battery
Fuel Economy: Range of 350m on WLTP (we managed 307km on a full charge)
Transmission: Single-Speed Automatic
Annual Motor Tax: A4 €120
Luggage Capacity: 380-litres with the seats up, which can extend out to 1,250-litres with the rear seats folded.