Starting Price: €36,095
Price as tested: €42,195
Handsome, good value, well-equipped, great road manners
Very little, Hyundai have knocked this one out of the park
This is Ireland's best-selling car right now, the Hyundai Tucson and so far in 2021 (August 2021), the brand have shifted almost 5,000 of them. The majority of these, some 62 per cent, in fact, are made up of Diesel models but here we have the Hybrid version, which is the second most popular choice, with 31 per cent of buyers electing for this version. This is the fourth generation of Tucson and the brand have sold more than 7 million units around the globe since it was launched in 2004. This latest version arrived in Ireland with a bang at the end of 2020 and it has been in huge demand since, racing to the top of the sales charts, thanks in no small part to its dramatic looks, which we will deal with later. Hyundai really does have one for everyone in the audience with the Tucson as it comes with a diesel, which for now at least, remains the best-seller, but it also comes with a highly electrified powertrain line-up, including a plug-in hybrid and what we have here a 48-volt petrol hybrid.
Looks of course are very subjective, but given the enormous sales success of this model in Ireland then it seems a large proportion of new car buyers agree with this author in saying this is an incredibly handsome car.
The Tucson in its previous iterations was never a particularly good-looking or remarkable car, but this has utterly changed. This latest version is handsome and striking, with the styling dominated by the prominent geometric patterns known as 'parametric jewels' which appear throughout the SUV's design, giving it a progressive character.
The most prominent display of these is on the vehicle's front grille, where Parametric Hidden Lights dominate. When the lights are off, the Tucson appears covered in dark, geometric patterns, with no distinctions between the signature LED Daytime Running Lights, which are integrated into the grille. The lights on the car look very impressive and driving this, even months after its launch and pretty much everywhere on the road, this car still turns heads.
This parametric jewel design extends to the side of the vehicle and also at the rear, where the wide tail lamps also have parametric hidden light details. Finally, the rear bumper also integrates parametric pattern details, with a three-dimensional effect.
For what is, effectively a mainstream family car, this is a stunning vehicle.
The days of elephant-skin-like grey plastics are well and truly gone with this brand and this version, albeit sitting higher up the price range than some other models (we had an Executive Plus) was well-appointed with great materials used. The cabin layout is dominated by a 10.25-inch AVN-touch screen that fills the centre of the vehicle. You won't find many buttons in the cabin anymore, as the heat, ventilation and air conditioning functions are controlled via touch. It is also equipped with the latest version of Hyundai's Bluelink connected car services.
You can connect up your smartphone with AppleCar Play and Android Auto, as is increasingly the norm these days and there are some extra features such as soothing sounds. There are some really high-quality soft-touch materials on display throughout the interior. This has lifted it from mainstream to a more premium feel and it is very impressive.
The Tucson is much more spacious inside than the model it replaced. It is 20mm longer, 15mm wider, and with a 10mm longer wheelbase than before. As a result, rear passengers enjoy 26mm of additional legroom. Boot space has also been increased, offering up to 620-litres with the seat up, which is huge. This can extend out to 1,799 litres with the seats folded.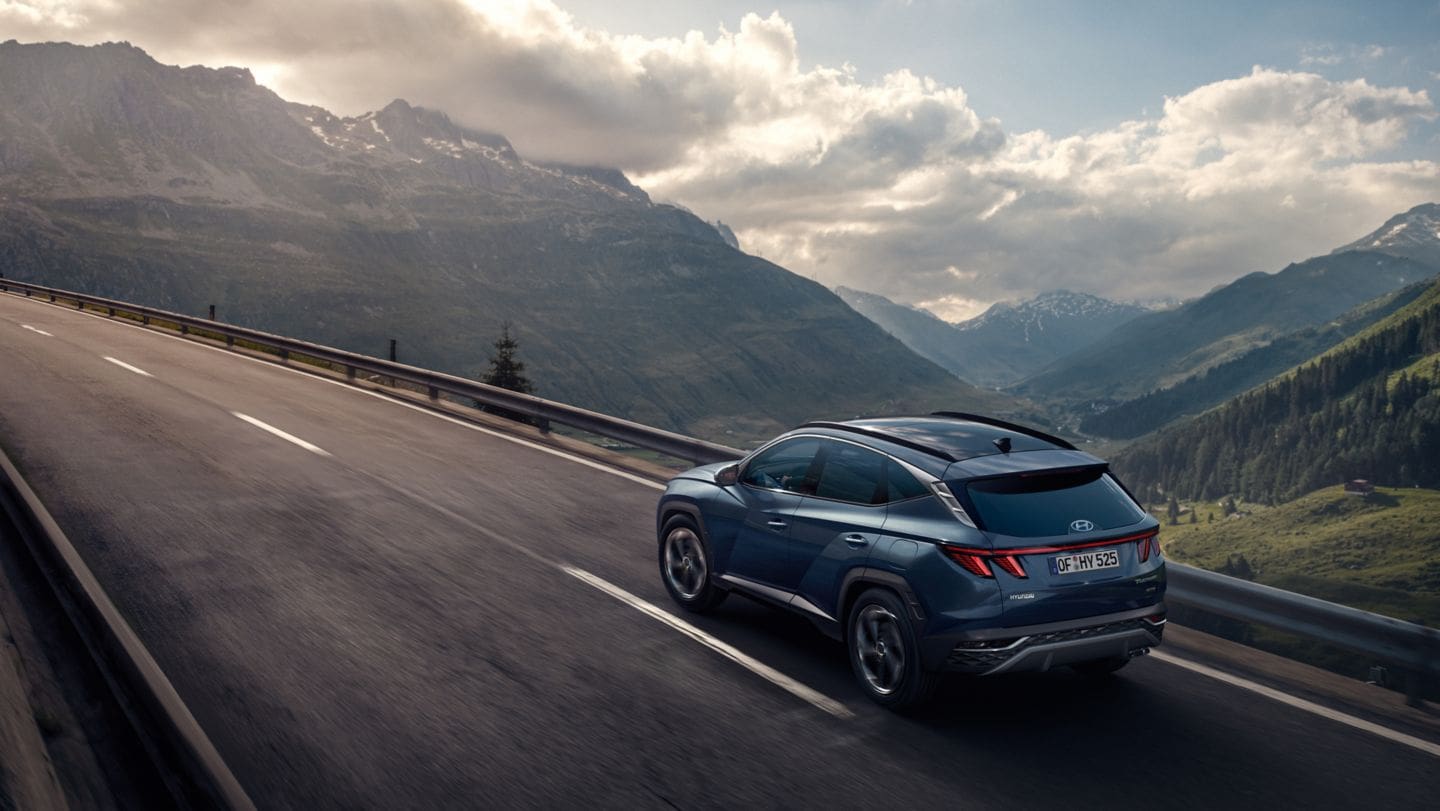 WHAT IS IT LIKE TO DRIVE?
This one feels fast. 230PS is the kind of power you would usually find in a hot hatchback (before they all went north of 300PS all of a sudden) and this power feels urgent in a family SUV.
This comes from the hybrid powertrain - a 1.6-litre T-GDI 'Smartstream' hybrid and over the course of our week with the car we were impressed by how it balanced potency and fuel-efficiency.
Our model was fitted with the 6-speed automatic transmission which seemed perfectly fine and the steering is light, making the Tucson simple to park and navigate. It isn't massively entertaining to drive, but this isn't why you'd buy one anyway.
While price conscious buyers will probably end up in the diesel, like ⅔ of buyers at the moment, this Hybrid version may well be the best one. We've yet to drive the PHEV model yet, which promises even more power (265PS) and a decent EV-only range, this HEV version looks like it provides the best blend of power and economy.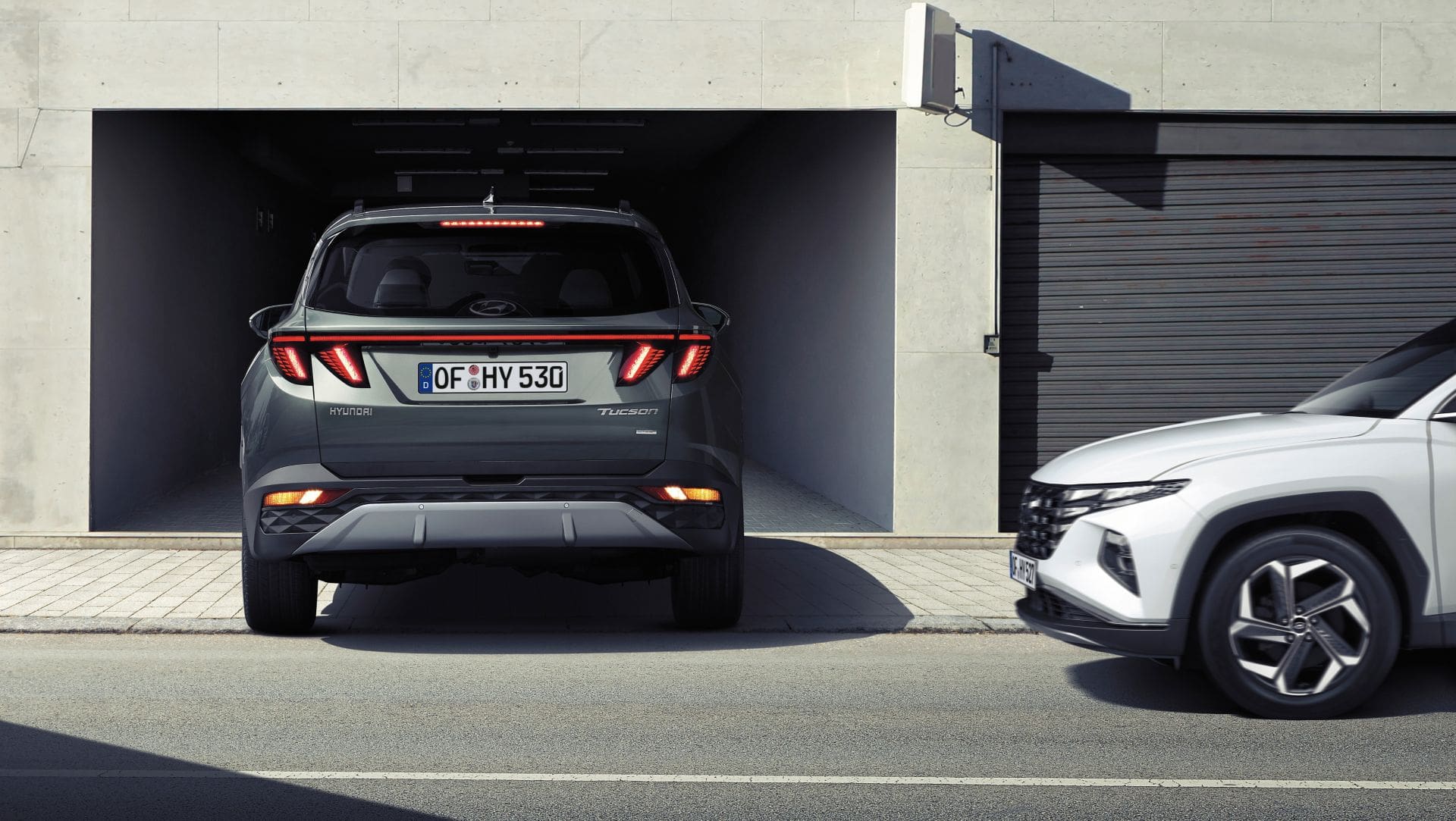 There is a ton of safety kit in this Tucson. There is an enhanced seven-airbag system that features a new centre side airbag to prevent front passengers from colliding with one another. Active safety and driving assist packages have been upgraded to include Highway Driving Assist (HDA) 1.5, Blind-spot View Monitor (BVM) and Blind-spot Collision-avoidance Assist (BCA), among others. Forward Collision-Avoidance (FCA) with the car, pedestrian and cyclist protection has been upgraded to include Junction Turning.
VERDICT: Easy to see why it is Ireland's bestseller.
The Tucson is Ireland's best-seller for a reason, it is very good and this Hybrid version in particular ticks a lot of boxes. If your budget can stretch choose this Hybrid version twinned with the automatic transmission. For more go to www.hyundai.ie
Hyundai Tucson 2WD Executive PLUS HEV Auto
Engine: 1.6-litre T-GDI HEV
Torque: 370Nm @ 1,000 - 3,000rpm
Fuel Economy: 5.5 l/100km
Transmission: 6-speed automatic
Annual Motor Tax: A4 €200
Luggage Capacity: 616-litres with the seats up, which can extend out to 1,795-litres with the rear seats folded.