GOOD STUFF
The electric range, the comfort, the price.
BAD STUFF
Shame the price has gone up because of the dropping of the grants.
WHAT IS IT?
Unless you've been in a coma for the last 5 years (hopefully you haven't and if you have, apart from COVID, you haven't missed much) and you have anything more than a passing interest in cars, then you probably won't have failed to notice the remarkable transformation of the Korean brands' quality and fortunes over that time period.
Hyundai and Kia now sit at the top of the sales charts and for properly good reasons. While on one side, Hyundai can lay claim to having Ireland's best-selling car, Kia has been having its own revolution, particularly when it comes to design and quality. The Kia Sorento is case-in-point. Here is an SUV that has moved from what was a comfy and practical family workhorse, to its current guise, which is a comfy, practical but very upmarket executive family-focused SUV.
In gaining more adjectives, it has also gained refinement and more technology. This latest Sorento now comes with the option of a clever PHEV (plug-in hybrid electric vehicle) powertrain and while it no longer qualifies for a government grant, since this ended at the end of December 2021, it remains a good value proposition compared to other more well-established executive brands, which it can credibly lay claim to being a rival of now.
HOW ABOUT THE LOOKS?
Kia design, as we've already said, has really come on in leaps and bound, and the Sorento has moved from something which would have looked more suited to a building site, to a vehicle you could pull up outside a posh hotel in without looking out of place. This is the fourth-generation of the Sorento and easily the most handsome. The front is dominated by an imposing grille (Kia call it the Tiger nose) with striking LED lights and at the rear, there is an almost Bentley Bentayga look to the rear styling, with the rear boot lid proudly displaying a wide Sorento lettering detail across the back. This is a much more purposeful, executive focussed design than before and it works really well. It is a good-looking SUV. The new model is 1,900 mm wide, 10 mm wider than the third-generation Sorento. The new model is 10 mm longer than its predecessor, yet it features shorter front and rear overhangs. The additional length in found in the wheelbase, which has grown by 35 mm to 2,815 mm.
WHAT IS THE INSIDE LIKE?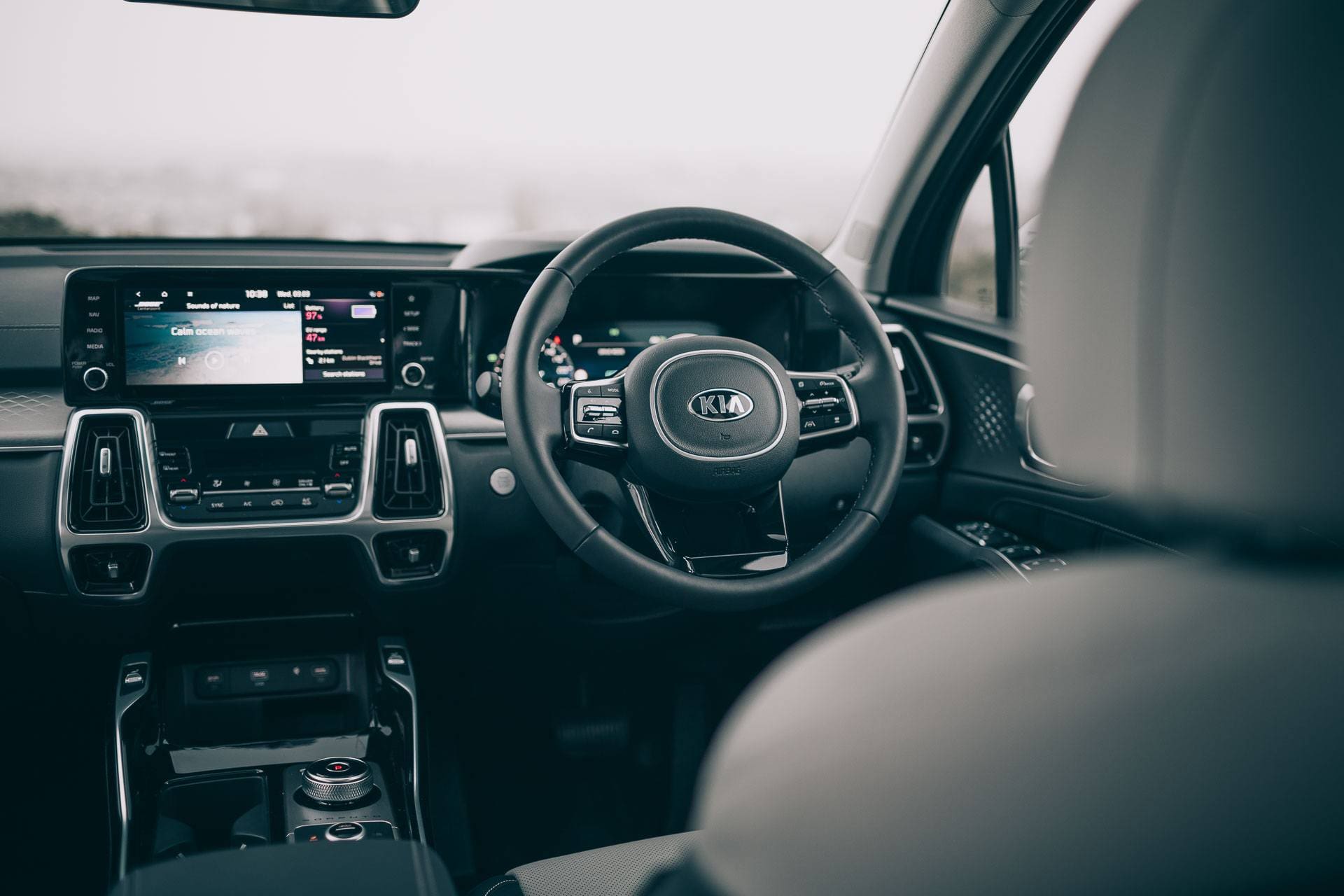 Here in the past is where things might have fallen down, because you would have been met with a sea of hard-wearing grey elephant-skin-looking plastics, but those days are well and truly gone and the cabin of the Sorento has Audi-worrying levels of fit and finish. Here is a cabin that blends metallic trim, leather upholstery, and gloss back and embossed satin-effect surfaces.
It is quite a busy cabin, there is none of the minimalistic look of a Tesla here, with plenty to satisfy the lover of physical buttons. The Sorento's infotainment system is very good. Sure, it can manage the typical Android Auto and Apple CarPlay functionality which we have come to know and love so well, but there are some nice features in the built-in system, including a very zen-like array of nature sounds, should you want to take some time out in your vehicle. The 12.3-inch digital driver instrument cluster is twinned with a 10.25-inch touchscreen infotainment and navigation system at the centre of the dashboard. The car's functions can be controlled by haptic buttons on either side of the screen, which also feature down the dashboard for the climate control system. There is a vertical ventilation stack, with a chrome-effect surround that extends onto the centre console below. A wireless smartphone charger sits at the base of the centre console, while a powerful BOSE surround-sound system is also available. An Integrated Memory system is able to memorise the preferred position for the driver's seat, door mirrors, Head-Up Display and interior light settings for up to two drivers. Rear seat passengers are also catered for, with their own air vents and manual air conditioning, rear door curtains to reduce sun glare and heated seats in the second row.
In terms of space, the seven-seat Sorento, with the third-row of seats folded has 809-litres of luggage space, and even with the third row of seats in use, there is 175-litres of space, which is enough to take care of what you need for a family day out, or the usual Saturday morning pile of kids training kit. The second row of seats can now slide up to 45 mm further, creating a wider point of entry to the third row with more space for feet and legs.
WHAT IS IT LIKE TO DRIVE?
You might have imagined that a 1.6-litre engine, twinned with an electric motor might not be substantial enough to power such a large vehicle, but let's get that out of the way right away, because it is. On its own, the 1.6-litre T-GDi (turbocharged gasoline direct injection) engine, produces 180 hp and 265 Nm of torque. Combined with an electric motor producing 67 kW and 304 Nm of torque, this SUV delivers a combined 265 hp and 350 Nm of torque. This version can accelerate from 0-100 km/h in 8.7 seconds and from 80-120 km/h in just 5.7 seconds.
The engine and motor are paired with a 13.8 kWh lithium-ion polymer battery. This enables the seven-seat SUV to deliver an equivalent all-electric range of up to 57 kilometres from a single charge. In our week with the car, without trying too hard we were managing easily over 40km on a full charge and you should expect to do better in summer months or with more focus on the task and that is really very impressive and could add up to very serious fuel savings for someone that has a commute within that distance.
The car's road manners are really very good for a car of this size and bulk. We suspect most customers buying a Sorento would covet comfort over outright sportiness, and they won't be disappointed but what is really remarkable is just how much the handling has improved too. Kia has placed the 13.8 kWh battery low in the centre of the body, between the two axles, which helped to keep the centre of gravity low and aids with weight distribution. Locating the mass of the battery closer to the centre of the vehicle contributes to the SUVs better dynamics. Should you require to venture slightly off-road, there is Terrain Mode, standard on the PHEV. Controlled using the Mode Select dial on the centre console, drivers can choose from 'Mud', 'Snow', and 'Sand' modes. The system automatically optimises the drivetrain to best suit each scenario, adjusting engine torque output and distribution, as well as stability control characteristics.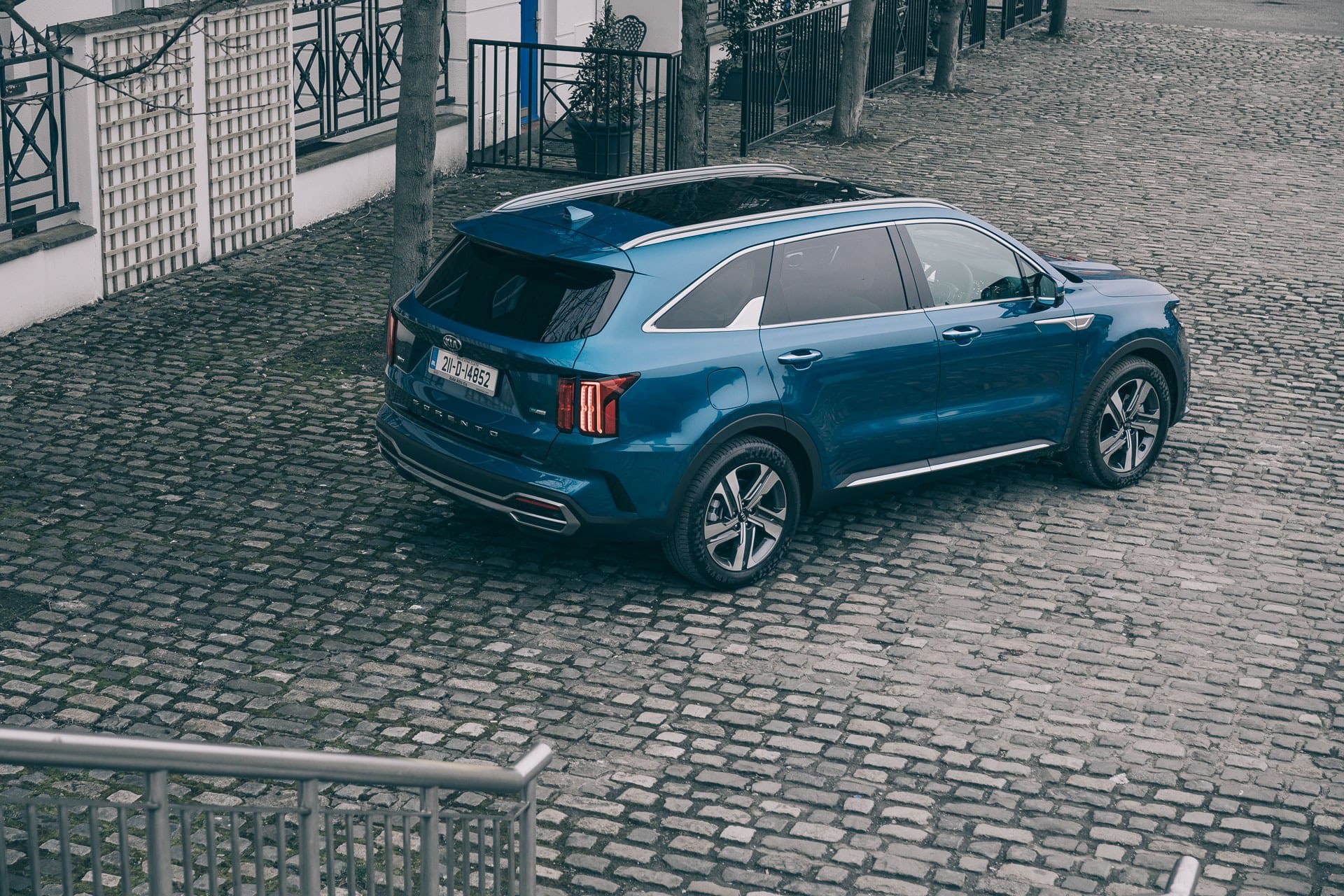 WHICH ONE SHOULD I BUY?
Very simply, the PHEV. This is the most relevant engine choice and by far the best value.
IS IT SAFE?
The Sorento, including this PHEV model, has achieved the maximum five-star rating from Euro NCAP. There are high levels of active and passive safety and a decent level of driver assistance systems. Kia groups many of its safety systems into Kia's Advanced Driving Assistance Systems (ADAS) – this includes Forward Collision-Avoidance Assist (FCA) technology with pedestrian, cyclist and vehicle detection. This also detects oncoming traffic when making a turn at a junction. The Sorento is also available with a Surround View Monitor (SVM) and Blind-Spot Collision-Avoidance Assist (BCA), Intelligent Speed Limit Assist (ISLA), Smart Cruise Control with Stop&Go (SCC) and Navigation-based SCC Curve (NSCC-C), Lane Following Assist (LFA), Driver Attention Warning (DAW) , and Highway Driver Assist (HDA).
VERDICT:
The Kia Sorento PHEV has gone up in price as a result of the cessation of the PHEV grants, but this remains remarkably good value for money, for what feels like a luxury SUV that could rival something from BMW or Mercedes-Benz and better them in most cases.
Spec Check:
Engine: 1.6-litre four-cylinder petrol engine with six-speed automatic transmission combined with a 13.8 kWh battery.
Fuel Economy: 1.6 l/100km
Transmission: Six-speed automatic transmission