Electric vans are gathering pace, with every mainstream van maker now offering some sort of electrification within its range. The origins of the current wave of electric vans are found in catering for so-called 'last-mile' deliveries (the final stage of sending a package from a depot to its destination) in places where low emissions are desirable. As a result, most electric vans were based on the largest body styles, but with a modest electric motor and a driving range that barely broke 150km.
Today, the best electric vans can travel a lot further, while assorted sizes are now available, including small and medium-sized vans. Fast charging has also made its way into the sector, so these vans can spend less time charging and more time out working.
We've listed five of the best electric vans for sale today, all of which should help reduce running costs for businesses that run them.
Sizes: two lengths, one roof height
Range: up to 275km

The e-Berlingo is one of a fleet of small vans from the Stellantis Group that all use the same running gear. The Peugeot e-Partner, Opel Combo-e and recently revealed Fiat e-Doblo vans are largely identical apart from their badges, while the Toyota Proace City Electric also uses the same tech.
There's a 50kWh battery under the floor and a punchy 136hp electric motor driving the front wheels, while the cargo area remains unchanged from the diesel version, whichever length you choose. Even better is that these electric vans can still carry up to one tonne in payload, which is impressive for such a small model, and fast charging that can take the battery from zero to an 80 per cent charge in as little as half an hour means you'll be stopped for less time when plugged in.
2. Citroen e-Dispatch
Sizes: two lengths, one roof height
Range: up to 330km
Move up to the medium-sized electric van class, and the Stellantis Group pulls off the same trick here as it does with its small vans. Therefore the Citroen e-Dispatch is also essentially the same as the Peugeot e-Expert, Opel Vivaro-e and Fiat e-Scudo, and again Toyota joins the party with the Proace Electric. It's all to do with economies of scale – the more vans that share the same components, the lower the costs of manufacture.
Here, there are two body lengths on offer again, but this time there's also the option of a larger battery. As standard, these medium vans share the same 136hp motor/50kWh battery set-up as the small vans for a range of 230km, but there's also a 75kWh battery option that bumps this up to 330km, while fast charging is again on offer.
3. Ford E-Transit
Sizes: three lengths, two roof heights
Range: up to 317km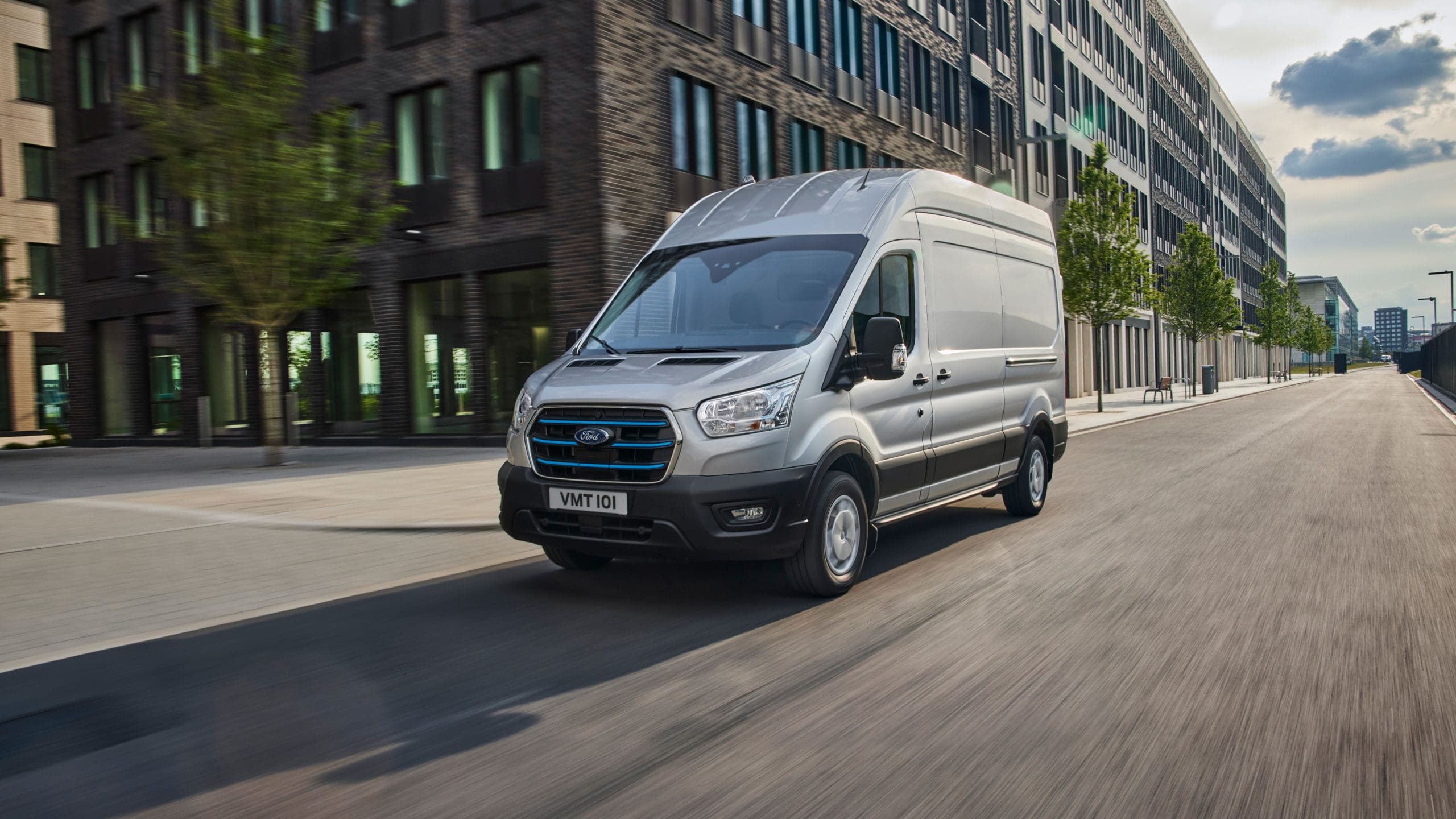 The E-Transit is a bit of a game-changer for the large electric van sector. Ford has taken its experience from the Mach-E electric SUV and applied it to the Transit, so you get a van that's great to drive, quiet and refined, while still offering competitive payload weights and cargo capacity. There's a 68kWh battery under the cargo area that drives an electric motor on the rear axle, and there are two power outputs: 183hp or 269hp. That makes it the most powerful large electric van on offer, while a range of up to 317km is class-leading, too.
Ford offers a 'Pro Power' connection in the cargo area, which allows you to plug power tools directly into the drive battery, while Ford Pro is the firm's new business portal that helps users get the most from their vehicles, electric or diesel.
4. Renault Zoe Van E-Tech
Sizes: one length, one roof height
Range: up to 375km
Do you need a small electric van with a bit of style to help promote your business? Then the Zoe Van fits the bill. It's based on the Zoe supermini, so has the same five-door hatchback body, but the rear side windows are blacked out, there's a steel mesh bulkhead behind the front seats and a large, flat cargo area in place of the rear bench.
While payloads are nothing to write home about when compared with small vans like the e-Berlingo, the Zoe Van drives exactly like the hatch, so it's nippy around town but has a long range that means extended journeys aren't out of the question.
5. Volkswagen ID.Buzz Cargo
Sizes: one length, one roof height
Range: up to 412km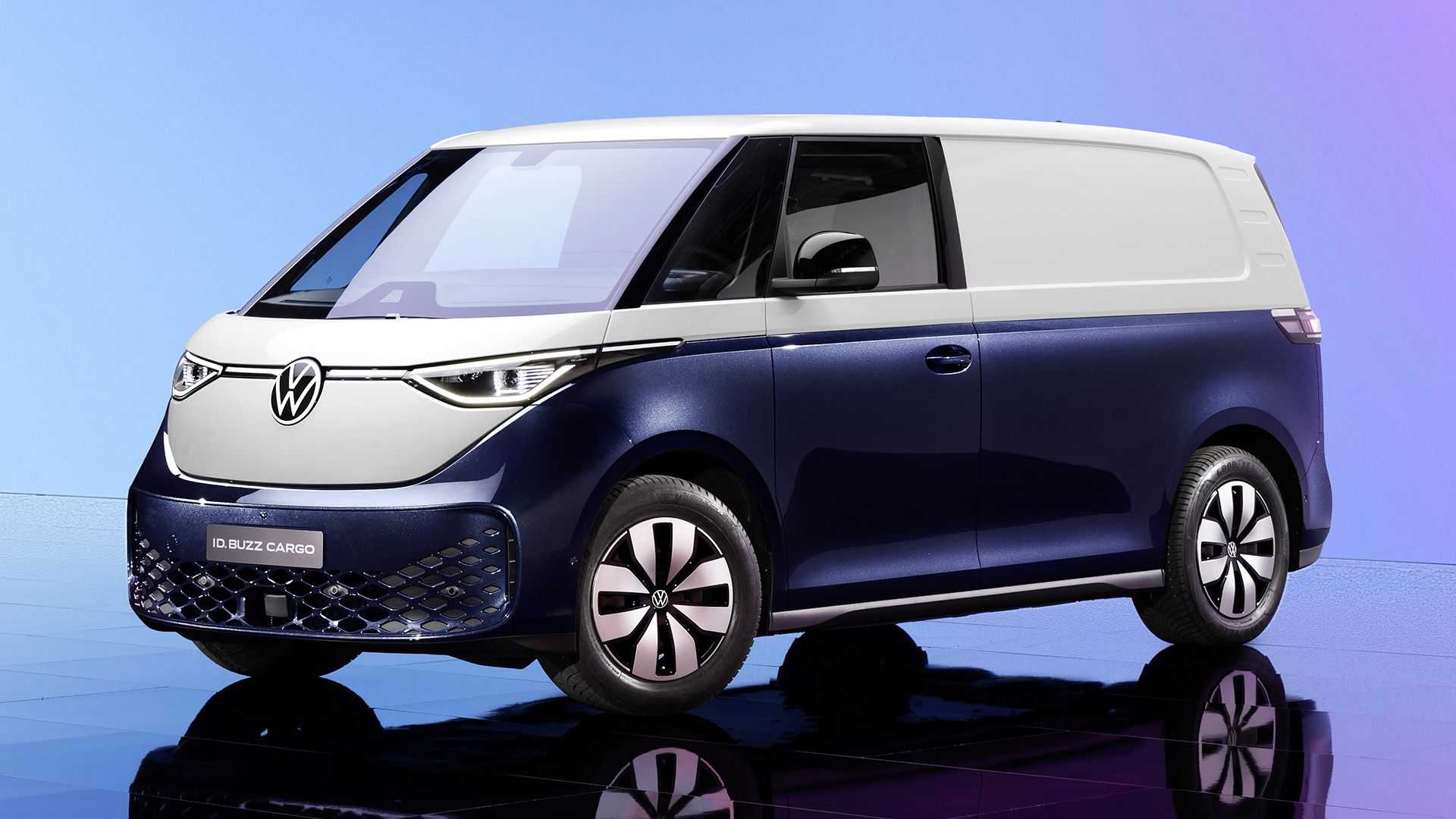 Due here in the autumn, the ID.Buzz Cargo aims to inject some retro charm into the electric van market. The looks are unique in the commercial vehicle sector, while the all-electric running gear under the skin uses the latest technology from the Volkswagen Group.
The ID.Buzz uses the same core platform as the ID.3 and ID.4 electric cars, so expect a driving experience that will be far smoother and more grown up than any electric van so far, while a range of around 412km from a full charge will put it well ahead of rivals, too. Those funky looks won't come at the expense of space, with 3.9 cubic metres of room inside, which is big enough to take two Euro pallets. What's more, a tight 11.09-metre turning circle means the ID.Buzz will be easy to manoeuvre around town.