Over the coming weeks, thousands of Irish bargain-hunters are likely to make the trip to Northern Ireland to do their Christmas shopping. With the pound remaining weak as the UK gets to grips with Brexit,
just over one in 10 respondents to our 2018 AA membership poll
 said they intended on doing just that this year.
The Brexit effect
Uncertainty over Brexit continues to make a big impact on cross-border trade, with the pound remaining weak and making your Euro go much further than it did before June 2016's referendum. At the time of writing, the pound is worth just €1.12, having held steady between €1.10 and €1.15 during 2018. Compare this to July 2015, when the rate was as high as €1.44... So if you have decided to head north, here's what you'll need to know…
Advice
While you can of course use your credit or debit card when you go shopping in the North, your best bet is to shop around for the best exchange rate and buy cash before you go. That way, you'll get the maximum amount of sterling for your Euros and find it much easier to budget!
Before you decide to fill up the car, consider whether the cost of fuel will negate any savings you might make on your planned purchases. You might find it cheaper to stay at home after all.
Check out the public transport. Belfast, Lisburn, Banbridge and Newry are all easy to get to by bus and/or train from Dublin, which means less time driving and more time relaxing.
If you do decide to take the car, plan your journey with the AA Routeplanner. It will give you distances, journey times, fuel costs and live traffic information from the AA Roadwatch team.
Beware of fatigue. Don't do the trip all in one go – instead take a break halfway into the drive. And if you are travelling with others, why not share the driving?
It can be tempting to fill the car to the brim with all of your Christmas goodies, but be sure not to overfill. Heavy loads are likely to affect the car's handling and performance, and your stopping distances will increase too. If you encounter problems you may find yourself having to make a call to the AA Rescue team.
Make sure everything is secure. Objects sliding around or toppling over any time you brake or turn will be irritating and could be dangerously distracting. Wedge your stuff in to a rear foot-well rather than have it slide around an otherwise empty boot.
If you're loading heavy items like cases of wine or beer, push them tight up against the back of the rear seat. That way, they will be much less likely to break through the seats in a crash and the car should handle better too.
Plan for a puncture. Think about how you will get to the spare in an emergency. Don't throw everything in loose or obstruct access to the spare wheel with your heaviest items. Using several soft bags instead can make things much easier if you or an AA Patrol needs to get to the spare in an emergency.
The fastest way to report a breakdown is through the AA app. Remember to bring your AA Membership card with you, too – it's valid in Northern Ireland (as well as the rest of the UK).
Bear in mind that Sunday trading hours in Northern Ireland are restricted, and large stores are not permitted to open until 1pm. So if you plan to head up on a Sunday, take your time!
BELFAST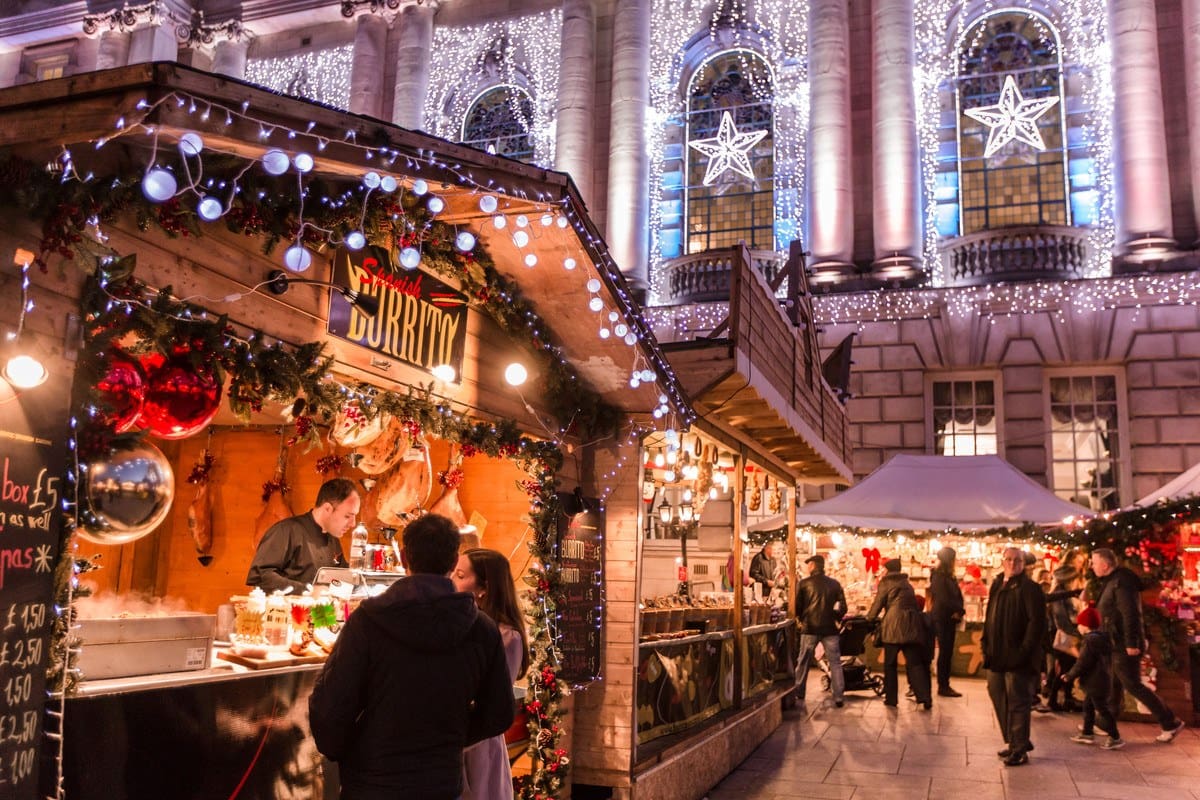 via VisitBelfast.com
The capital of Northern Ireland is also the second largest city on the island, with a population of around 300,000 and all the shopping, entertainment and leisure options you could wish for. It's also relatively easy to get to from the eastern border counties, north Leinster and Dublin.
GETTING THERE
The drive from Dublin is 166km and should take just under two hours in normal conditions on the M1, A1 and Northern Ireland's M1. There is also a range of frequent bus and train options from Bus Éireann, Aircoach and Irish Rail. If you're coming from Cavan/Monaghan direction, you can use the N54 Clones/ Monaghan Rd, continuing on the N12 and A3 to Craigavon and then the M1 motorway to Belfast.
WHERE TO SHOP
It's undeniable that Belfast city centre has been adversely affected by August's massive fire at the flagship Primark store on Royal Avenue. At the time of writing there was still an exclusion zone around the building, but the city has been working hard to attract shoppers with
reduced prices on public transport
 and an expanded 
continental Christmas market
. Traders from Germany, Spain, France, Italy, the UK and Ireland set up shop for the month with stalls selling food, drink, crafts, plants and much more. There's a German beer hall and a more traditional Irish pub. Don't leave without sampling some 
Glühwein
! It runs until December 22nd. The flagship shopping centre in the city is
Victoria Square
, a multi-level complex cleverly incorporated into the surrounding streets with a spectacular glass-and-steel roof and an elevated dome which gives great views over the city. You'll find high-end fashion and homewares in House of Fraser, plus lots more designer and high street outlets as well as restaurants, cafes and a cinema. Nearby on Royal Avenue is
CastleCourt
, with over 80 shops (including a large branch of Debenhams) and 15 food outlets under one roof. The centre advertises its 'family friendly' credentials and has a soft play area, Parents' Room with changing and feeding facilities and free Kiddy Car service – 'ideal to whizz your child around the stores'. There's a large multi-storey car park at the rear too. Check each centre's website for its opening hours.
WHERE TO PARK
Belfast City Council has information on their own car parks
here
, and there are private options too from
NCP
and the shopping centres.
NEWRY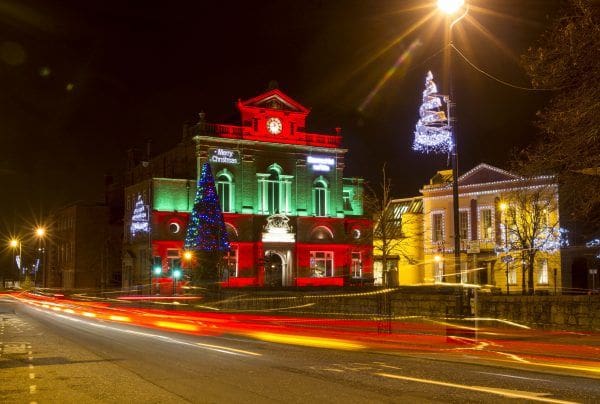 © NewRayPics.com
For shoppers travelling north on the M1, Newry is the first town you come to once you have crossed into Northern Ireland. It has long had a reputation as one of the best provincial shopping towns in Northern Ireland and in recent years, its credentials have been boosted further by the decline of the pound against the Euro. With its proximity to the border, Newry is increasingly attractive to shoppers from the Republic.
GETTING THERE
At just over 100km from Dublin and well signposted from the M1 and A1, the journey should take around one-and-a-quarter hours. Bus Éireann's X1 service to Belfast stops at Newry and takes around an hour-and-a-half. The Enterprise rail service from Connolly to Belfast Central also stops at Newry and takes around one hour, 15 minutes.
WHERE TO SHOP
Newry has two main shopping centres,
The Quays
and
Buttercrane
. Conveniently for shoppers, they are right beside each other, sited alongside Newry Canal. Both centres feature the usual wide range of high street brands, cafes and eateries. They also both have a range of family-friendly services, and Buttercrane even offers autism-friendly shopping on Wednesday evenings and Saturday mornings, with reduced lighting levels, no mall music and limited PA announcements. Check each centre's website for its opening hours. As each centre is just a short stroll from the centre of town, it's easy to check out all the independent shops there.
Newry.com
has all the info on what the town has to offer.
WHERE TO PARK
The city's largest car park is at Abbey Way in the Cathedral Quarter, with 280 spaces. There are also two car parks on Monaghan St (227 spaces in total), two on Canal Bank (130 spaces in total) and free parking on Edward St, Merchants Quay, Railway Ave and Catherine St. There's more information on parking in the town 
here
. In addition, Buttercrane and The Quays both have large multi-storey car parks with over 1000 and 1300 spaces respectively.
DERRY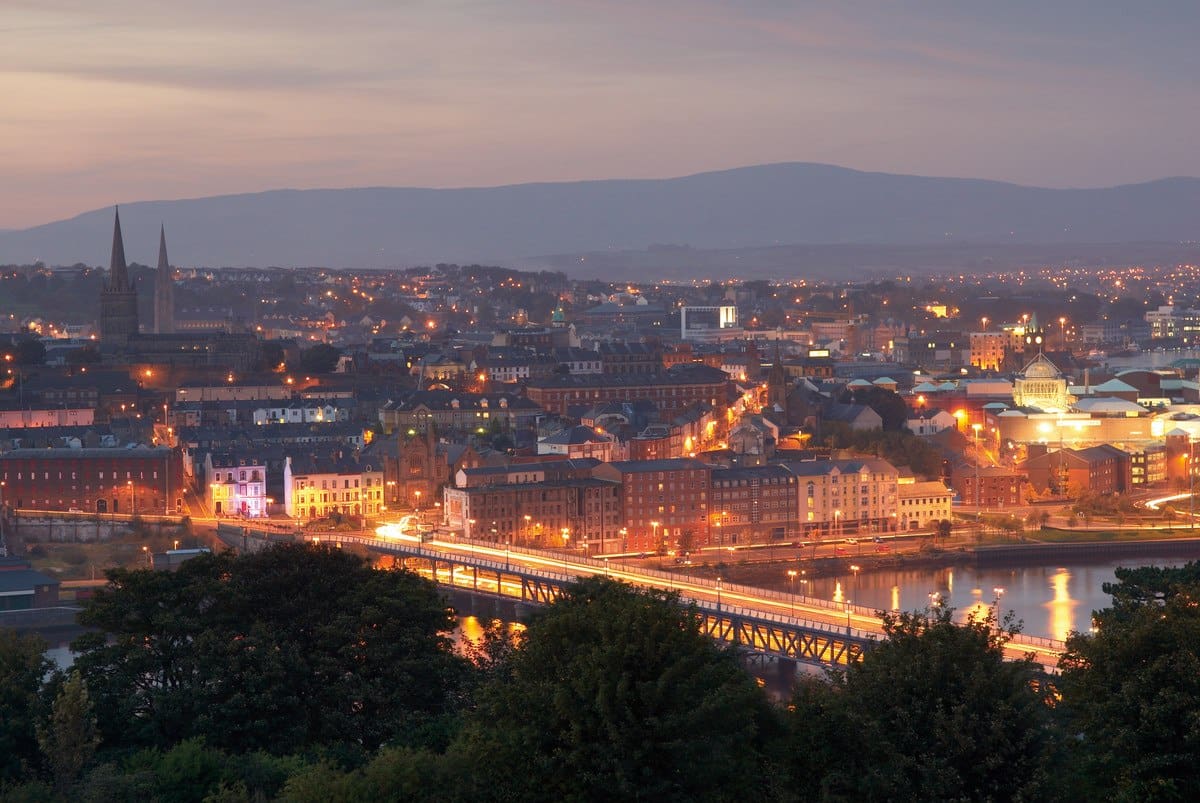 via Tourism NI
Derry is Northern Ireland's second city. With a population of around 90,000, it's a similar size to Limerick and handily positioned for shoppers in Donegal and Connacht.
GETTING THERE
The city is just 35km from Letterkenny and 139km from Sligo town. That journey should take two hours along the N15, N13, Newtown Cunningham/Derry Rd (R237) and A40. Bus Éireann will get you from Sligo to Derry in around two-and-a-half hours, stopping at several towns in Donegal along the way.
WHERE TO SHOP
Due to its relatively large size, there are plenty of options for bargain hunters in the centre of town. In addition, there are two main shopping centres in very close proximity to one another,
Richmond Centre
and the more modern
Foyleside
, where you can expect to find all the usual high street chains, refreshments and family facilities. Check each centre's website for its opening hours.
WHERE TO PARK
There are
1500 spaces
at Foyleside, though as it is right in the city centre it fills up quickly – get there early! The city council has information on its own
range of car parks
.
LISBURN
Photo by Albert Bridge
Just off the A1 approximately 15km south of Belfast, Lisburn is a small city with a similar population to Galway and a large out-of-town shopping centre, Sprucefield.
GETTING THERE
If you're coming from Leinster, head for Belfast on the M1 and A1 – it's approximately 155km from Dublin, and should take about one hour 45 minutes. When you get to Sprucefield roundabout, either head straight into the Sprucefield centre or continue on the A1 into Lisburn city (2km). Bus Éireann's X1 service to Belfast stops at Sprucefield and takes two hours, 10 minutes.
WHERE TO SHOP
Two kilometres outside the city centre,
Sprucefield
is the main reason to visit. It's a major out-of-town retail park with huge outlets of Marks & Spencer, Next, Mothercare, PC World, Pets At Home, Boots and more. Although officially a city since 2002, Lisburn has more of a mid-sized town feel and perhaps suffers due to its proximity to Belfast. The main shopping area is centred on the pedestrianised Bow Street, and the
Bow Street Mall
centre. Check each centre's website for opening hours.
WHERE TO PARK
Sprucefield has its own free car park with 1500 spaces. In the city centre, Bow Street Mall has 1000 spaces and costs 90p per hour or £4 for a full day. The entrance is on Thiepval Rd. Nearby, there is a multi-storey car park at Graham Gardens, and the local council has
a list of other options
.
BANBRIDGE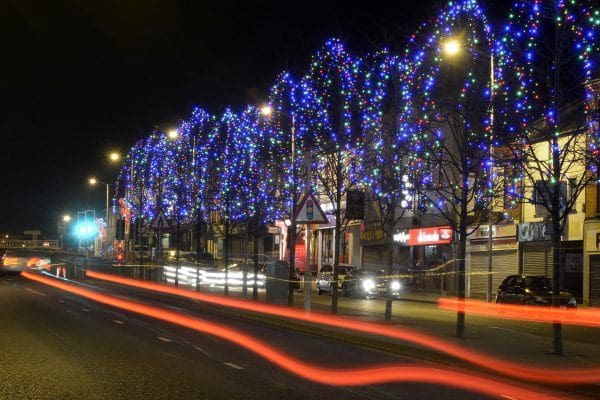 © Edward Byrne Photography
Beside the A1 and approximately 40km south of Belfast, Banbridge is a bustling small town. The main attraction for cross-border shoppers, however, is The Outlet retail park just outside the town.
GETTING THERE
Again, if you're leaving Dublin you'll head for the M1 and A1. Banbridge is around 125km from the capital and it should take less than an hour-and-a-half to get there. Bus Éireann's X1 service to Belfast stops at Banbridge and takes one hour, 50 minutes. The Outlet is situated right beside the main road about 5km south of the town, and a shuttle bus is available from the town centre.
WHERE TO SHOP
The Outlet
is a large out-of-town retail park with over 45 stores – mainly fashion brands – plus cafes, restaurants and leisure facilities. It claims "permanent reductions of up to 70% off the RRP", so you may find that your Euro goes even further here. The historic town of Banbridge is small (population around 17,000) but it has plenty of character, local shopping and a distinctive, wide main street.
WHERE TO PARK
There are over 1500 free car parking spaces at The Outlet, and several off-street parking locations in the town centre.
Additional research by Francesca Farrell.