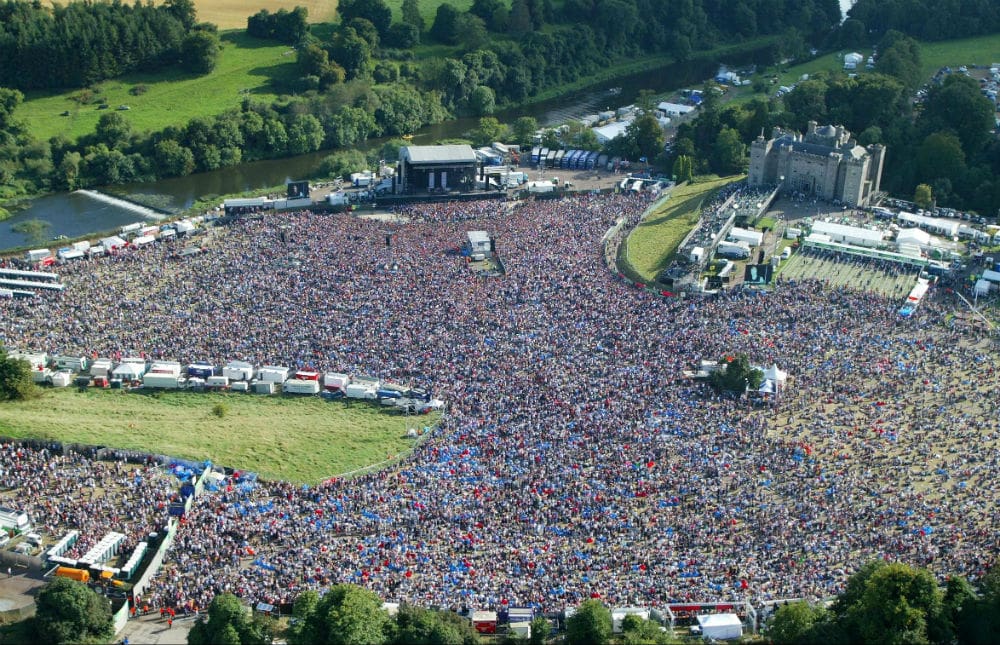 Metallica play Slane as part of their WorldWired Tour on Saturday the 8th of June, their first Irish show in over ten years. Support will come from Ghost, Stiff Little Fingers, Bokassa and Fangclub. Gates open at 2pm.
Patrons are strongly advised to use public transport options
where possible and to plan their journeys well in advance. Please note, all information below is subject to change. Consult the Transport for Ireland
website
and the Garda
website
for official travel and traffic management plans.
SLANE VILLAGE
Restrictions on routes around Slane will be in place from Friday (7th). Then at 7am on Saturday (8th)  there will be restricted access to Slane village and at 10am, all roads into the village will be closed. These closures will remain in place until approximately 2am on Sunday (9th). No parking will be permitted on roadsides and cars will be towed away.
HOW TO GET THERE
BY BUS
From Dublin, Marathon Coaches depart Custom House Quay every 30 minutes between 11am and 4pm. You will be dropped off on the Green Route into the venue. A return service from Slane will leave directly after the concert from the Green bus hub to O'Connell St. Tickets are priced at €35 until the 5th of June or €40 after this date. See
their website
to see times available and to book your tickets. Dublin Bus will depart every 15 minutes between 11am and 4pm, from Western Way, Dublin 7. You will be dropped off on the Green Route into the venue. A return service will depart from Slane straight after the concert from the Green bus hub.  Tickets can bought up until 6pm on the 3rd of June and will cost €40 return (plus booking fee). Dublin Bus will not sell tickets on show day so make sure you are prepared ahead of time. They can be contacted on (01) 8734222 for more information. Translink offer services from Belfast, Derry, Strabane, Omagh and Ballygawley to  Slane. Please note that the service leaving from Belfast at Europa Bus Centre is sold out. Click
here
to buy your ticket for other routes. Tickets must be purchased in advance. Finnegan Bray services will depart from Main St, Bray (opposite the Royal Hotel) at midday and return after.Tickets are €40 return and are available by calling 01-2860061, 10am to 3pm Monday to Friday. Bus Eireann will run a Dublin-Slane service departing from Custom House Quay to the event every 15 minutes from 1pm to 5pm. A return service will leave Slane between 11pm and 12:20am. A Drogheda-Slane service runs between 12:30pm and 5pm departing from Drogheda Bus Station every 30 minutes. After the concert, buses will leave from 11pm to 11:45pm. A service will also run between Navan and Slane, leaving every 15 minutes from 1pm to 5:30pm on Navan Main St. Post gig, buses will depart between 11pm and 12:30am.  Full details can be found
here.
Private coaches MUST book their coach parking online.
BY CAR
Slane is approx. 60km north of Dublin in County Meath. Allow a travel time from Dublin of at least 90 minutes if using public transport and longer if travelling by car. Once again, patrons are strongly advised to use public transport options where possible. If you must drive, car-pooling could be an option for you. See below for car parking information. Patrons travelling to the concert on the M1 from Dublin using should exit at J10 Drogheda North and travel towards Slane on the Drogheda Rd and park in the Pink Car Park.  Taxis will be diverted to the designated car park. Patrons travelling on the M1 from the North using private cars and taxis will exit at J12 Dunleer and travel towards Slane via Collon on the N2 to the Blue Car Park. Those using the N2 will travel towards Slane and park at the Green Car Park and those coming via Navan on the Navan Road (N51) will park at the Red Car Park. Taxis will drop patrons at the VIP/Disabled Car Park. No private cars or taxis will be permitted to travel to Slane using the Kells Road (R163).
CAR PARKING INFO
All carparks and busparks involve a walk of 30-45 minutes to the concert site. It is advisable to book your car parking in advance via the promoters
app
. Follow the concert signage as you approach the venue. Please note, there is a fee to use any car parking facility for the concert. BLUE CAR PARK – This car park is for areas north of Slane. Access is via the N2 from M1 J12 Dunleer. PINK CAR PARK – Patrons coming from Dublin and south of Slane use this car park.  Access is via the N51 from M1 J10 Drogheda North. GREEN CAR PARK – Dublin and areas south of Slane should use the Green car park. Access is via the N2 and from the M50. RED CAR PARK – This car park is for motorists coming from Navan and areas west of Slane. Access is via the N51 and from Navan and the M3 at J9 Navan North. DISABLED CAR PARKING  Disabled Car Parking is provided within the VIP car park off the N51 adjacent to the event site which can be accessed via Navan. Prior permission should be obtained from the concert promoters MCD to avail of these car parking facilities.
OTHER EVENT INFO
Gates are expected to open at 2pm and no queuing will be permitted. This time is subject to change however, so keep an eye on the
MCD website
for the latest information. Slane Castle also has a useful FAQ section.  Keep in mind that there will be limited ATM facilities available so concert goers are strongly advised to bring cash to the event.
WHAT IF I BREAK DOWN?
AA Membership is available for as little as €10 per month and offers 24/7 emergency cover so we'll never see you stuck. See
here
for more.