BYD
New Car Review | BYD Atto 3
Good Stuff 👍
Range, spec levels, value for money
What is the BYD Atto 3?
All-electric SUV offering good space and range at a very decent price
The BYD Atto 3 is a mid-sized SUV from the latest Chinese brand to enter the Irish market. It is packed with a very high standard of specification as standard. Pricing is very competitive and keeps up with many Petrol and Diesel counterparts.
Who are BYD?
Latest Chinese car manufacturer to enter the Irish market
BYD's slogan on entering the market is that they are 'the biggest car brand that you've never heard of!' And it's probably true! They are a giant manufacturer of Lithium-ion batteries and electric vehicles with sales across the world.
BYD stands for Build Your Dreams. This may seem like an odd name for a car brand to the average Irish person. But this aspirational naming practice is fairly common in China. Most people refer to the company as BYD, and that is likely how they will be known in general.
BYD are the world's largest manufacturer of electric buses. The company is moving into electric passenger vehicles in greater numbers having established themselves as one of the foremost experts in battery technology and production. In fact, about 20% of the world's mobile phones have a BYD battery cell in them!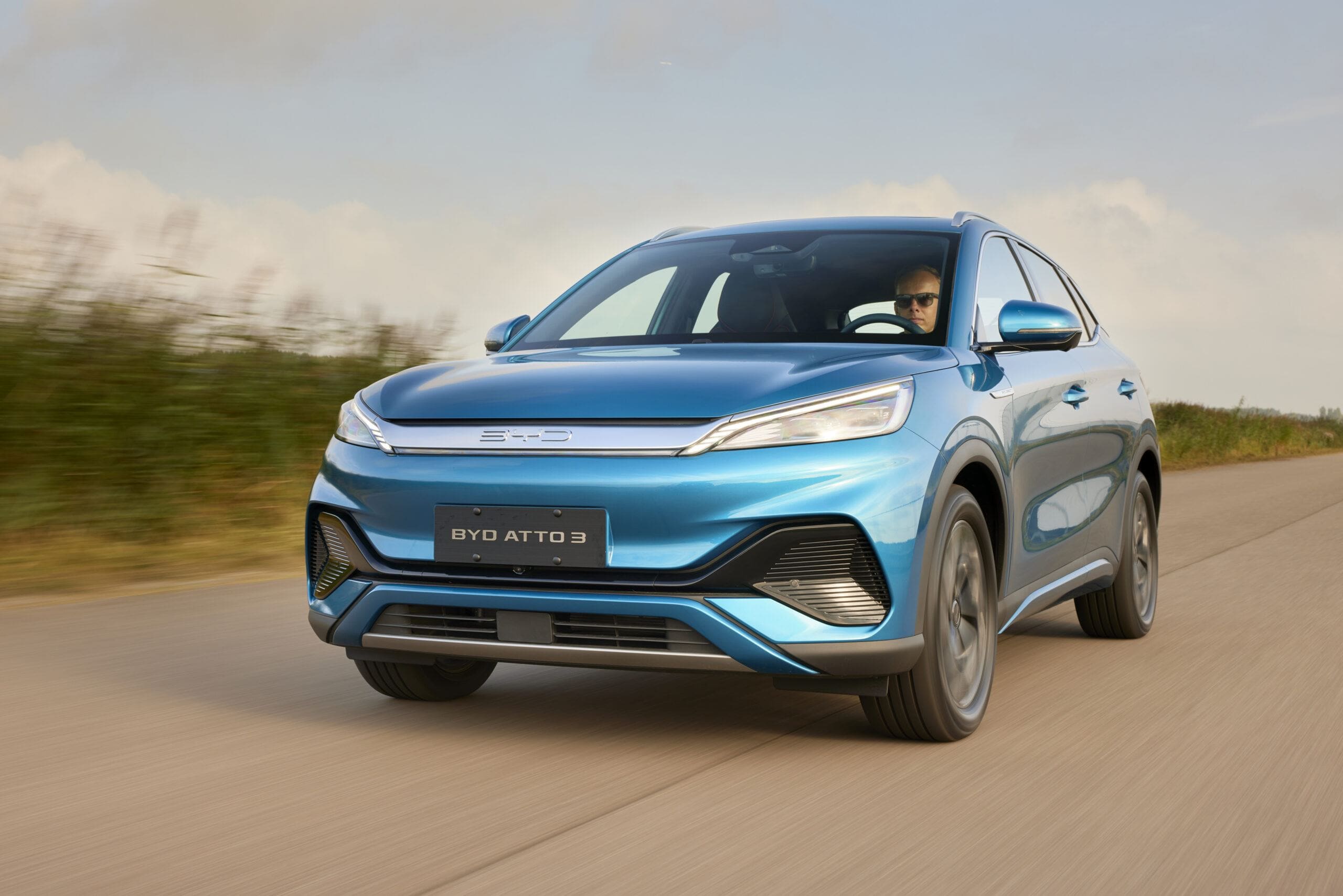 How about the looks of the BYD Atto 3?
Stylish, if a little quirky at times. Superb fit and finish at this price.
BYD refer to the 'Dragon Face' design at the front. We think it's a bit of a stretch, but it still looks well. The lower end gets a little bit busy, but this is partly necessary as it houses some of the sensors. Around the side, you start to see the bulk of the car as an SUV with an elevated road position and high shoulder line.
We reckon the rear is perhaps the best angle for the BYD with expansive bodywork panelling making a firm impression. The 'Build Your Dreams' brand name is proudly emblazoned across the back, which got a lot of peculiar looks from neighbours and friends eyeing it up. A selection of 5 colours, including Surfing Blue, Skiing White and Parkour Red, which our test car was.
The 18" alloy wheels are standard on all spec levels. They look quite well, and the plastic inserts help with aerodynamics, especially at higher speeds.
"Power is delivered through a front wheel drive 150kW motor. That turns out 204hp and 310Nm torque. So it's pretty quick, doing the 0-100km/h sprint in 7.4 seconds."
Blake Boland
AA Road Tester
What is the inside of the BYD Atto 3 like?
Very roomy, modern design, with all the creature comforts
The BYD Atto 3 has in interior design that was inspired in no small part by the gym. The central arm rest resembles a treadmill, air vents look like free weights, and even the door bin in inspired by a guitar instrument.
Although this sounds a little quirky, we felt it was executed well. The quality of the materials belies the price of the car. Considering the general price of EVs, we were not expecting this level of quality. Don't get us wrong, we'd prefer the interior of the Mercedes Benz EQS SUV. But the Merc is, to put it mildly, significantly more expensive!
Space is quite good inside the Atto 3, thanks to it being designed from scratch as an EV. As a result, you get a flat floor across the back, and more comfort for rear passengers. The Atto 3 will easily take  four adults of six foot and above. It will take a fifth adult, but shoulder room may become a little cramped at that stage.
There is good space in the boot also with 450 litres up to the parcel shelf. It is also a modular boot. So you can have a flat floor making it easy to slide parcels in and out. Or, you can lower the floor for a bit of extra space. Space expands to 555 litres if you take out the parcel shelf. Drop the back seats, and you get an impressive 1,338 litres.
The cabin feels open and airy thanks to the panoramic sunroof that stretches all the way back. There is an electric blind if you feel like blocking out the sun. Also, the first half of the sunroof opens electrically with the flick of a switch.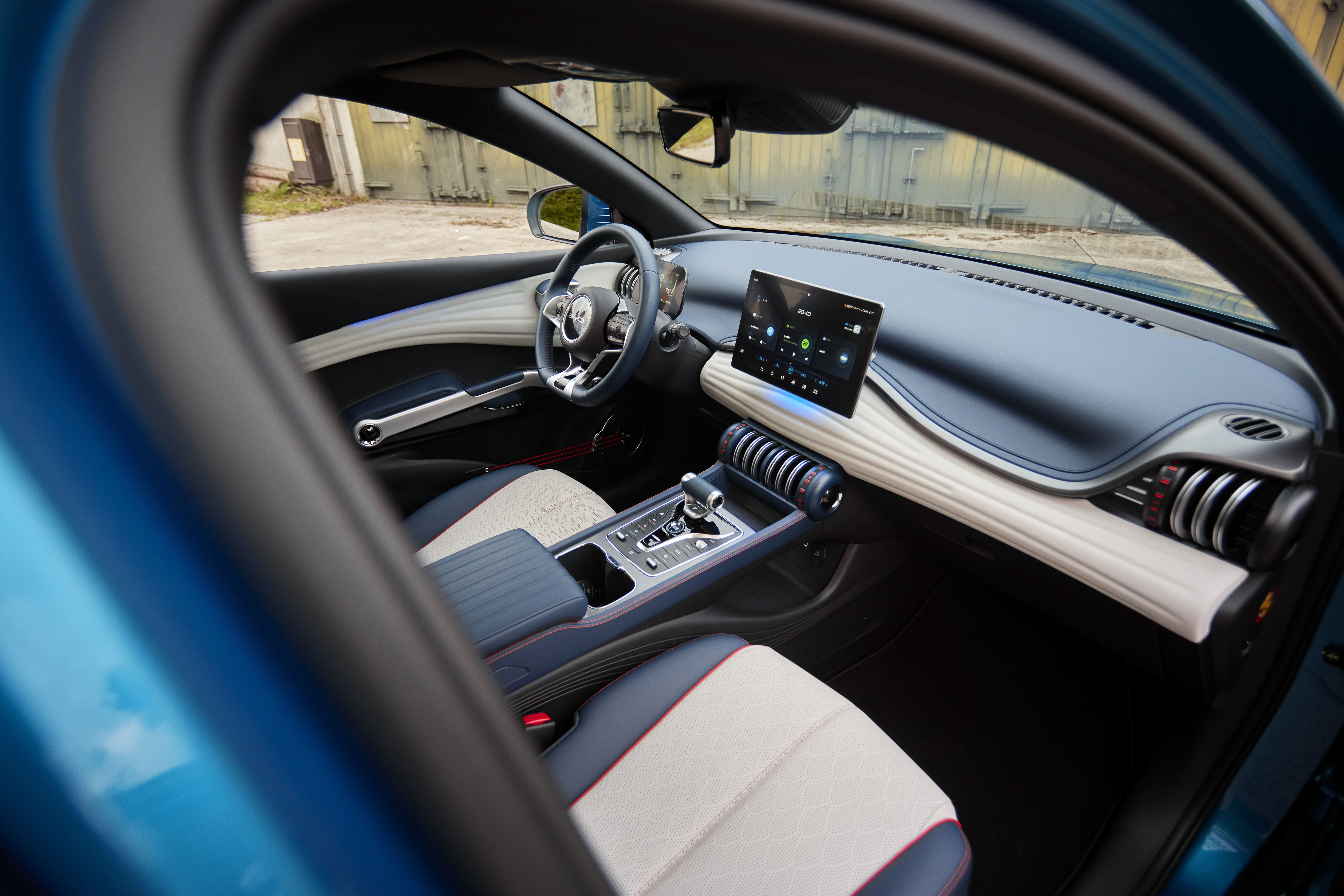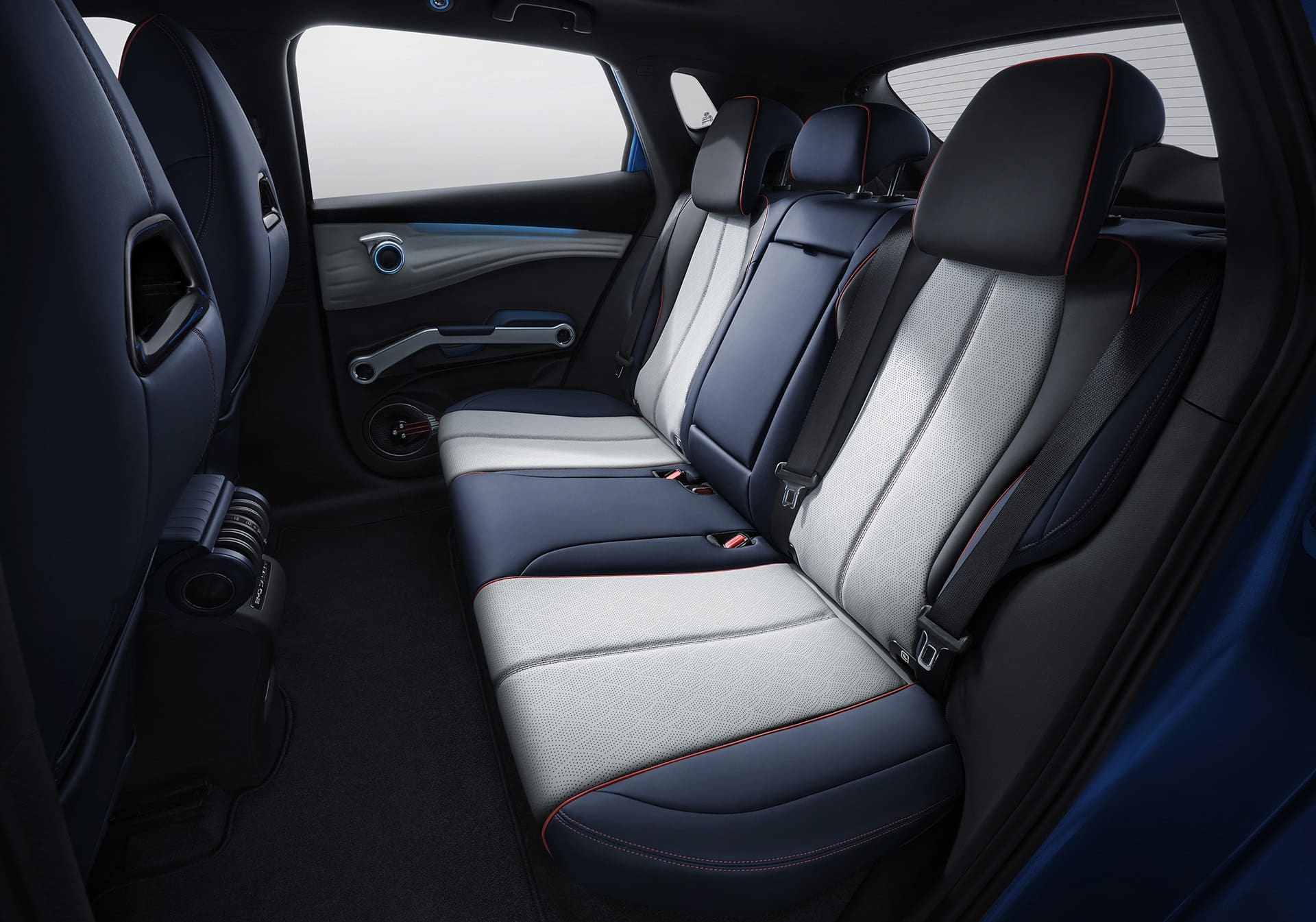 Insurance up for renewal?
Get an AA Car Insurance quote online and save up to  20% or €180 when you buy online*.
Get a quote
What is the BYD Atto 3 like to drive?
A bit unresponsive at first, but packs a punch once you get going!
Let's just say straight away that the Atto 3 is not designed for track days. It's a family SUV that is designed to get you around in comfort. The handling isn't particularly sharp, and you do feel a bit of body roll in the corners. On the flip side, you welcome that squishiness as the Atto 3 evens out bumps in the road and ramps in housing estates quite well. It's not a high-end Citroen in that sense, but it holds its own for sure.
Power is delivered through a front wheel drive 150kW motor. That turns out 204hp and 310Nm torque. So it's pretty quick, doing the 0-100km/h sprint in 7.4 seconds. That will feel quite fast for anyone coming from a similarly sized 1.6l to 2.0l Diesel SUV. It's sure to put a smile on plenty of people's faces. Having said that we found the initial responsiveness of the accelerator to be a little dull. It takes the car that extra half a second to send the power, nullifying some of the excitement you typically get from an electric drivetrain. Although, it must be said that your tyres will probably thank you for this!
We got a similar feeling from the Regenerative Braking system. We found it to be a little slow to activate when you lift off the accelerator. In general, it is too weak for a car this size and weight. One of the great benefits of driving an EV is that you have to use the brake pedal so little. In the Atto 3, we found ourselves using that pedal more than most EVs. In slower moving traffic, it becomes more apparent as the Regen diminishes the slower you go.
What is the range of the BYD Atto 3?
Good range from a decent size battery
The BYD Atto 3 has a 60.48kWh usable battery. Although this isn't the biggest, it should be plenty for the vast majority of trips. WLTP range is 420km, although we all know that can be a little optimistic. A more dependable real world figure is something like 330-350km. You'll get mid-200s on the motorway at full tilt in winter. During testing, we managed nearly 400km when taking it easy.
Efficiency is helped by the Heat Pump, which comes as standard. This means that the car is heated and cooled much more efficiently than a typical resistance heater. This is something we feel should be standard on EVs, so high praise to BYD for including it on the Atto 3!
It's also worth noting that the Atto 3 features the BYD patented Blade battery. These battery cells are more rectangular in shape. The LFP chemistry does not feature any Cobalt. They are also quite resistant to fire. In fact, in testing, BYD sent a nail right through the battery without any incident. You wouldn't try this with a typical EV battery!
Charging is a mixed bag. You get 7.2kW as standard on AC. This is perfectly matched to your typical home charger. The higher spec levels get 11kW on AC which is impressive. The DC charging rate is up to 80kW, which is adequate, but falls short of some of the competition. In the Atto 3's defence, it will maintain those rates to a high state of charge.
Which BYD Atto 3 should I buy?
Go for the top level
The level of spec as standard in the Atto 3 is astounding. In fact, the difference in price between the top and bottom specs is so small that we would say to just take the top level, which barely scrapes above €40,000.
Prices start off at €39,078 for the basic 'Active' spec. The middling 'Comfort' spec is €39,546. The top level 'Design' that we had on test is €40,949. Those looking to finance can plump up around €14,000 and see monthly payments of €390 to €410.
There is so much equipment with even the entry level that anyone who buys the Atto 3 will be happy. But for us, it's worth going all out for the extra €20 per month on repayments.
Is the BYD Atto 3 safe?
The BYD Atto 3 scored top marks from the NCAP tests
The BYD Atto 3 scored very well in the Euro NCAP tests when tested in 2022. It achieved scores of 91% for Adult Occupant, 89% for Child Occupant, 69% for Vulnerable Road Users, and 74% for its Safety Assist features. This is an impressive score overall, enabling it to achieve a full 5-star rating.
Verdict
Makes a very compelling case
The Atto 3 is a very fine entrance into the Irish market by BYD. It is a new brand that nobody has heard of. As such, they need to make an impression and offer something that established car makers aren't. They're achieving this through value for money.
We have driven other cars that are faster, or have more range, or offer a better driving experience. However, they all cost significantly more than the Atto 3. As a result, the Atto 3 starts to become a very compelling option. With dealerships already open to the public, we would certainly recommend a test drive to anyone thinking of buying a mid-sized SUV.
Range
Up to 420kms WLTP, 330-350km real world estimate
Charging
AC - 11kW, DC – 80kW peak
Co2
0g/km at the tailpipe
Luggage capacity
450 litres, 555 to roof, 1,338 seats down.
Pricing
From €39,078 / €40,949 as tested.
Watch the YouTube Review of the BYD Atto 3
And don't forget to subscribe!