Mercedes-Benz
New Car Review: Mercedes-Benz C-Class Estate C220d AMG Line
Good Stuff 👍
Exceptional refinement, quality, handsome styling, practicality
Bad Stuff 👎
Quite expensive, relatively small boot
What is the Mercedes-Benz C-Class Estate?
The sweetest point of the entire Mercedes-Benz range
The C-Class Estate is, potentially, the sweetest point of the entire Mercedes-Benz range. It combines the handsome lines of the C-Class saloon — itself a smaller clone of the patrician S-Class and haughty E-Class — with the sort of practicality and usefulness that has driven so many of us to buy an SUV in recent years. The bonus of an estate is that you — theoretically — get SUV practicality without the extra height, weight, and commensurate running costs. Plus you sidestep the social stigma of driving a giant Chelsea Tractor. Can the C-Class Estate combine all of those virtues in one vehicle?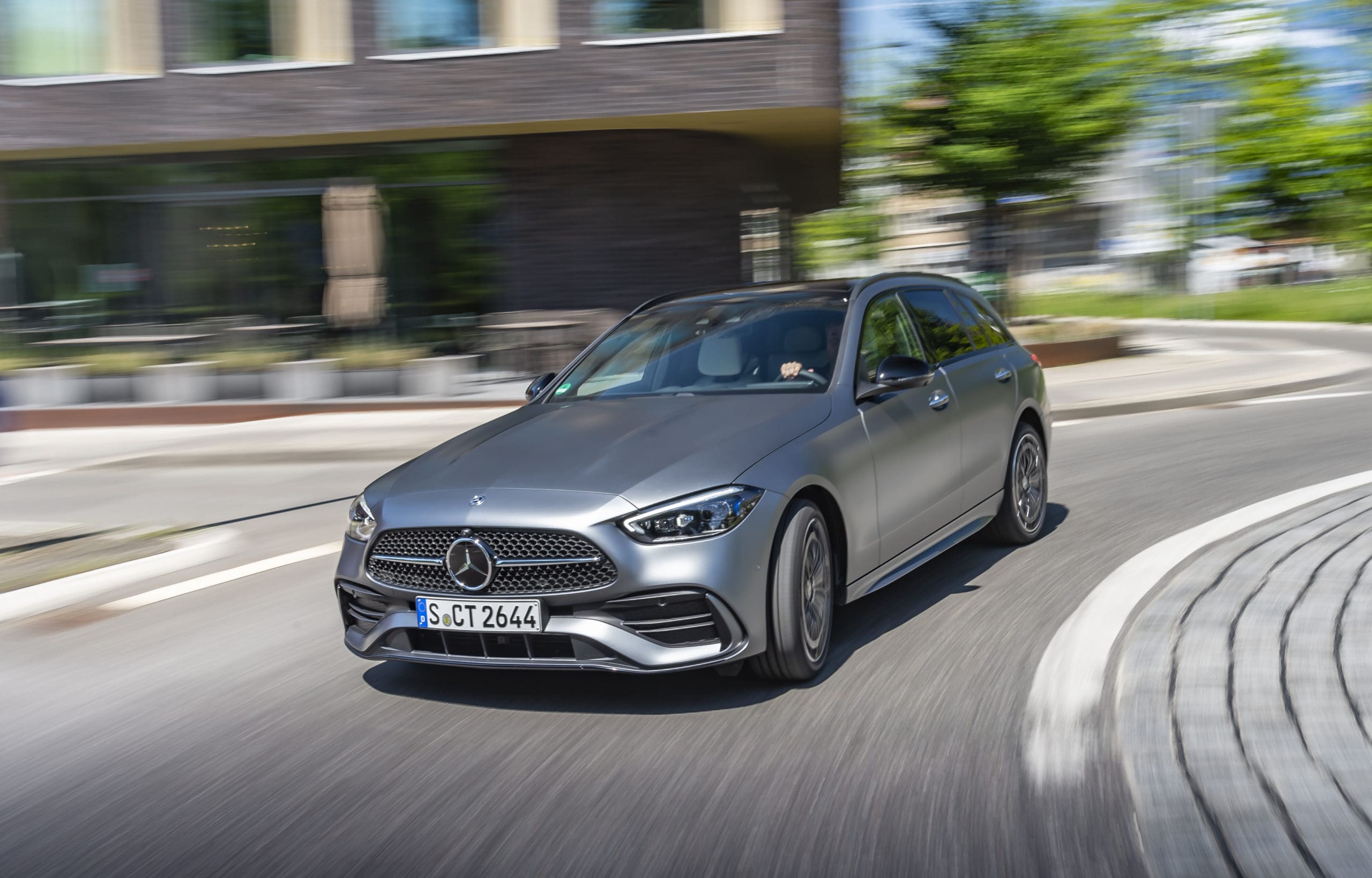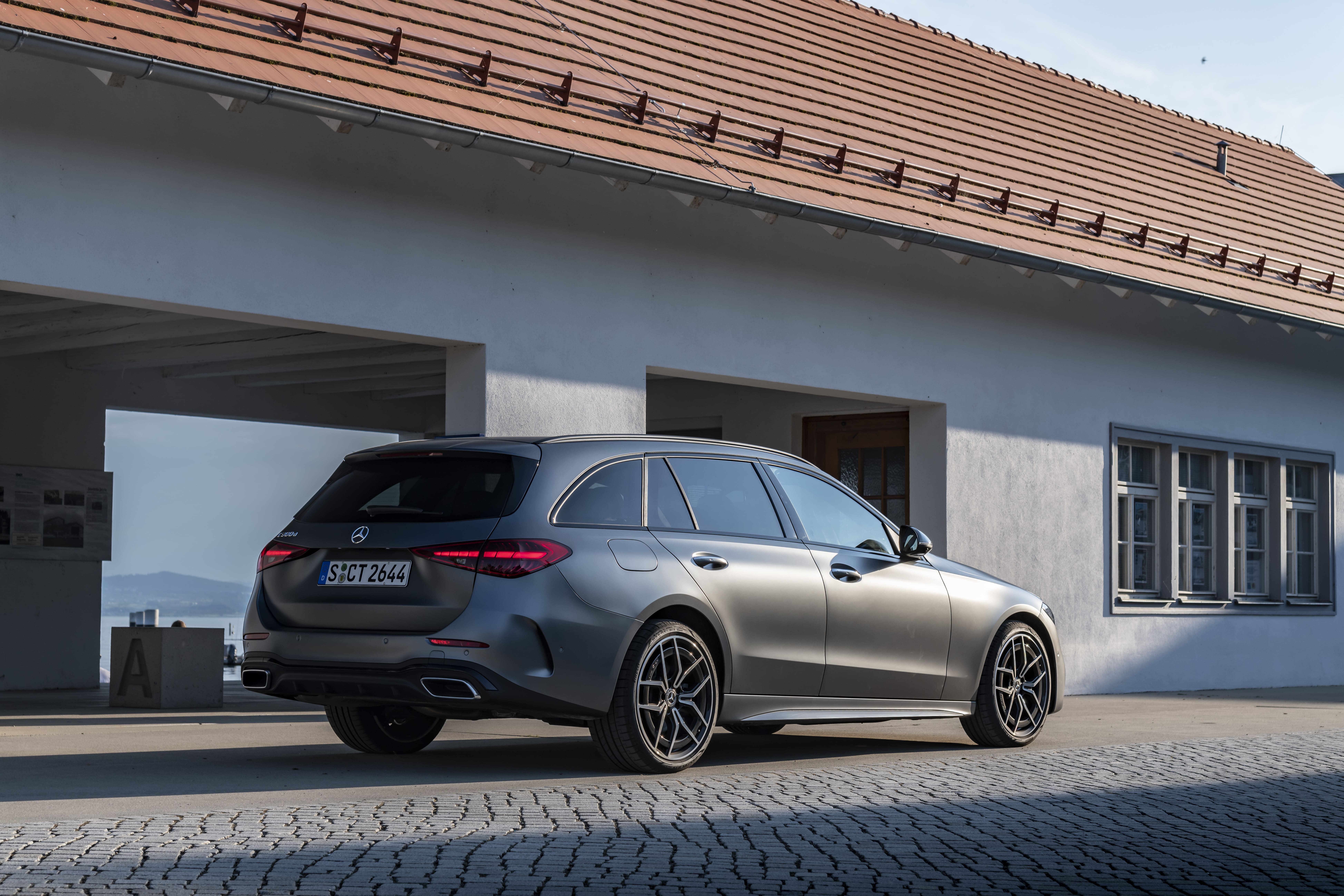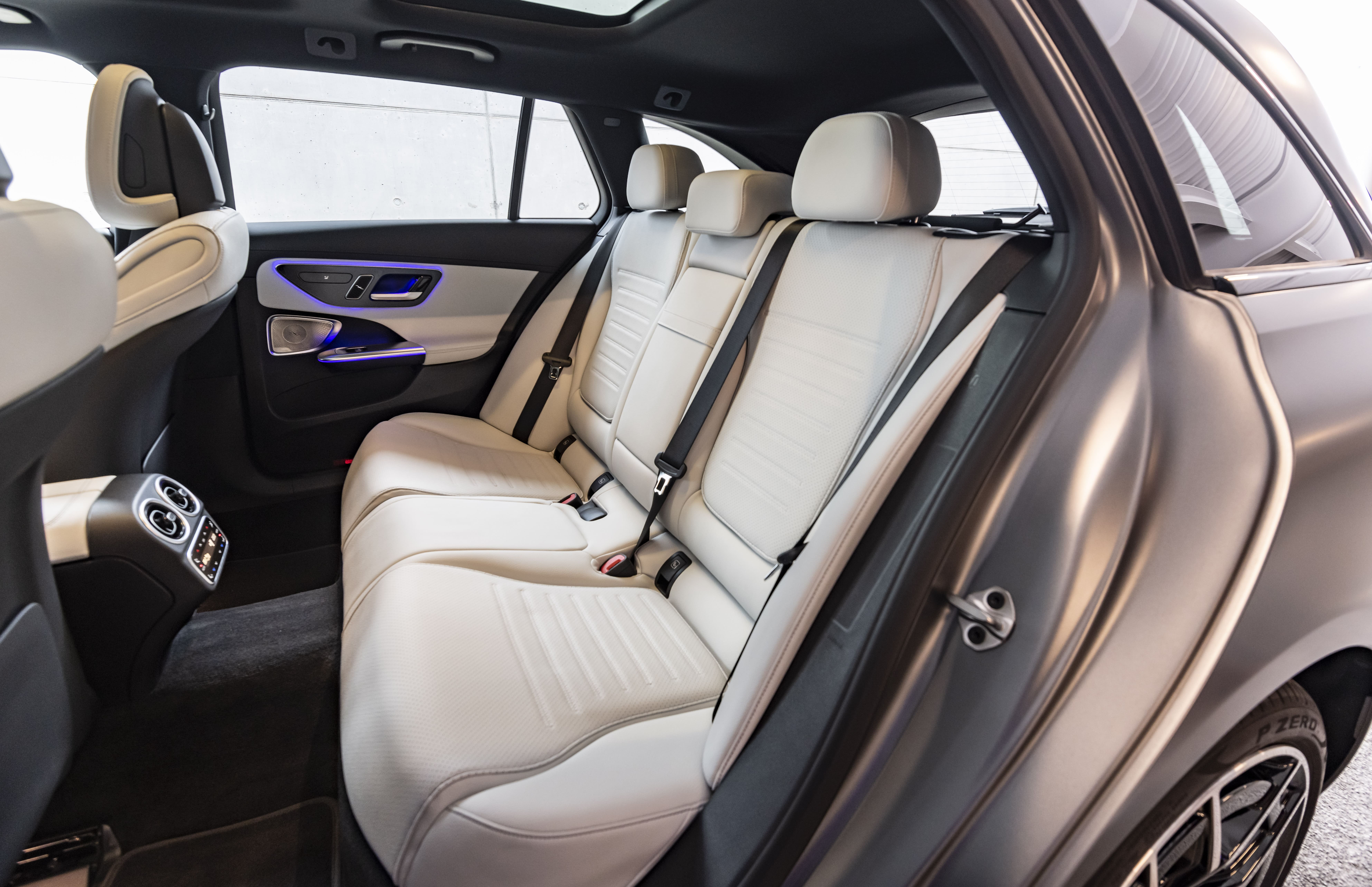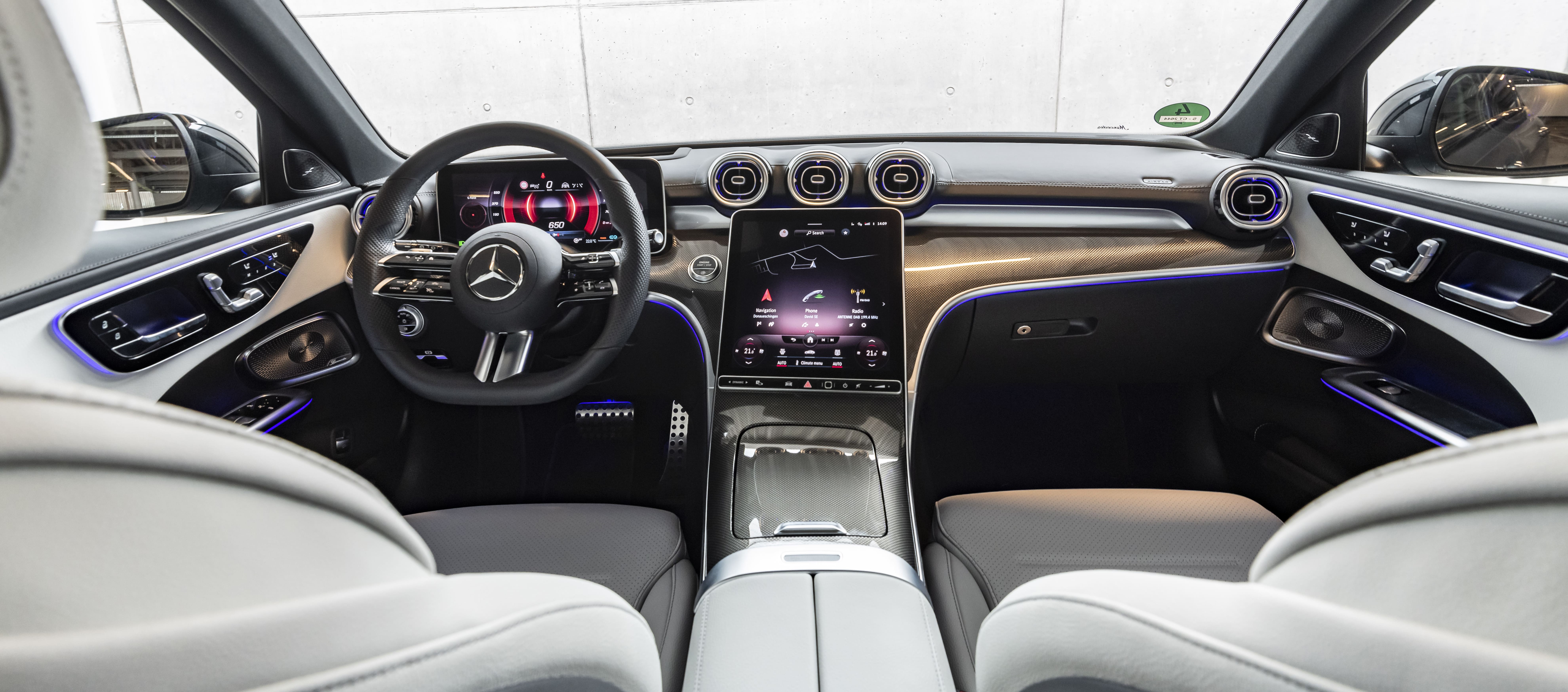 How about the looks of the Mercedes-Benz C-Class Estate?
A really classy design
The new C-Class is a very handsome car, combining the silhouette of the bigger S-Class saloon with some of the sleek detailing of the CLS four-door coupe. It's not — unlike rivals such as the BMW 3 Series — a car that shouts about its design, but one that pleases the eye in a rather more quiet and unobtrusive way.
The estate takes that basic idea and runs with it. No-one is going to accuse the C-Class Estate of bashing their eyes with lots of needless styling lines and pointless additions. It's a simple, clean, handsome car that — thankfully — doesn't bother with the need to try and look like some sort of coupe, and instead just looks like what it is, a very good-looking estate.
If there's a flaw in this plan, it's that the C-Class can, from some angles, look a little plain and it's quite easy to initially mistake it for the smaller, cheaper, front-wheel drive CLA four-door coupe (a car based on the A-Class hatchback). For the most part, though, the C-Class Estate just looks really classy and, to these eyes, far more desirable than any SUV.
"On the open road, though, the C-Class Estate is incredibly smooth and easy-going to drive, and long journeys just melt effortlessly away"
Neil Briscoe
What is the inside of the Mercedes-Benz C-Class Estate?
Really impressive cabin
If you've seen the interior of the new EQS and EQE electric models, or indeed the more conventional S-Class, then you know what to expect from the C-Class. Indeed, to describe it as a 'mini S-Class' is not too wide of the mark, not least because the two cars share a common cabin layout and design, as well as the MBUX digital cockpit.
This consists of a 12.3-inch digital instrument panel mounted up behind the steering wheel, and as standard an 11.9-inch tablet-style touchscreen, reclining on the centre console. That touchscreen is one of the best in the business, and the way it leans gently backwards on the dashboard, leading up the three rounded-square air vents at the top, just seems to be less distracting and less likely to snatch your eyes away from the road than other rival systems. The graphics all look suitably expensive and classy, and the menus seem pretty logically arranged and easy to find your way around.
We don't normally like to see heating and air conditioning controls on a touchscreen, as they're simply less intuitive to use when driving than conventional buttons and switches, and more likely to distract you from the road, but the ones on the C-Class's screen are better than most, and they stay on the screen no matter what other options are being viewed. There is voice control (as hit and miss as it is in any other car, to be honest), and even a finger-print scanner which automatically identifies you and pre-loads your preferred settings. A useful trick if a car is regularly shared between two or more drivers.
The rest of the cabin is impressively classy. The front seats are excellent, with terrific support and comfort on longer journeys, although the space around the pedals (just the two — all C-Class models are now automatic as standard) is a touch tight if you have bigger feet. Space in the back is good, but perhaps not as cavernous as you might expect.
Space in the boot, though? Here's where the C-Class's equation threatens to fall apart. The boot is square and flat-floored (no loading lip, which is good when dealing with bigger, heavier items) and there are plenty of tie-down points, luggage hooks, and a handy 12-volt socket. What there's not is lots of space. Up to the luggage cover, the C-Class Estate's boot measures 490 litres. That's not bad, but a BMW 3 Series Touring or Audi A4 Avant offer fractionally more. If you want true practicality, a Skoda Superb estate offers 660 litres, and Mercedes' own new GLC SUV can swallow 550 litres of cargo. The C-Class Estate's boot is adequate, but no more than that.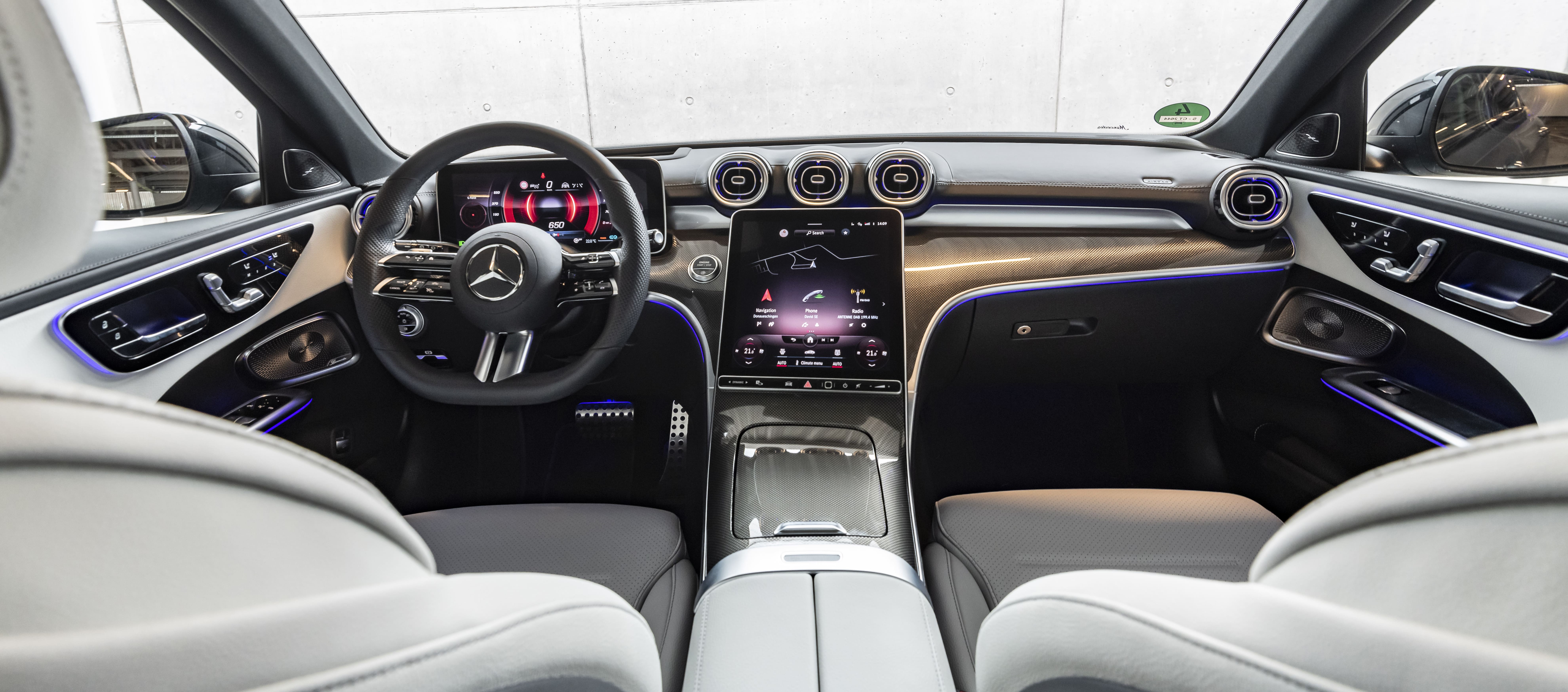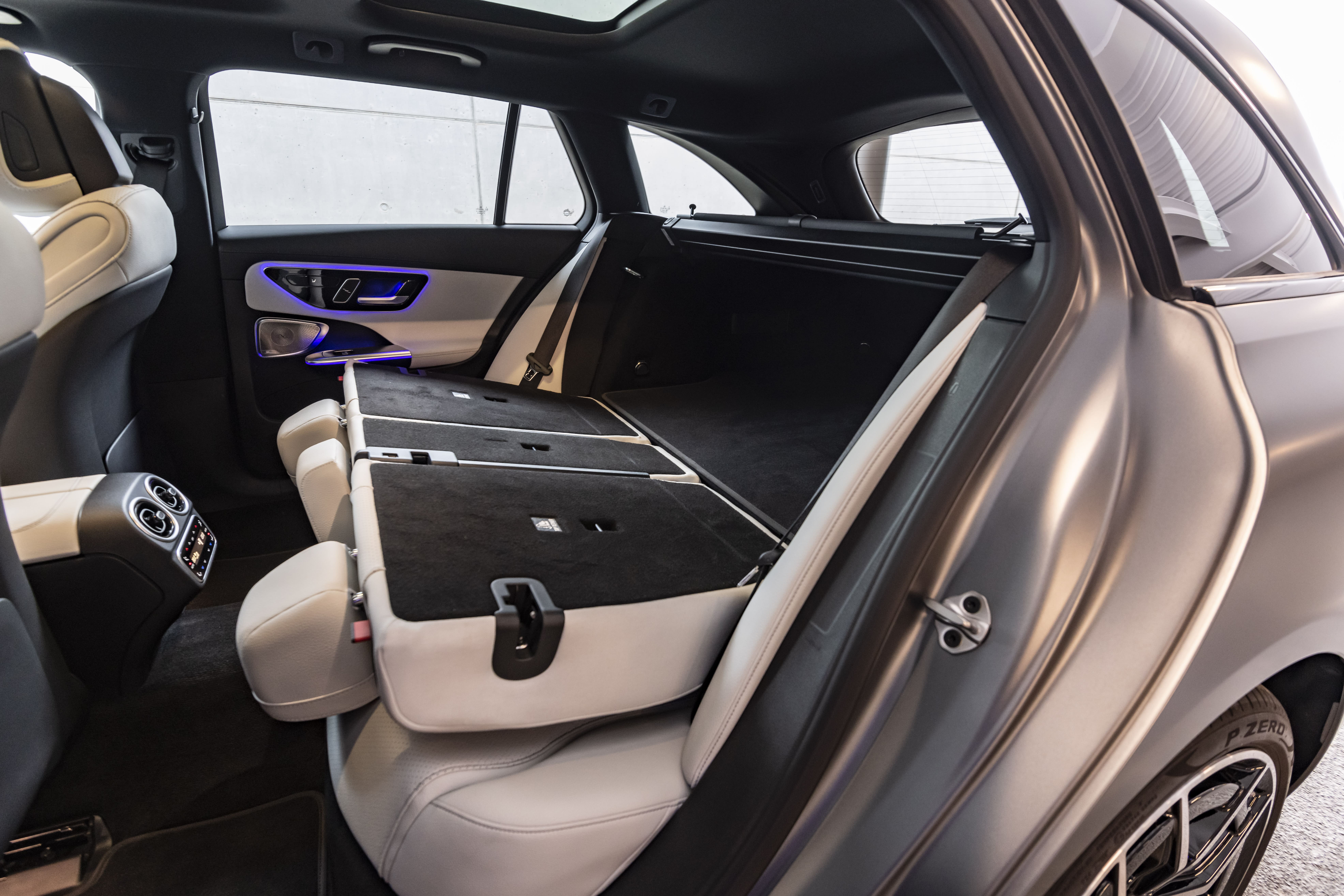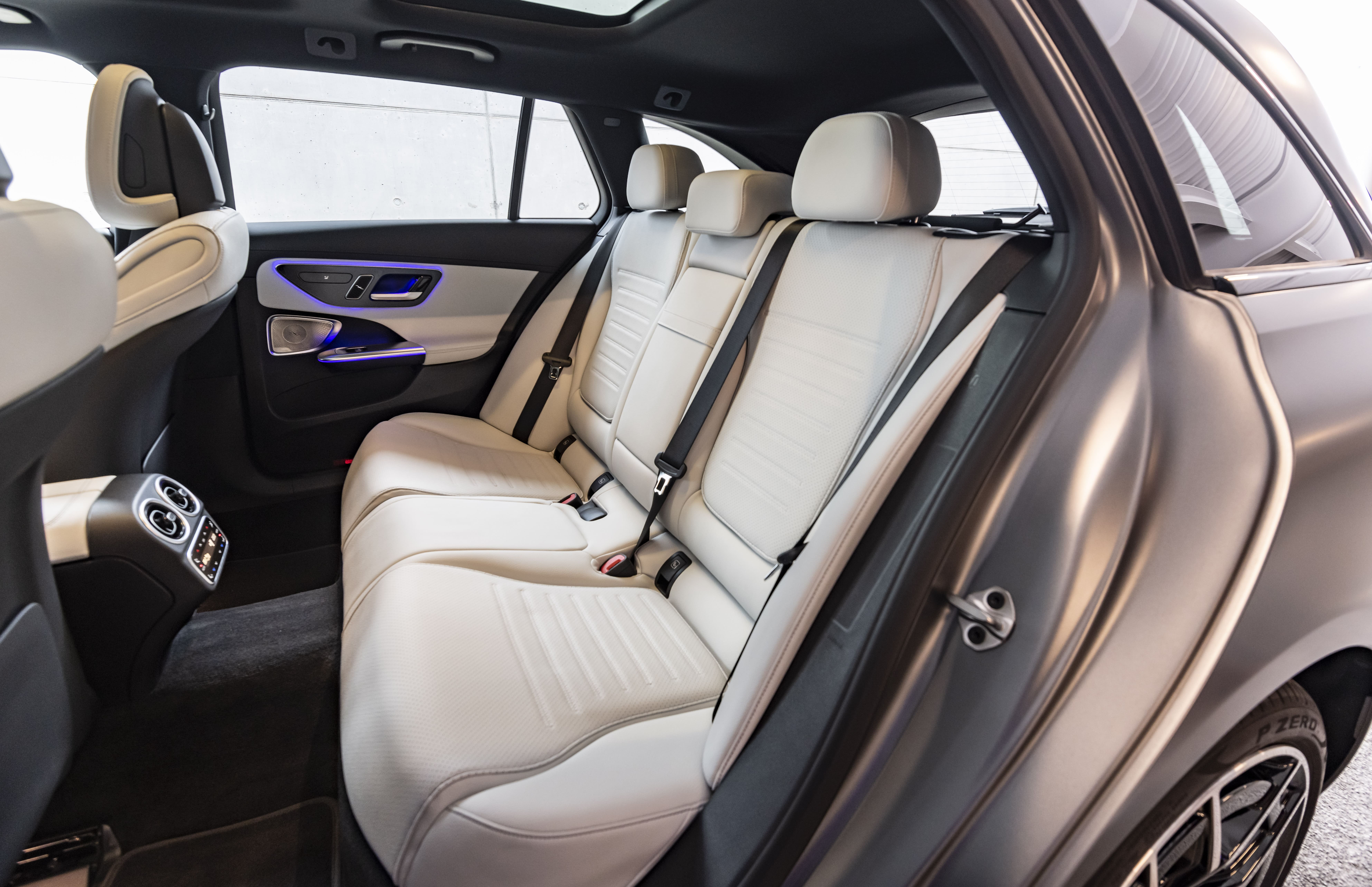 Insurance up for renewal?
Get an AA Car Insurance quote online and save up to  20% or €180 when you buy online*.
Get a quote
What is the Mercedes-Benz C-Class Estate like to drive?
A stunningly relaxing car to drive
You'll forgive the C-Class Estate for its slightly under-sized boot when you drive it, as it's one of the most pleasant cars we've driven all year. Does it lift the driving crown in this segment from the BMW 3 Series? No, not quite — the BMW has steering that feels more responsive and a chassis that feels more 'biddable' on a twisty road.
Where the Mercedes scores is in more everyday driving. It is a stunningly relaxing car to drive. Now, that comes with the caveat that our test car — on its sporty AMG-Line suspension — could occasionally prove slightly rough-edged around town, and it has a habit of dragging its nose on taller speed bumps.
On the open road, though, the C-Class Estate is incredibly smooth and easy-going to drive, and long journeys just melt effortlessly away. The steering might not have the enthusiastic feedback of the 3 Series, but it's still accurate, quick, and reasonably engaging and the C-Class's sheer stability on long motorway runs is something to behold. You can tell that this is a car designed for the Autobahn, and so it's well within its comfort zone on the M8 to Cork. You do pick up a touch of tyre roar on coarse surfaces, but otherwise refinement is exceptionally good. It's one of those cars where it's hard to pick out any one particular area where it's dramatically better than its opposition, but even when you come to the end of a very long run, you just don't want to get out or stop driving it.
Our test car came with the 220 d diesel engine, meaning a 2.0-litre four-cylinder diesel, driving the rear wheels via a nine-speed automatic gearbox (whose gears you select via a neat column-mounted shifter, leaving the centre console free for storage and cupholders). Diesel may be falling fast out of fashion, but for those of us with regular long-haul journeys, this one is well worth considering even in an increasingly electric world. Across 1,000km of test driving we averaged 5.6 litres per 100km, and on long runs the C 220 d would easily return more like 4.5 litres per 100km. That's hugely impressive economy, and this C-Class' emissions are reasonable too, at 123g/km.
Which Mercedes-Benz C-Class Estate should I buy?
They are expensive!
It's hard to recommend a diesel these days, even one as good as this C 220 d, but we'd certainly suggest that it's a viable choice for those covering long distances every day. If you want to salve your environmental conscience a little, there is the option of C 300 e plug-in hybrid, which claims a remarkable 111km range on a full charge of its battery, and which should be capable of around 6.0-litres per 100km on a long run with a flat battery. The C-Class is pretty expensive, though. The base price for the most affordable C 180 saloon is €59,085 while our C 220 d Estate in AMG-Line trim cost €70,776. A C 300 e Estate plug-in hybrid will cost you €72,310.
Is the Mercedes-Benz C-Class Estate safe?
5-star Euro NCAP score
Mercedes has an exceptional reputation for safety, and the C-Class shows no sign of harming that reputation. On the Euro NCAP tests, the C-Class scored a maximum five stars, with  a 93 per cent rating for adult occupant protection; 89 per cent for child occupants; 80 per cent for vulnerable road user protection; and 82 per cent for its electronic safety systems.
As standard, those systems include active emergency braking, lane-keeping steering, a central airbag to keep driver and front-seat passenger apart in the event of a side-on collision, cruise control, rain-sensing wipers, and a reversing camera.
Verdict 👀
The boot could be bigger and it's not cheap, but the C-Class Estate is still one of the most all-round satisfying cars we've driven all year.
Spec Check ⚙️
Mercedes-Benz C-Class Estate C220d AMG Line
Engine
2.0-litre four-cylinder turbodiesel
Transmission
9-speed automatic
Luggage Capacity
490-litres / 1,510-litres