Mercedes-Benz
New Car Review | Mercedes-Benz GLC 220d
Good Stuff 👍
Outstanding fit and finish, excellent road manners, refined diesel engine.
Bad Stuff 👎
Quite expensive compared to BMW X1, Lexus NX
What is the Mercedes-Benz GLC?
Now the best-selling Mercedes- Benz internationally, if not in Ireland.
The Mercedes-Benz GLC is the SUV equivalent of their well-known C-Class, so comparable to the likes of the BMW X3 and Lexus NX crossovers. It ticks so many boxes, for so many buyers that it will be of no huge surprise that it is now the brand's best-seller in Western Europe, although the smaller GLA tops the charts here in tax-strangled Ireland. You would be forgiven for struggling with the complexity and variety of Mercedes-Benz's range, especially their SUV range, but the GLC is best considered as the one that will tick the most boxes for the average buyer, but with a price tag that might be a little out of reach of most. At north of €80,000 for the 'cheapest' GLC it is certainly a premium product, but it doesn't take long to know where the money has gone. As soon as you jump into this model it feels every inch the premium SUV, with outstanding fit and finish throughout the cabin. Although it doesn't look especially big or bulbous, it offers generous space both inside the cabin and at the rear in the luggage area (620-litres). All GLC models are now 'electrified' to some degree. Some petrol models are now available with a plug-in hybrid capable of around 100km on EV power alone, while this diesel model we've been driving makes do with a smaller battery, making it a mild-hybrid, where the battery serves to make the diesel even more efficient. The 48-volt onboard power supply aids with energy recuperation and allows the possibility to "glide" with the engine switched off to further increase efficiency.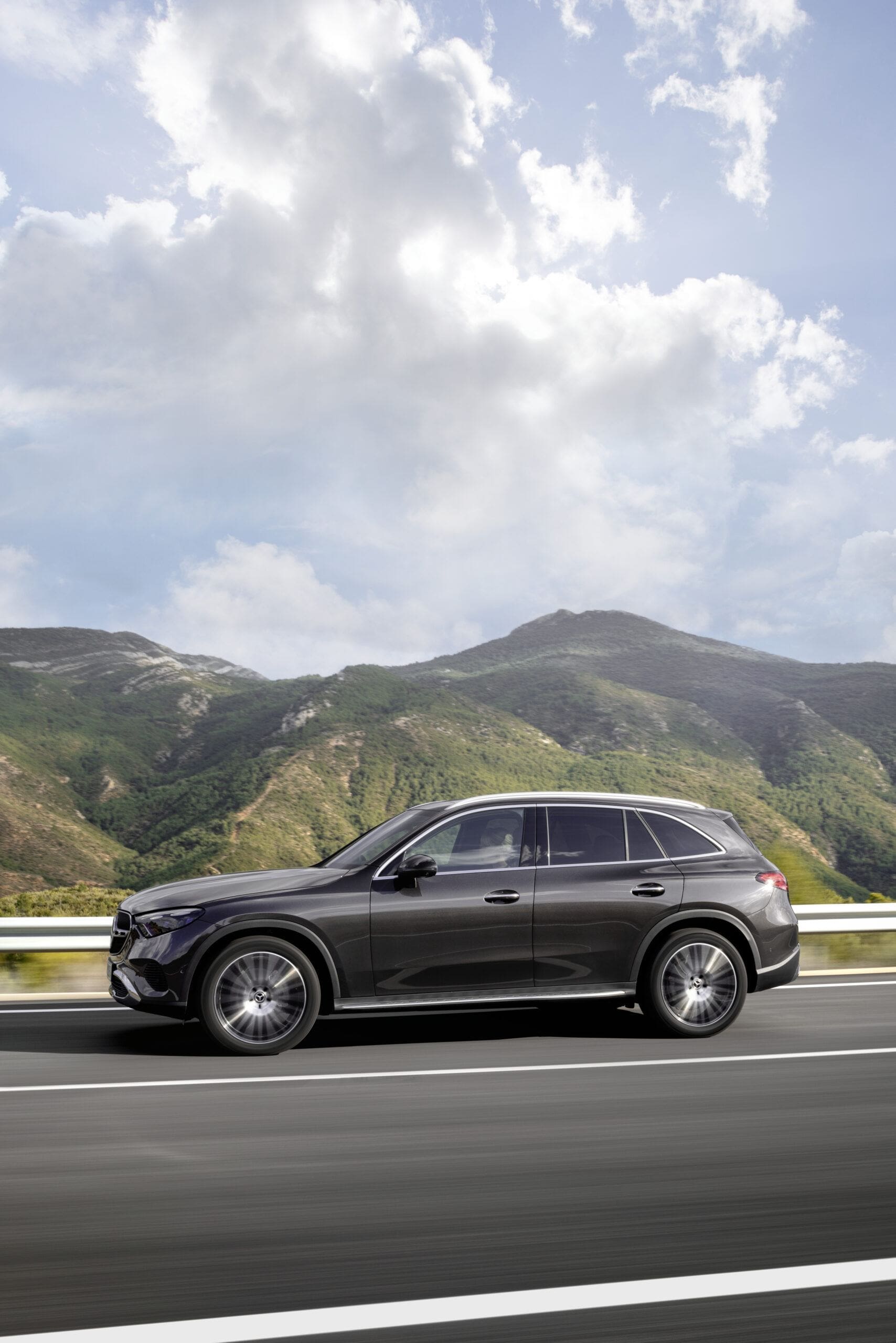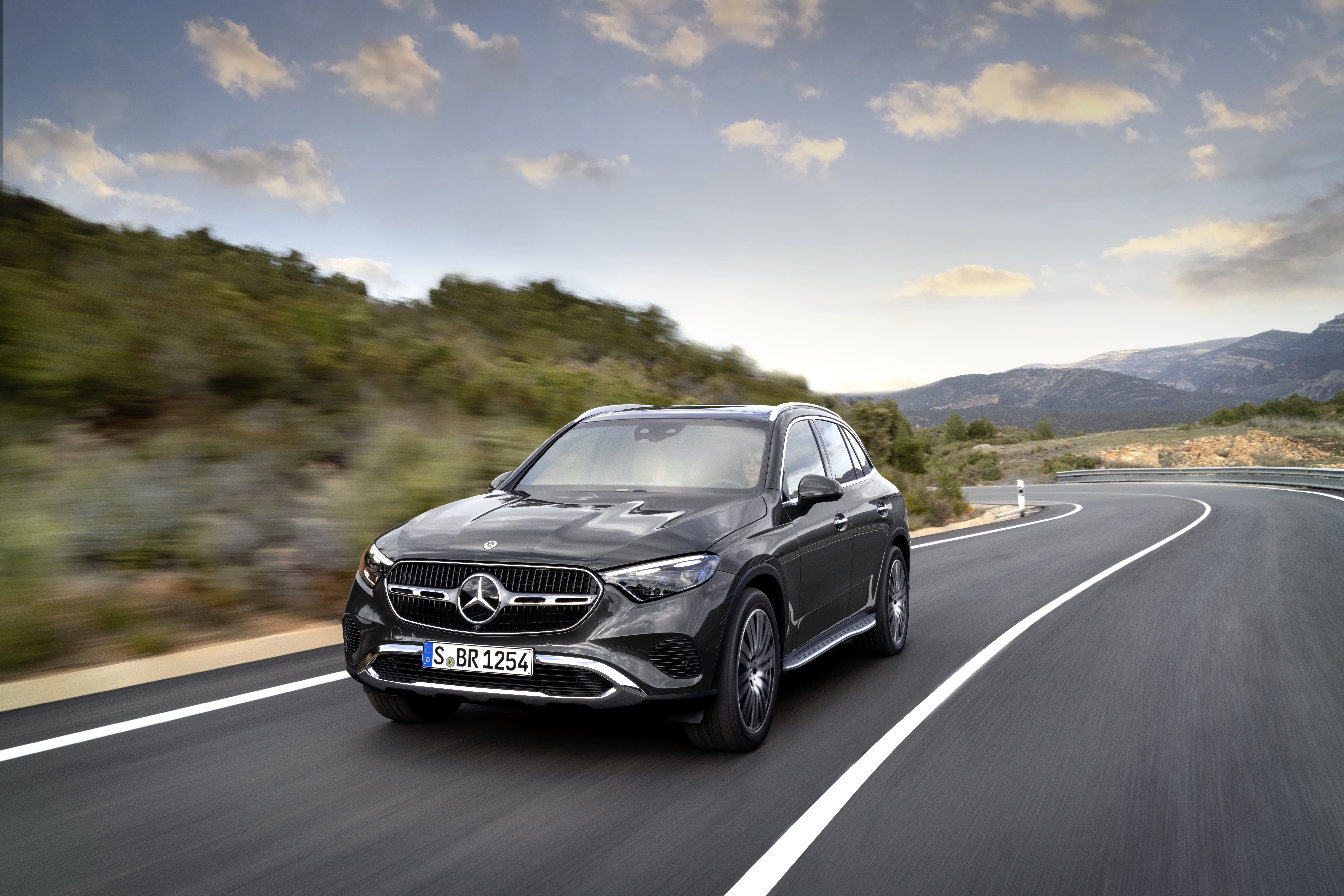 How about the looks of the Mercedes-Benz GLC?
Handsome SUV with mature looks.
This latest GLC got a design refresh in September 2022. This included a redesigned front-end with "digital light" headlamps with additional daytime ellipses and new blue trim. There is a chrome surround to the grille and a radiator grille with Mercedes-Benz pattern. There are muscular wheel arches and our test car featured aluminium-look running boards (€931) and gorgeous 20-inch AMG 10-spoke alloy wheels (€2,078). Our test car also gained a full panoramic sliding sunroof, which is really nice, but at €2,809, isn't cheap. The AMG Line features polished aluminium roof rails which look really well too. Overall, this is a very handsome SUV and one of the best-looking executive SUVs on the market.
"this is a very handsome SUV and one of the best-looking executive SUVs on the market"
Paddy Comyn
AA Road Tester
What is the inside of the Mercedes-Benz GLC like?
Superb quality, impressive infotainment.
As soon as you sit into the GLC, it feels first-class, with premium quality materials and a wide, expensive-feel to the steering wheel. A Mercedes-Benz should feel special and this very much does. There is a free-standing, high-resolution 12.3" LCD screen in front of the driver, which has a floating appearance
The central display is a high-quality touchscreen, with a portrait orientation and it is slightly angled towards the driver. At just under 12 inches it is a good size and really easy to use. There are over the air (OTA) updates available, too.
Space is generous inside, with decent legroom at the rear, and a generous luggage capacity of 620-litres. That is larger than the BMW X3 (550-litres) and Audi A5 (550-litres) and the Mercedes is longer than both, but sits slightly lower than the BMW X3.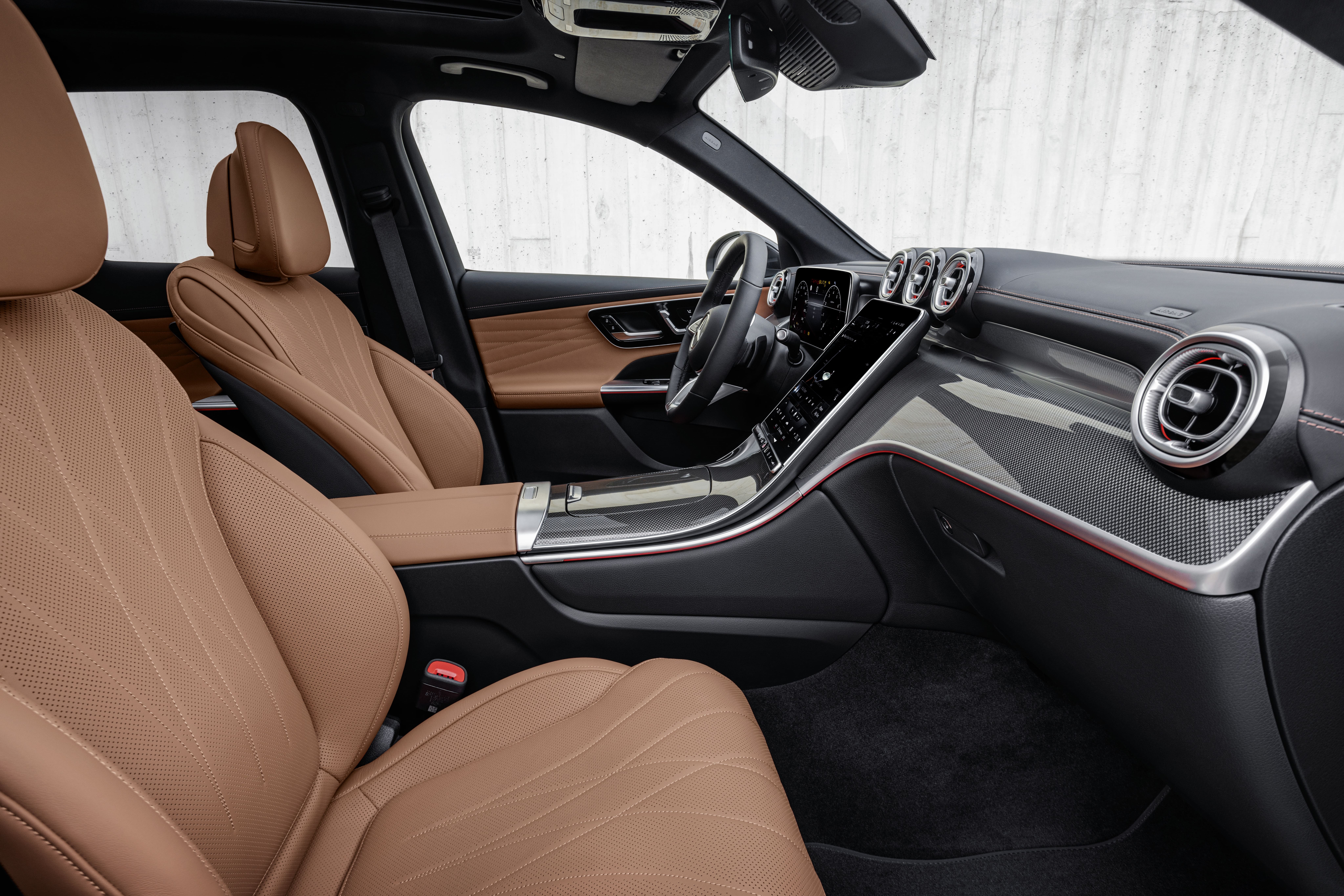 Insurance up for renewal?
Get an AA Car Insurance quote online and save up to  20% or €180 when you buy online*.
Get a quote
What is the Mercedes-Benz GLC like to drive?
Composed, relaxed, delightful.
It can sometimes take just minutes to get the feel of a car and in the case of the GLC, the quick impression is one of a very composed, very refined and hugely competent SUV. It is quite unusual, in 2023, to be offered a diesel, so much have brands turned away from the powertrain, but here Mercedes-Benz are offering an electrified diesel, thanks to the 48-volt onboard power supply. Recuperation and the possibility to "glide" with the engine switched off further increase efficiency. There are also a variety of aftertreatment components for the diesel to reduce emissions.
There is a 9G-TRONIC automatic transmission as standard on all GLC models and is now more efficient. All models are all-wheel drive. The new front-axle drive allows higher torque levels to be transferred, with an ideal axle load distribution for driving dynamics. The all-wheel drive system is now lighter than before, too.
The diesel engine is surprisingly quiet. It never feels fast, as few diesel engines now do in the context of neck-snapping EVs, but the fact that you can brim the tank and see a range touching 1,000km from a full tank will have an appeal to many would-be owners. This is one of the most competent vehicles we have driven in some time. Sure, the column shifter located where you might otherwise find an indicator takes some getting used to (I did knock it into neutral more than once, when I meant to signal left instead), but the combination of a superb infotainment system, impeccable road manners and torquey powertrain make this a superb vehicle.
Which Mercedes-Benz GLC should I buy?
There is still a place for the diesel but 400 e is the one to get.
The best-seller in the GLC range is the 220 d we are driving and it isn't hard to see why. For a start it is the best-value. We won't say cheapest, as at over €80,000 this can never be thought of as inexpensive.
Few, we'd imagine, will be buying a GLC and over sweating the monthly payments too much, so if you can afford to spend a bit more, then the GLC 400 e 4MATIC PHEV is probably the one to plump for as it will be future-proofed against any potential taxes against diesel and it is the most powerful, too. This PHEV can sprint to 100km/h in 5.6 seconds, a top speed of 237 km/h, has a 100kW electric motor and an all-electric range of 100+km making it possible for many owners to drive their daily commute on EV power alone. If your budget allows, get the 400 e.
Is the Mercedes-Benz GLC safe?
5-star Euro NCAP score
The GLC scored a very strong result in the Euro NCAP safety tests. It got 92% for Adult Occupant and 90% for Child Occupant. There is a huge amount of passive safety protection for frontal and rear impacts, PRE-SAFE Impulse Side, forms a virtual crumple zone around the vehicle. In a side impact, PRE-SAFE Impulse Side can move the affected driver or passenger away from the danger even before the crash as soon as the system detects that a side collision is imminent.
Verdict
Best in class, but not cheap.
It is very easy to see why customers keep coming back for the GLC, as it is utterly competent. The diesel, even in a world of plugs, feels great, but if you are spending this sort of money then you would be better served choosing the PHEV versions.
Spec Check ⚙️
Mercedes-Benz GLC 220 D 4MATIC
Engine
1,993cc 4-cylinder with mild hybrid technology
Torque
440 Nm (+200Nm on demand)
Co2
142g/km (€270 Motor Tax)
Luggage capacity
620-litres
Pricing
From €81,690 / €89,406 as tested.