From
Miracle on 34th Street
to
Home Alone 2: Lost In New York
and
Elf
, there's always been something iconic about Christmas in New York. The city's sheer scale, glitz and glamour make for an unforgettable short break at the best of times – but when Christmas is around the corner, it's just magical. Here are a few ideas to make sure you have a cool Yule in the Big Apple!
Top tips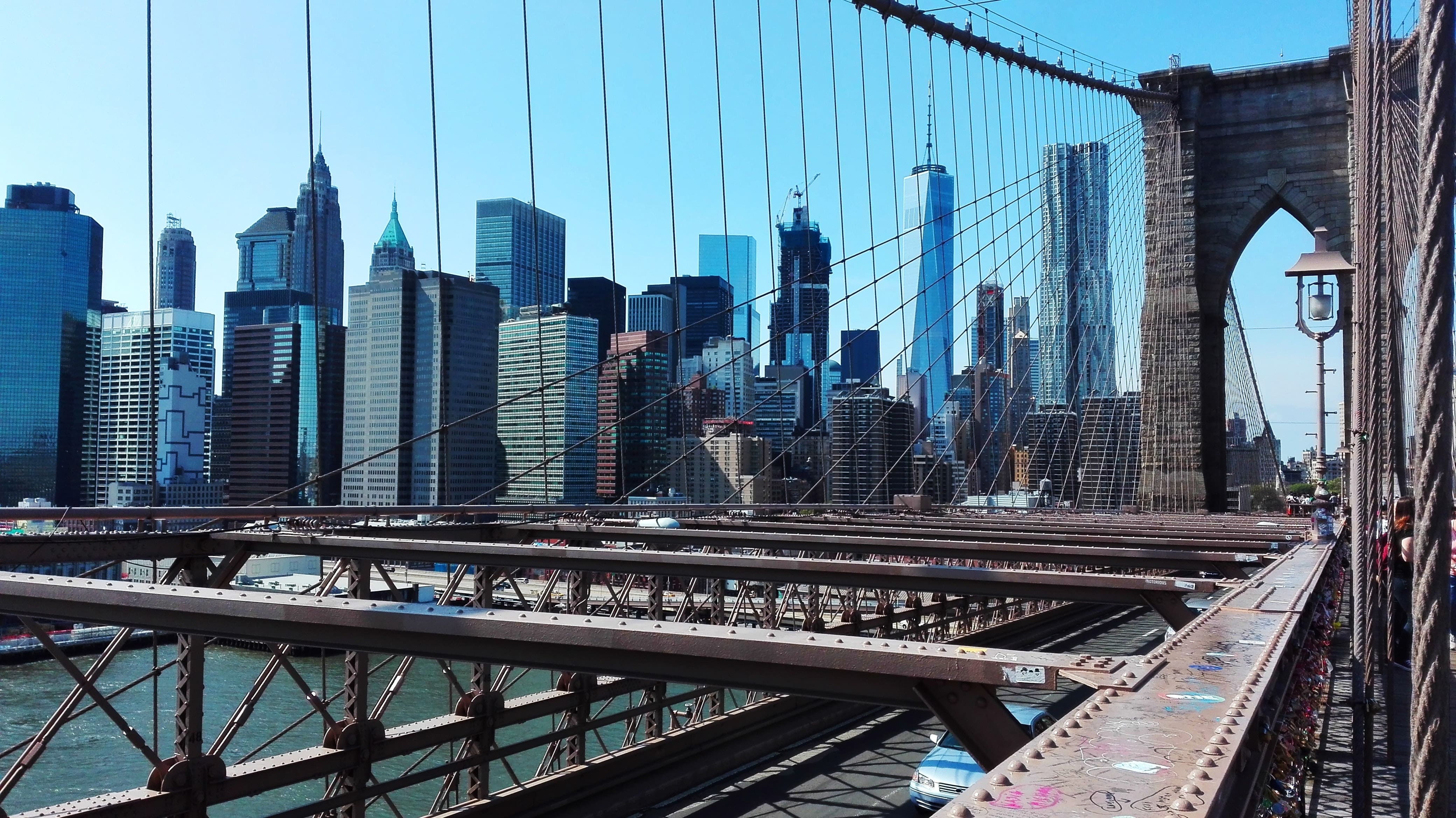 New York in December can be bitterly cold, and snow and ice are regular visitors, so make sure to pack a proper winter suitcase – heavy coat, boots, hat, scarf, gloves and plenty of layers!
Don't underestimate the sheer size of the city – in many cases, walking from point A to point B just won't be an option, but there's usually a subway station nearby. The Citymapper app is a godsend for getting around.
If you're planning to do some sightseeing, then make sure to either get to the attraction early or book ahead to avoid the queues. A little planning goes a long way!
Speaking of which, I have two absolute must-sees – one is the 9/11 Memorial & Museum, which is quite simply the most moving museum experience I have ever had. Set aside a morning for it if you can. The second is totally free – a walk across Brooklyn Bridge (above) on a clear, sunny day can't be beaten for the views of downtown Manhattan, the fresh air (especially in winter!) and the all-important photo opportunities.
Don't forget to buy your AA Travel Insurance before you go! Click here for the lowdown on all of our options.
Window displays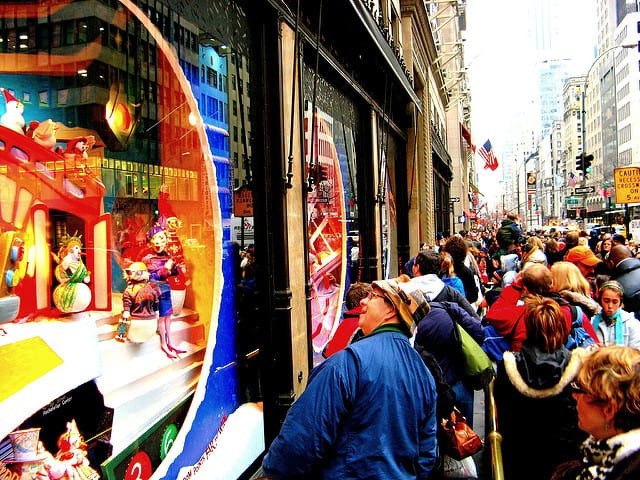 Saks Fifth Avenue - photo by Randy OH
New Yorkers don't do things by halves, and that includes the spectacular window displays that start appearing in Manhattan's department stores after Thanksgiving (the fourth Thursday in November – in 2018 that's the 22
nd
). Every year, stores like
Bloomingdales
,
Macy's
and
Saks Fifth Avenue
adopt a different theme – it could be a Hollywood movie, an iconic character or something more unexpected. Take a tour for an eye-popping extravaganza.
Shop 'til you drop!
Then, once you've taken in the bursts of colour and motion in the windows, it's time for some of that all-important Christmas shopping!
Fifth Avenue
is one of the greatest shopping streets in the world, with designer brands galore, plus plenty of top high street outlets on a grand, New York scale. And as a nice bonus, it opens up into the expanse of Central Park at one end. Speaking of which…
Walk in a winter wonderland
Photo by Tomás Fano
No visit to the Big Apple is complete without a stroll in
Central Park
– 843 acres of parkland, woods, lakes, wildlife and walking trails in the heart of the city. It's great at any time of the year – fresh in spring, lush in summer, colourful in autumn and – if you're very lucky – a veritable winter wonderland by the time Christmas rolls around. New York is, of course, known for its bitingly cold winters and snow is a regular feature. Pray to old Saint Nick that the elements oblige!
Rockefeller Center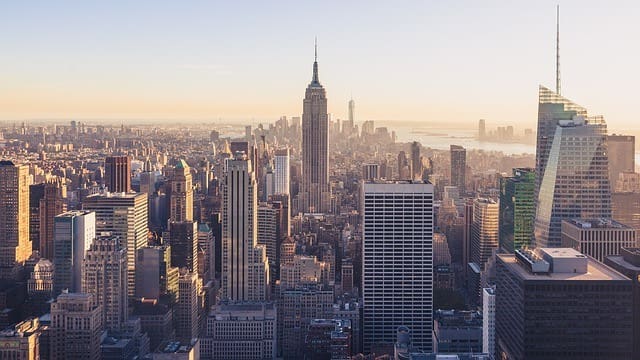 The
Rockefeller Center
's enormous Christmas tree (main pic) played a starring role in
Home Alone 2: Lost in New York
, as little Kevin McCallister made up with his mom (ahhhh…) in the shadow of the great fir. That alone makes it worth a visit during the festive season, and it's no less a must-see more than 25 years on. The tree overlooks the world famous
Rockefeller ice rink
, where you can skate away 'til your heart's content, before heading into the Center itself and ascending the lifts to take in the breathtaking views from the
Top of the Rock
 (above). As it's one of New York's most popular attractions you'll need to book ahead – online or at the shop at the bottom of the tower – but the wait will be well worth it. It's not as high as the Empire State Building but the views are arguably better – not least because you can see the Empire State Building itself! You'll just have to imagine King Kong clinging on to the side…
See the lights at Dyker Heights
Photo by Dov Harrington
In a city full of sparkle, there's no more spectacular sight than the famous Christmas illuminations in the
Dyker Heights
area of Brooklyn. Dubbed "the most festive neighbourhood in NYC", this well-to-do area attracts over 100,000 visitors every year, each of them coming to marvel at the (often professionally designed) lights, decorations and displays. It's bright, brash and gaudy – quintessentially New York, in other words.
Take in a show
A Broadway show is high up on most people's New York to-do list, but since it's Christmas we'd recommend going for something a little more festive. Don't miss
Holidays with the Philharmonic
– the world famous orchestra's annual Christmas concert series, culminating in
Home Alone in Concert
on Dec 20
th
and 21
st
! If your tastes are a little more traditional, get yourself to the stunning Carnegie Hall in the weeks before the big day to take in one of their seasonal concerts. Kick off the festivities early with their
Christmas Holiday Spectacular
on November 23
rd
. Other highlights include
The Cecilia Chorus of New York performing Handel's Messiah
(Dec 8
th
),
Christmas in Vienna with the Vienna Boys' Choir
(Dec 16
th
), or a taste of home with
Sing! An Irish Christmas 
(Dec 13
th
) or
Andy Cooney's Christmas Celebration
(Dec 16
th
).
How to get there
You can fly direct from Dublin with
Aer Lingus
(to JFK or Newark),
United
(to Newark) or
Delta
(to JFK). Aer Lingus also offer flights from Shannon to JFK.