The Volkswagen Multivan PHEV ticks a lot of the boxes for aspiring SUV drivers. It's high up and there's loads of space. With 218 horsepower, it'll get you up to speed quickly! We had a 35km round trip for a Sunday swim, and decided to test out the Multivan in EV mode.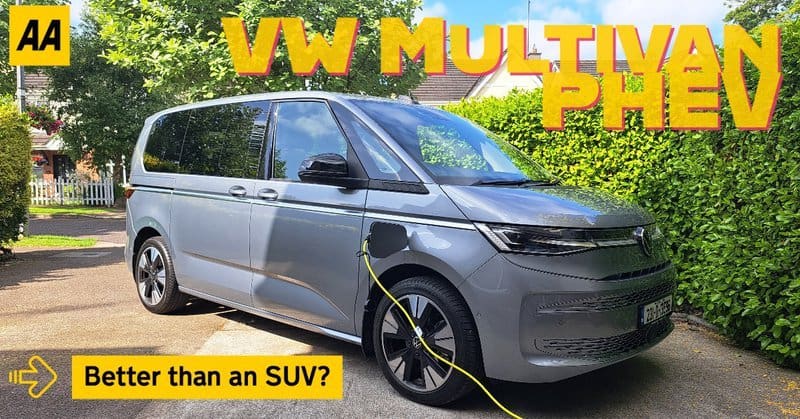 How is the PHEV version different?
Our test Volkswagen Multivan was the Plug-in Hybrid Electric Vehicle, or PHEV for short. This means that it has a plug to charge it up. It has both a 1.4 litre petrol engine and an 85kW electric motor. As well as a 45 litre fuel tank, it has a 13kWh battery.
The 13kWh battery is good for about 50km range in EV mode according to the WLTP test. But this is a hybrid so you can use both motors simultaneously, and the Multivan will decide which balance is the most efficient. If you want, you can choose to have it in electric-only mode for shorter trips or city driving. Neither motor is particularly powerful on its own, but together they tally up to an impressive 218 horsepower!
Is the Volkswagen Multivan spacious?
Absolutely! And it's on this point that we think some SUV buyers should be considering the Multivan instead of a similarly priced SUV. There are 7 seats, as well as a cavernous amount of space in the boot. Beyond that, it is very functional and adaptable. Our test car had the electric sliding doors, which made getting in and out really easy.
The Volkswagen Multivan we had on test was set up as a 7-seater, laid out in a 2-2-3 format. The centre console can slide the length of the vehicle. It can also raise up and down, and it has fold-out tables for eating or working.
The middle row seats can slide back and forth, fold up, be removed or even swivel to face either way. So if you need the luggage space, just remove the middle row and slide the back row forward for a gigantic boot.
The boot is 469 litres, or 763 litres if you opt for the Long version. However, if you decide to take all of the seats out, you get a gigantic 3,672 litres of space. That expands out to 4,005 litres in the Long version.
What is the EV range?
The Multivan has a WLTP range of up to 50km, but we all know that these figures can be optimistic. To test out what the Volkswagen Multivan PHEV is like in electric mode, we used it to head out to Clogherhead Harbour for a swim. The weather was a balmy 15 - 17 degrees, so the VW should make the 35km round trip with ease.
There is a shortcut button on the dash for you to choose EV mode. The 85kW motor has enough power to get you around, even fully loaded. It is also incredibly quiet and comfortable. With the high seating position and good sound insulation, the Multivan is an excellent drive in EV mode.
We set out with an estimated 49km range according to the VW. The van handled the drive to Clogherhead harbour with ease. Although it must be said that you can certainly feel the size and weight as you take corners on smaller twisty roads. We arrived in Clogherhead with an estimated 36km range left. So that was 13km range used to complete a 17km journey.
The space and practicality inside the Multivan was much appreciated, and the darkened glass meant a little more privacy was afforded getting changed before and after the swim.
The return journey was just as comfortable. We arrived home with an indicated range of 21km left. Overall, our 34km journey used up 28km of the range. Admittedly, conditions were ideal. A trip like this in December would have used a lot more energy, but the same could be said for Petrol or Diesel power also.
How much is the Volkswagen Multivan?
The Volkswagen Multivan starts off at €58,810 excluding delivery. So let's round it off and say €60k. The edition we had was kitted out with a good few extras. Most people will probably get a few options put on, so prices in the late €60s is probably more realistic. Our van crept just over the €70,000 mark.
Our return trip to the harbour used about 60% of the battery. Charging up on a night-time tariff would have seen that journey cost about €1 in electricity! It's relatively frugal when run as a hybrid also, and we were pleasantly surprised by the economy we got over the course of the week.
Verdict
The Mutlivan deserves a lot more attention than it is getting, as the Irish consumer opts for SUVs in increasing numbers. The Multivan gives you more space, more adaptability, and reasonable fuel consumption in comparison to some more expensive SUVs out there.
If you were in the market for a 7-seater with a good space and practicality, then you should consider the Volkswagen Multivan PHEV. It ticks so many boxes, and exceeds expectations in many ways.
For a full review of the Volkswagen Multivan, watch Paddy's excellent video up on our YouTube channel here!
If your car insurance is up soon, just click here for a competitive quote from one of our agents.
Why not consider AA Membership for our famous Breakdown Cover to give you the peace of mind that you want.