No-one celebrates New Year's Eve quite like the Scots. The country that gave us the traditional midnight Auld Lang Syne singalong even has its own word for December 31st: Hogmanay. For several centuries, Hogmanay was considered a greater feast in Scotland than Christmas, and plenty of local traditions remain to this day. Nowadays, Hogmanay is celebrated across Scotland with street parties, fireworks and, naturally, a toast of whisky at midnight. Edinburgh's New Year celebrations once held the Guinness World Record for the largest in the world, so if you're looking for somewhere to "tak' a cup o'kindness" for the sake of Auld Lang Syne, where better than Auld Reekie?
Edinburgh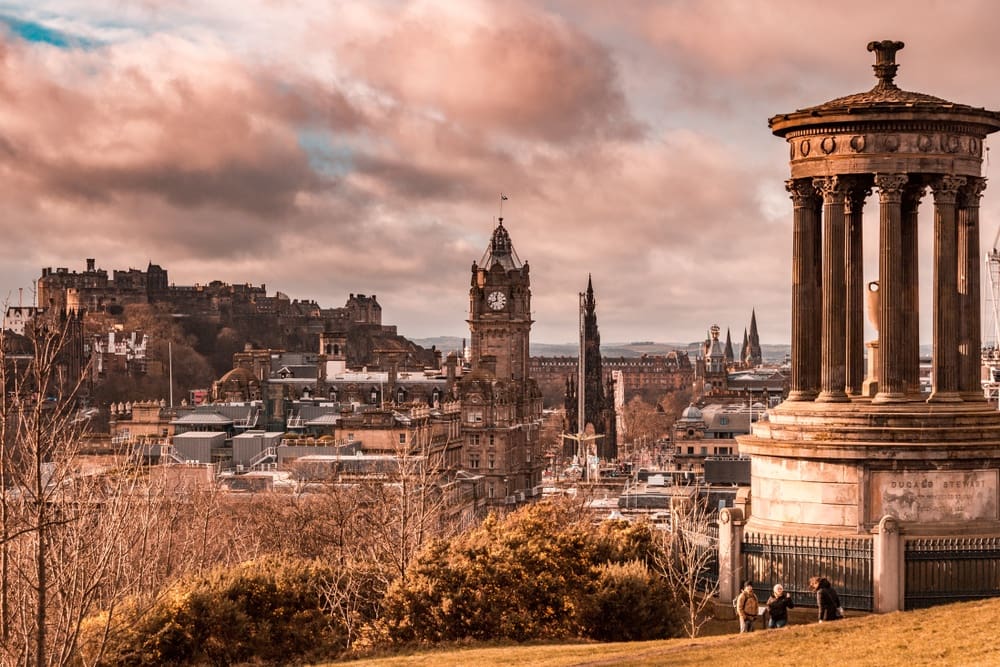 Edinburgh's Hogmanay celebrations are world-famous. The three-day celebration starts with a torch-lit procession on Princes St in New Town on December 30th and finishes with the 'Loony Dook' on January 1st: a dip in the freezing sea in South Queensferry, just outside the city. The pinnacle of the event though, is the
Hogmanay street party
on Princes St on the evening of December 31st. This is the world's largest outdoor party, featuring live bands, DJs, street theatre and, naturally, a free wee dram of whisky for all adult attendees. Keep your eye on the Balmoral clock so you'll know when to get the midnight round in – it's the only day of the year that it runs at the correct time. (It's usually three minutes fast, to give passengers a little room for error at Waverley train station beneath). At midnight, the fireworks display takes place high above the party at Edinburgh Castle – this year, the German techno marching band (yes, you read that right!)
Meute
will provide the soundtrack. Two other events take place in the gardens below Edinburgh Castle: a
concert on the main stage in the Princes St Gardens
, headlined this year by Franz Ferdinand, and the
Ceilidh Under The Castle
, at the Lothian Rd end of the gardens. A traditional ceilidh dance can be held at any time of the year, but they're particularly common on New Year's Eve and this outdoor one is suitable for families (although not recommended for very young children). Like an Irish céilí, the steps are called out before each dance, so everyone can join in. This year's music will be provided by the Jimi Shandrix Experience, Hugh MacDermid's Hair and Ceilidhdonia. Both of these events are ticketed, and will give you a great view of the fireworks when the clock strikes twelve. And if you're travelling with young children who'll need to be tucked up by midnight, check out
Bairns Afore
– an afternoon concert in the gardens, with its own countdown and fireworks at 6pm.
Alternative Hogmanay celebrations
If you're not attending the official events, there are plenty of other vantage points in the city to watch the fireworks, including Calton Hill, Grassmarket, Castle St, North Bridge, West Bow – essentially anywhere you can see the castle. Some brave souls venture up Arthur's Seat (above) – the rocky summit at the other end of the Royal Mile – but that's definitely not something to be recommended in the dark, especially if it's icy! If the thought of being outdoors at night in the Scottish winter really doesn't appeal, you'll find plenty of indoor ceilidhs in hotels and bars around the city
.
Check out the dress code in advance – some of them can be formal, so you may need your kilt or evening gown. Watch out for flying shoes during the dance segment called 'the basket' though, and if you're prone to dizziness, you may want to sit out 'Strip The Willow'…
Other attractions
Edinburgh's huge
Christmas markets
in Princes St Gardens and St Andrew's Square continue until January 5th. These are well worth a visit, with plenty of craft stalls, food huts and pop-up bars selling mulled wine, hot toddies and hot chocolate to keep you warm. There's also the festival Ferris wheel and ice-rinks.
Where To Go For New Years Even In Scotland?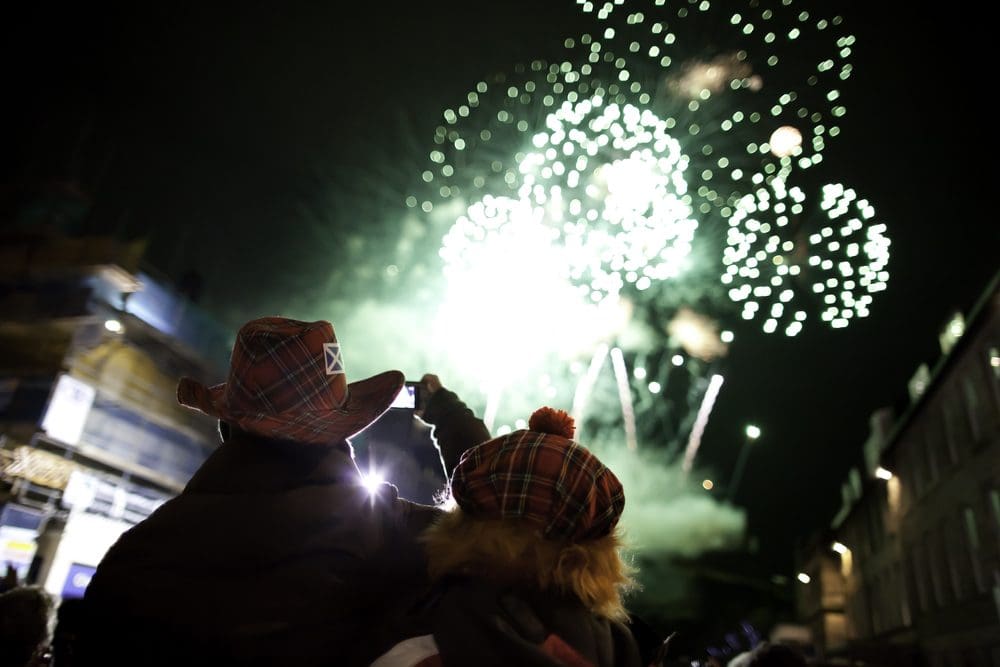 Most of Scotland's larger cities also have official Hogmanay events.
Stirling
, less than an hour's drive from the capital, also rings in the new year with fireworks from a castle high above the city. This year sees two Hogmanay events on the castle esplanade – a family party with music and a 9pm fireworks display, followed by the "Midnight Moment" event with live DJ sets and the main midnight firework display. Glasgow, Aberdeen, Inverness and Perth also host outdoor concerts and midnight fireworks, and you're certain to find Hogmanay ceilidhs in every Scottish town and city. Somewhat off the beaten track, the town of Stonehaven in Aberdeenshire marks the turn of the year in its own unique way: with balls of fire. Drummers start the party, and at midnight, a bagpiper leads a procession of around 40-50 locals swinging homemade fireballs through the town. It ends at the harbour, where the fireballs are flung into the sea and a large fireworks display takes over. And if you're staying with Scottish friends or family, you may be called on to honour the custom of 'first-footing', especially if you're a tall, dark-haired man. The first person to enter your house after midnight is considered an augury for the year ahead, and tall men with dark hair are considered the luckiest.
Getting there
Aer Lingus
fly to both Edinburgh and Glasgow from Cork and Dublin. They also operate Shannon/Edinburgh and Dublin/Aberdeen routes.
Ryanair
also provide a frequent service from Dublin to both Edinburgh and Glasgow, while
Flybe
fly from Knock and Dublin to both Edinburgh and Glasgow. Stirling is halfway between
Edinburgh
and
Glasgow
Airports, served by frequent rail and bus routes – you can also drive there from each city in under an hour. Stonehaven is a half-hour drive from Aberdeen on the A90. It's served by both train and local buses, but service will vary on New Year's Day. If you're staying in Aberdeen, it may be easier to rent a car and make your own way. If you do decide to drive, keep in mind that your AA Membership also covers you in the UK.
Click here
for more info or to join us for just €8.25 per month.
Things to know
Public transport in all cities will be operating to a revised timetable on New Year's Eve – see
here
for Edinburgh. Tickets for all the official Edinburgh's Hogmanay events can be booked
here
. Bear in mind that a ticket to the concert will give you access to the street party too, but a ticket for the street party only covers the bands playing the main stage on the Princes St itself, with no access to the gardens. Tickets for Stirling's events can be purchased
on this website
. Remember that tickets are for one event or the other, so make sure to check your times. The weather can be cold in the Scottish winter – pack layers! Mind you, there'll be no shortage of tartan scarves and Aran jumpers when you get there – and they make perfect souvenirs.
Don't forget to buy your AA Travel Insurance before you go! Click here for the lowdown on all of our options.
Images: Shutterstock