Grainne's Gap, Dolphin's Barn, Bundle of Sticks, Hackballscross… One of the best things about Ireland is the weird and wonderful place names across the country. If you've ever heard these names and thought "
is that a real place?"
– or wondered who Grainne is, why Borris is in Ossory and what happened to the old Twopothouse – here are your answers.
What did you just say?!
Photo by sarah777
Some place names catch the ear for the wrong reasons. You might worry about works on the "effin road"… but
Effin
is a parish in Limerick, where Saint Eimhin had a church.
Termonfeckin
in Louth, similarly, honours Saint Feichin (
Tearmann Feichín
: Feichin's refuge). An old church weathervane gave
Brasscock
in Waterford its name, while
Nobber
in Meath anglicizes
An Obair
(The Work), possibly referring to the construction of a Norman motte-and-bailey. The first syllable of
Foulksmills
in Wexford is open to debate: does it rhyme with "poke" or "puck"? It's named after a fifteenth century Sir Fulk Furlong, who was… Lord of Horetown. Spelling varies wildly in the records – Fulk, Fook, Fuch, Foulk – which explains the divergent pronunciations. (We'll stick to "Foke".)
Horetown
and the seaside townland of
Bastardstown
, 20km to the south, are both probably names after unfortunately named Anglo-Norman families who once lived in the area. And the
Dry Arch Roundabout
in Letterkenny seemingly took its name from a viaduct demolished in the 1990s: a dry arch, rather than an aqueduct. A bridge in Antrim has the same name.
Mind the gaps
Photo by TenthEagle
Grainne's Gap
near
Muff
in Donegal - local lore links it to the legend of Diarmuid and Grainne, who ran across Ireland avoiding Fionn MacCumhaill – several places in Donegal and Sligo are known as "Diarmuid and Grainne's Bed", where they reputedly camped during their odyssey. While we're here, Muff comes from
Magh
, meaning plain; the same word gives us
Mayo
(
Maigh Eo:
yew plain).
Moll's Gap
in Kerry is named after Moll Kissane, who ran a shebeen there
fadó
. And the most likely origin for Wicklow's
Sally Gap
isn't Sally, but
Saile
, Irish for willow.
Leopards and dolphins and goats, oh my…

Photo by William Murphy
Looking at a map of Dublin, you'd be forgiven for thinking the city was a menagerie. Sadly, most of the zoological names are misnomers:
Dolphin's Barn
never housed aquatic mammals, but was home to the Dolfyn family from the 1200s on. The
Phoenix Park
rose from water rather than ashes: the Irish
Fionn Uisce
(clear water). Everyone's favourite interchange, the
Red Cow
, is named for a pub (see below). The jury's out on
Foxrock
– it either comes from foxes or from Thomas
Foulkes
, a landowner in nearby Shanganagh. And while
Leopardstown
evokes images of big cats, its origins are less salubrious – not leopards, but lepers, kept outside the city. (It shares a dubious honour with
Tallaght
, which, charmingly, means plague pit.) There are
some
places named for animals – goats did frolic in
Goatstown
. Less obviously,
Glenamuck
and
Glenageary
mean Valley of Pigs and Valley of Sheep respectively in Irish, and, in Kildare,
Leixlip
is Norse for Salmon Leap.
Inns and Pothouses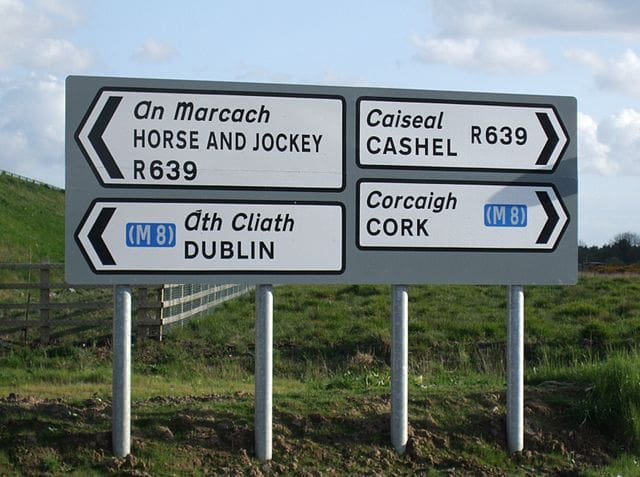 Photo by Seighean
It's said that we Irish only give directions via pubs, which may be why so many places are named after them. The two crossroads of
Newtwopothouse
and
Oldtwopothouse
in Cork took their names from a nearby inn, which had two ale-pots at the door and was a coach stop on the 1700s Cork-Limerick route. Oldtwopothouse eventually became better known as Hazelwood, after the lords of Hazelwood built a hall there. Other places named after inns include the obvious ones –
Twomilehouse
(Kildare),
Twomileinn
(Limerick and Cork) and
Threemilehouse
(Monaghan) – along with
Blue Ball
in Offaly,
The Pigeons
in Westmeath and
Horse and Jockey
in Tipperary. Dublin's
Red Cow
seemingly took its moniker from an eighteenth-century tavern called
The Shoulder of Mutton
, whose sign had a red cow. Nowadays, pub, area and interchange share one name.
Is that a real place?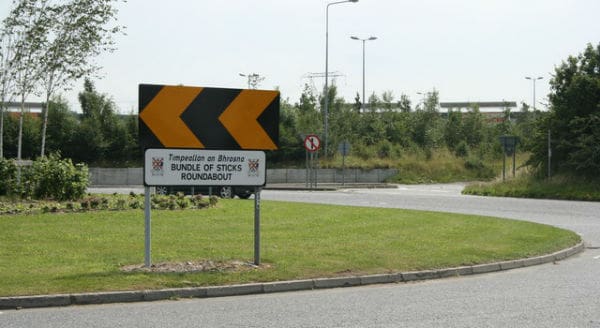 Photo by sarah777
Given that it's just off the M7, the
Bundle of Sticks Roundabout
is subject to the same reaction from a lot of people: "
Is that a real place?!".
Yes, it is. The name is older than the roundabout - when it was briefly labelled it the "Newhall Roundabout" back in 2004, a consultation found that locals would rather stick with the name the area had always been known by: the "Bundle of Sticks". While it sounds odd in English, the Irish equivalent
Brosna
is quite common:
Brosna
(Kerry),
Bunbrosna
(Westmeath),
Brusna
(Roscommon), the
River Brosna,
etc. Less specifically, the word can mean twigs or firewood – fittingly, as the roundabout went on fire once, in 2014. Another placename that seems like it shouldn't be real is
Hackballscross
in Louth. The origin is unclear – one record from the Placenames Database links it to an 1840s story featuring a horse nicknamed
Hackball
. Other sources suggest gory tales of burglars and axes, probably urban legends. Maybe we're better off not knowing…
Who's Borris and what's he doing in Ossory?
Photo by sarah777
Borris
appears in several placenames, either on its own (the town in Carlow), or part of longer names around Laois and Tipperary. Nothing to do with Yeltsin, Johnson or Becker – it comes from
Buiríos,
meaning burgage, an old word linked to borough.
Twomileborris
is simply a two-mile borough,
Borrisoleigh
is O'Lea's Burgage and
Borrisokane
is Burgage of the Cianacht.
Borris-in-Ossory
may conjure images of ossuaries and bones, but it harks back to the ancient Kingdom of Osraige, which occupied much of modern-day Laois and Kilkenny.
Pushing forward
If you've ever wondered what French would sound like with a Cork accent,
Buttevant
is your answer. The village's name has an unusual origin: the French phrase
Boutez-en-avant
, meaning push forward. This was apparently the motto and/or battle cry of David de Barry, who started Buttevant's markets and fair in the 13
th
century.
Common names from Irish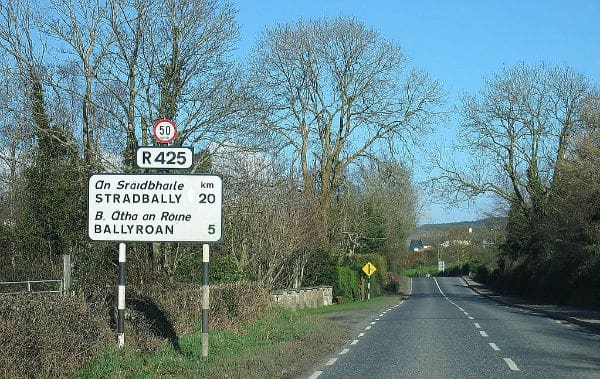 Photo by sarah777
It sometimes seems like every second place starts with
Bally- or Ballin-
. That usually derives from
baile
(place or town), so
Ballybane
is the white place (
an
bhaile bán
),
Ballyjamesduff
is the town of Black James (
Seamus Dubh
), etc. The Irish for village, incidentally, is
Sraidbhaile
(one-street-town)… so the villages of
Stradbally
in Laois, Waterford and Kerry are just called Village.
Ball-
can also come from
béal
(mouth), as in
Ballina
(Béal an Átha:
mouth of the ford),
Ballinasloe
(
Béal Átha na Slua
: ford-mouth of the crowds) and
Ballylongford
(
Béal Átha Longfoirt:
ford-mouth of the anchorage)
.
Áth
(ford) is surprisingly common, found in places like
Athlone
(Luan's Ford),
Athy
(Ae's Ford) and
Athenry
(King's Ford). Maybe in parallel universes
Dublin
is called Athclea or Ballinaclea (from its Irish name
Baile Átha Cliath
) or even Blackpool: the city's English name derives from
Dubh Linn
, a dark pool in the Liffey in Viking times.
Photo by Jennifer Boyer
You can be reasonably sure that anywhere with
Rath
or
Lis
had a ringfort:
Rathfarnham
is Fearnan's ringfort,
Rathkeale
is Caola's ringfort and
Lismore
is the big ringfort.
Dún
(
Dundalk
,
Dunshaughlin
,
Donegal
, etc) is another word for fort, though not necessarily a circular one.
Rathdown
(
Rath an Dúin
) and
Lisdoonvarna
fall into the so-good-they-named-it-twice category (Ringfort Fort and Ringfort Fort of the Gap).
Kill
sounds funny to foreign ears but just means churchyard or graveyard, so "
Kill
in
Kildare
" is "the churchyard in the oak churchyard", Kilkenny is Cainnech's Church(yard),
Kilmacthomas
is McThomas's churchyard, etc.
Drum
(
Drumlish, Drumshanbo,
Dromahair
etc) means ridge (Dromahair, intriguingly, means Ridge of the Two Demons), and
Tubber
, comes from
tobar
meaning well. While a well of curry might sound like a great idea after a night out, sadly,
Tubbercurry
just means the well of the corrie (a type of valley).
Finally, a special mention to…
Muckanaghederdauhaulia
and
Glassillaunvealnacurra.
The two Galway townlands share the record for Ireland's longest townland name. They mean "
pig-shaped hill between two saltwater lakes
" and "
green isle at the weir-mouth
". So now you know.