New Car Reviews
New Car Review | Volkswagen Amarok Aventura 5.1
Good Stuff 👍
It looks really great, clever off-road tech, easy to drive.
Bad Stuff 👎
Awkward in town and car parks, overly complicated model range.
What is the Volkswagen Amarok?
Volkswagen's refined workhorse get a total overhaul and now shares much with the Ford Ranger.
The Volkswagen Amarok, introduced in 2010, marked Volkswagen's entry into the pickup truck segment. Designed with a blend of utility and refinement, the Amarok gained attention for its sleek design and advanced features. Named after the Inuit word for "wolf," it embodied robust performance and off-road capabilities. Over the years, it received various updates, including engine upgrades and technological enhancements. Despite its popularity in European and Australian markets, it faced competition from established brands. However, its legacy paved the way for Volkswagen's future ventures in the pick-up market, leaving an indelible mark on the brand's automotive evolution. And now the Amarok is back in its second iteration, part of a joint venture with Ford, whose Ranger is now proving to be a big hit on the Irish market.
The Amarok is one of the more refined pick-up trucks, but this perhaps might have held it back in terms of sales potential as it might been seen as not tough or rugged about to cope with real abuse.
This latest version should put paid to those assumptions and with the breath of choice from a steel-wheels-and-vinyl version at the entry point, to the leather-clad, all-singing all-dancing Aventura version, which is the one we are driving here. The price range is from €47,355 (€39,560 for Commercial customers), right up to the model we are in, which comes in at €72,255 (or €60,362 for Commercial buyers).
Much has been said about the fact that this is a joint-venture between Volkswagen and Ford – the new Amarok and the latest Ford Ranger are essentially the same vehicle under the skin. The Amarok is built at a Ford factory in South Africa, but in the development phase there was a lot of co-operation between the two brands. At one stage, Volkswagen had a team of ten designers and 20 engineers at Ford's Australian design and engineering headquarters.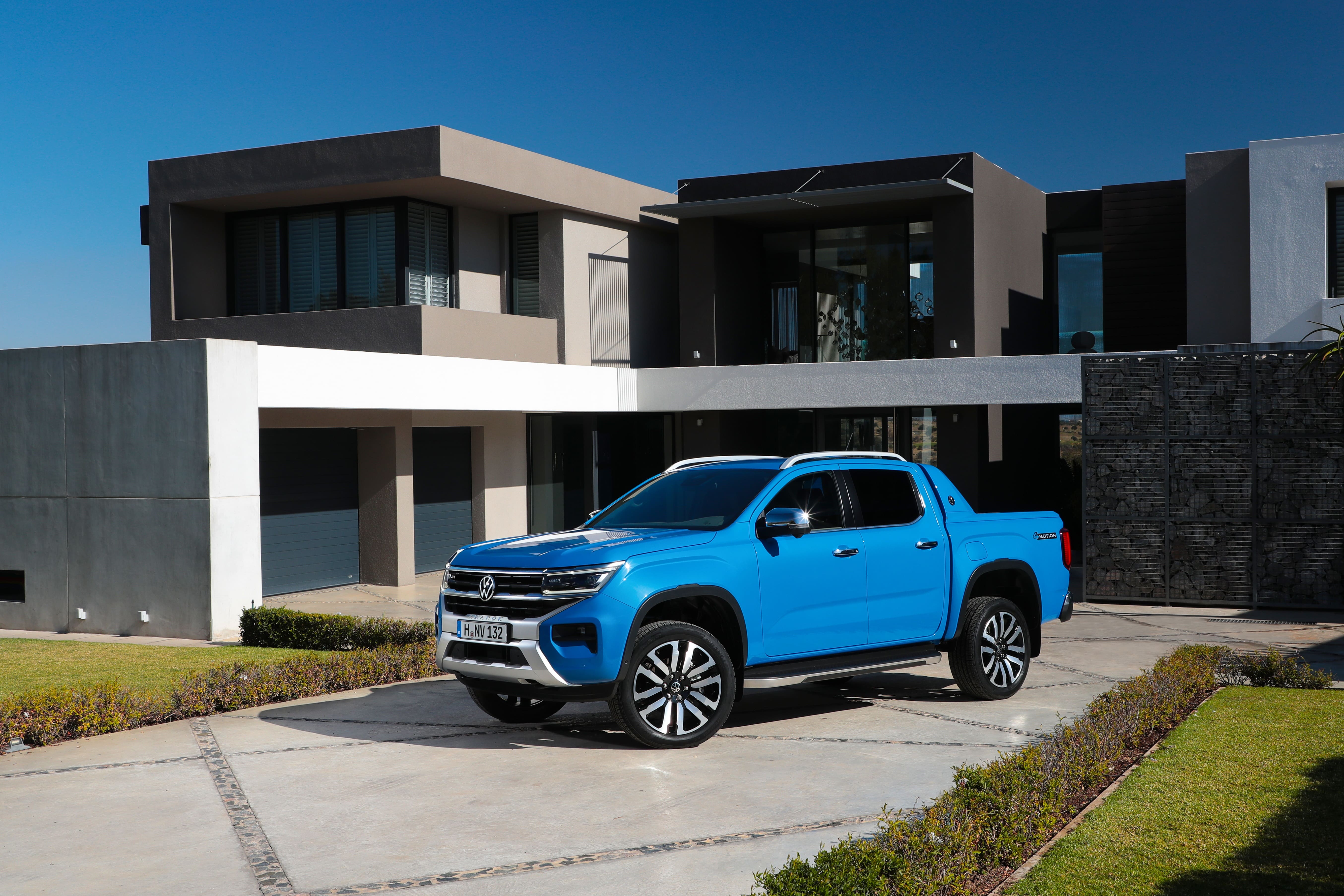 How about the looks of the Volkswagen Amarok?
Bigger, more rugged and more refined.
The Amarok is being launched as both a single- and double-cab but here in Ireland only the double-cab is offered, with the Amarok 1.0 in a more utilitarian spec, whereas as you go up the, very long, range you get ever more luxurious. We have yet to see the more basics one in the metal, just photo.
Rather out week with the Amarok turned out to be the most expensive and luxurious version – the Aventura, which really looks the part. New Amarok comes with lots of new styling features such as modern "IQ.Light" LED matrix headlights and there is a really good-looking radiator grille too.
Despite the Ford joint venture this remains a Volkswagen, with no real optical evidence that it is anything else. This design is a big leap forward compared to the previous model and as it sits in Aventura spec, it is dressed in its finest. There are large 20" light-alloy wheels, steps with chrome inserts, chrome exterior mirrors and door handles, and a rear bumper with chrome inserts. The colour of our test car, the imaginatively named Bright Blue Metallic, looks really stunning.
The loading area between the wheel arches offers enough space for a Euro pallet to be loaded crosswise. There is also a roof load capacity of 350kg. The Amarok can carry 1.16 tonnes and the eye rings in the cargo bed can take 500kg each.
"Despite the Ford joint venture this remains a Volkswagen, with no real optical evidence that it is anything else"
Paddy Comyn
AA Road Tester
What is the inside of the Volkswagen Amarok like?
Bigger inside and great spec as you climb the range.
At 5,350mm, the new Amarok is 96mm longer than the model it replaces and the wheelbase has also grown by 173mm. This adds up extra cabin space, especially for rear passengers.
Climb (literally) aboard the Amarok and you do get a whiff of Ford about the place, especially the Portrait-style infotainment screen, which is something you will find in a likes of the Mustang Mach-E, whereas Volkswagen prefer landscape screens. There is a digital display instead of a traditional instrument cluster (8-inch on lower spec models and 12-inch on higher spec versions) and there is a touchscreen in tablet format too (10-inch on lower spec and 12-inch on higher spec). Reading the Volkswagen Amarok Product Guide will require Xanax and ADHD meds and a few days off work to sift through.
There are a total of 12 Amarok's offered with slightly varying degrees of trim. This makes little or no sense, where three or at a stretch, four, would suffice.
The inside of the high spec model we had felt really very good, with excellent materials used throughout.
Insurance up for renewal?
Get an AA Car Insurance quote online and save up to  25% or get 3 Months Free Car Insurance*.
Get a quote
What is the Volkswagen Amarok like to drive?
Easier than you might expect. But still requires some attention around town.
At over five metres long, the Amarok is quite a sizeable lump of metal and it is wide too. Entry models (Amarok 1.0, 1.1 and 2.0) get 6-speed manual transmissions but from there up you get the 10-speed Auto which is very smooth with seamless gearshifts. There are three power outputs from two engines on offer. All of them are diesel and none of them have any 'electrification' – there are no PHEVs etc on offer here. The range starts with a 2.0-litre, 168hp diesel. The Life 2.1 and Style 3.0 models gets a slightly more powerful 202hp diesel, and then from the Style 3.1 all the way up to the Aventura 5.1 there is a 237hp 3.0-litre. All models in Ireland come with 4MOTION all-wheel drive as standard.
There are up to six different driving profiles (Drive Modes) to assist the driver and like the systems you find in Land Rover products you can pick based on the terrain in front of you, rather than having to know what mode does what. We didn't really take the Amarok off-road (aside from the beach) but we did on a previous event experience its abilities off road and it is capable of more than most people should ever try without a tractor nearby.
The model we were in, the Aventura, at €72,000, feels worth the money, especially when you consider you can often find far less capable vehicles these days for similar money.
Which Volkswagen Amarok should I buy?
Style models make the most sense
Whoever was doing the Product Line Up for the Amarok was being paid by the hour, because they have managed to create the most complicated and baffling line-up you can imagine. There are twelve, yes, twelve Amarok models, so let's try and make sense of them for you. If you going to treat your Amarok like a workhorse, and cover it in concrete dust then you need the Amarok 1.0 or 1.1 with steel wheels and vinyl bumpers and a manual gearbox. From the Life 2.0 (from €42,058 for Commercial buyers) model upwards you are starting to get into an Amarok that feels a bit more like a luxury SUV.
To us it looks like Volkswagen have geared the Style versions to be the volume models as they seem to strike the best balance between pricing and spec, starting at €54,080 for Commercial buyers (or €54,080) for private buyers. The Style 3.1 gives you the higher-powered 237hp engine and the 10-speed automatic gearbox a decent bit of spec, so this would be our choice as the best buy. Moving into one of the three PanAmericana models (4.0 / 4.1 / 4.2) and you are getting a pretty package with lots of black detailing, a 12" touchscreen and the Harmon Kardon premium sound system.
To download the Volkswagen Amarok Product Guide click here.
Is the Volkswagen Amarok safe?
5-star Euro NCAP score
The Amarok has been tested by Euro NCAP and scored an impressive 84% for Adult Occupancy, 90% for Child Occupancy and 84% for Safety Assist. Not surprisingly the lowest score, albeit still very strong was for Vulnerable Road Users. Being hit by 2,434kg of Amarok won't be fun no matter how you look at it. There is an impressive line-up of safety features in the Amarok, with more than 30 assistance systems, over 20 of which are completely new. There are things like Lane Assist, Multicollision Brake, Area View Camera and more to keep you safe.
Verdict
Excellent revision makes the Amarok more refined and more desirable.
The revised Amarok will be perfect for those people that require both a workhorse and some refinement and depending on how much you can spend, the split of these will vary. From the basic and wipe-clean Amarok 1.0 to the Aventura model we tried there is a lot of choice, perhaps too much, but this is a really good pick-up truck. People buying these for non-work reasons isn't a trend we would love to see, but they do combine work and comfort in the best way possible. This Amarok is excellent at both jobs.
Spec Check ⚙️
Volkswagen Amarok Aventura 5.1
Pricing
From €60,362 (Commercial) / €72,255 Private